Lakers owner Jim Buss says Kobe Bryant to return in preseason game
Lakers owner Jim Buss tells NBATV that Kobe Bryant is on pace to return in a preseason game.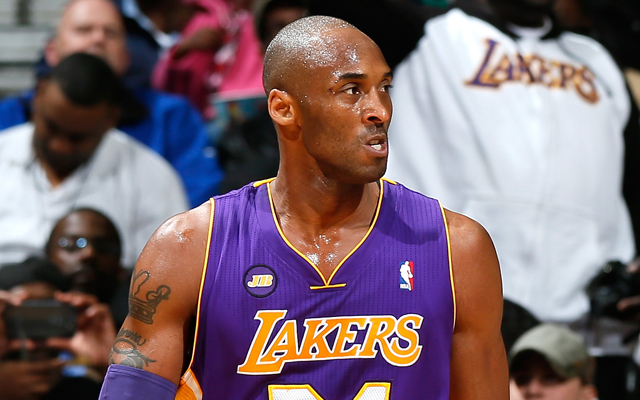 Lakers legend Kobe Bryant has played through torn ligaments, dislocated digits, and every manner of bruise, bump, and scrape imaginable. Every time he's been faced with a seemingly insurmountable challenge physically, he's responded by not only playing through it, but playing through it well. 
His Achilles' injury was supposedly different though. Everyone said at his age, there was no way he could take the same approach. I thought that was a little bit crazy, since Kobe is a lot crazy, and will do whatever it takes to get back on the floor the very heartbeat he's able to. And according to Lakers owner Jim Buss on NBATV Thursday, via ESPN, that's exactly what's happening. 
Lakers vice president Jim Buss told NBA TV on Thursday that Bryant is ahead of schedule in his recovery from the torn Achilles tendon he suffered in April. Buss expects Bryant to play in a preseason game.

"Well, we're in Vegas, and I would bet a lot of money that this guy comes back probably in preseason," Buss said during the Lakers-Milwaukee Bucks game at the Las Vegas Summer League. "He's real sharp in taking care of himself and he's not going to rush anything just to get back and prove a point. He's going to come back when he's right. He's a machine. He's inhuman. I see him coming back at the beginning of this season. I can't believe how much he's progressed so far."

Bryant previously had said he was ahead of schedule and would begin getting more active in his rehabilitation next month heading into training camp, which begins in October. The initial timetable for his recovery was six to nine months, and six months would have Bryant back sometime during training camp.
via Kobe Bryant of Los Angeles Lakers could return for preseason, Jim Buss says - ESPN Los Angeles.
So there you go. He's just hitting his mark at the very highest point he can. Bryant is never short on motivation, but if he wants external boosts, he's got them. He has to try and win that sixth ring, he has to try and build momentum for the team's 2014 cap space summer spending spree, he has to try and keep pace with his efforts to move up the all-time scoring list, and though he'd never say it, he probably wants to beat the Rockets by about 70 points to show Dwight Howard something. 
Against all odds, Kobe Bryant is coming back early. All that really shows is that the oddsmakers are slow to adapt to what we've been seeing for years: Kobe Bryant, ultimate competitor. 
Trail Blazers guards Damian Lillard and C.J. McCollum have been pushing for Anthony to join...

Anthony reportedly gave the Knicks an expanded list of teams he'd waive his no-trade clause...

The Suns will also receive a second-round pick in the deal
Kerr noted Warriors are deeper than the NBA championship team of last season

The Dubs will make a decision as a team on visiting the White House, but Steph would vote...

Wolves are an up-and-coming NBA squad, but this region knows heartache too well