LAS VEGAS -- Keith Bogans is 35 and he's at Summer League. The last time he played here, 11 years ago, was the first time the event was held in Vegas. He remembers being eager to prove himself, anxious to show people what he could do. He was just like his teammates now on the Portland Trail Blazers' summer squad -- the guys who ask him questions about defense, the guys who he's warned that front-office people notice who's spending their evenings at the blackjack table. 
Bogans wants to make it clear it was his decision to be here. Having not played an NBA game in 18 months, he didn't want to remain out of sight and out of mind.
"I didn't think I was too good to come play Summer League," Bogans said. "It was my idea. It ain't like, 'Keith, you gotta play Summer League,' you know? I wanted to play."
He is here in part to repair his reputation. Back in January 2014, Bogans publicly and understandably expressed his frustration with his lack of playing time. The Boston Celtics had acquired his contract in the trade that sent Paul Pierce and Kevin Garnett to the Brooklyn Nets, and he was collecting DNP-CDs. Less than two weeks later he was given a leave of absence -- he was told to go home while the team kept him on the roster as a trade chip.
Celtics commentator Mike Gorman appeared on the Toucher and Rich radio show afterward, saying that Bogans was upset about his lack of playing time and involved in an incident on the team bus. Bogans flatly denies this, saying it was "totally made up." For a role player like him, character is everything. 
"I've never had a confrontation, I don't get in trouble," Bogans said. "To go to a young team, and you ask me to go home, that looks bad on my résumé. It looked like I didn't want to be there, when the whole time all I wanted to do was help, whether you play me or you don't play me. And of course that makes me mad. And that's why I'm back right now. 
"The way it ended, that's not me," Bogans continued. "And I can't let my career end on that."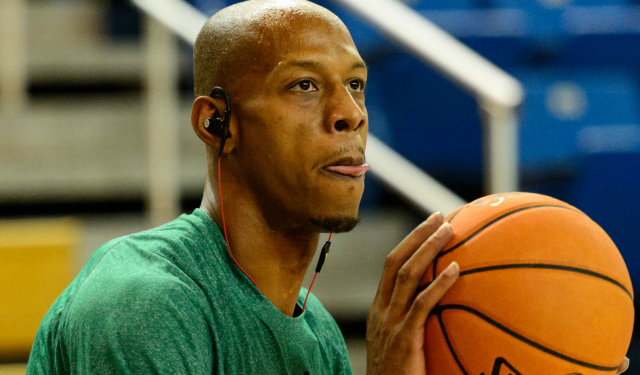 When Boston general manager Danny Ainge told him what was happening, Bogans was stunned. He said it was a shock because he wanted to support the younger players, insisting he wanted to stay. Instead, he had to turn on the TV and see all sorts of guys he competed with for 11 years. Being separated from the game was the toughest experience of his career.
"It's one of the most devastating blows that you can take, period," Bogans said. "Especially if you're not ready for it. It's not like I said, 'I'm going to retire, I'm done with Boston.' "
While Bogans sat out the 2014-15 season, he never called it quits. He spent as much time as he could with his son, who is now 11, but he also focused on getting into what he calls the best shape of his life.
Rather than signing overseas, Bogans stayed at home in Orlando and worked toward an NBA comeback. He maintains he didn't hold a grudge against the Celtics, Ainge or coach Brad Stevens. As a veteran, he's well aware their paths could cross again. 
"Right when it happened, I didn't understand what was going on," Bogans said. "I was more angry than anything. But I've always understood since I've been in this league that it's a business and, if I took anything personal, I would've been out of this league a long time ago."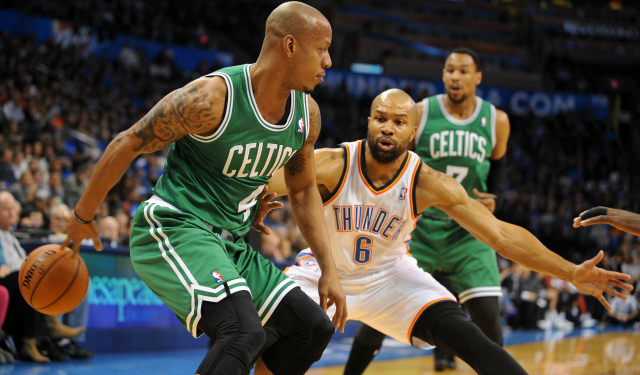 Bogans' game isn't exactly suited to Summer League. He's a glue guy, a ball mover, a physical defender and spot-up shooter. In Vegas, he's not worried about outperforming the young guys who put up big numbers. He is just trying to remind people he's here and he's serious. Everybody knows what he can and can't do anyway.
"I'm not going to get the ball and break you down off the dribble," Bogans laughed. "And they're not running offensive sets. It's just up and down, up and down. It's more of a pick-up game."
In the practices in Portland leading up to this, Bogans' body held up fine. He thinks he's "still got some years in me," and says he keeps being told he doesn't look like he took a season off. There is precedence for this route back to the league -- Rasual Butler latched on with the Indiana Pacers the same way after missing all of 2012-13. When the Blazers opened their Summer League schedule against Boston on Saturday, though, Bogans didn't get on the court. 
"They probably won't play me here," he said matter of factly. "If they do, they do. If they don't, they don't."
Others might be bitter about watching from the sideline while 18- and 19-year-olds make rookie mistake after rookie mistake. Bogans, though, understands that nothing good comes with that attitude. He can't be sure what's next, but he intends to make the most of this. 
"I'm just happy to be back around the game," Bogans said. "If I get an invite, I'm going to camp. If they give me a contract, I'm going to go play. I'm not putting any pressure on myself. I'm having fun with this. To put pressure on myself, I did that sitting at home on the couch being miserable last year. So now this is all fun for me. No pressure at all for me. People ask me, 'Is it a tryout?' No. I'm back playing basketball, doing what I love to do."