The Toronto Raptors visited the San Antonio Spurs in early April, and Tim Duncan tapped forward Patrick Patterson on the shoulder at the free throw line. Raptors guard Norman Powell, the No. 46 pick in last June's draft, had caught the Hall of Famer's attention.
"Yo Pat, he's a rookie?" Duncan asked, and Patterson answered in the affirmative.
Patterson decided to keep his exchange with Duncan to himself. When it was relayed to Powell, he lit up. Then he recalled something similar happening in Memphis. 
The night before the San Antonio game, Powell hit two first-quarter 3s against the Grizzlies. Veteran Zach Randolph loudly asked two things: "Who's got Powell?" and, "Who is he?"
"That's our rookie," Raptors guard Kyle Lowry responded. 
"He's a rookie?" Randolph asked. 
On the next possession, Randolph got fouled and went to the free throw line. He looked in Powell's direction and said, "Oh, Powell, you think you got game, huh?" 
"Yeah, a little bit," Powell responded. 
If Powell had been one of the league's best-kept secrets, then the cat is now out of the bag. Last week he was named Eastern Conference Rookie of the Month. Before starting in his first playoff game, Indiana Pacers coach Frank Vogel called him "definitely someone that can hurt you." Vogel spoke from experience — Powell scored 27 points against the Pacers eight days earlier. 
After establishing himself as a two-way weapon on a 56-win team, Powell has remained in the rotation in the postseason. In Toronto's Game 2 win, he made Indiana star Paul George work for everything he got in the second half. Back on draft night, and even after an impressive summer league, Raptors coach Dwane Casey did not anticipate Powell playing such an important role. To be honest, he said, nobody would have predicted this. Well, almost nobody. 
"That's something obviously everybody keeps asking me: expectations and change and if I saw this coming," Powell said. "But I did. It's something that I dreamed about as a little kid. I didn't know how, I didn't know what my path was going to be when I was that young, but I knew that it was going to take a lot of work. And no matter what I was hit with, I was going to push through it and get to where I want to be and where I know I can be."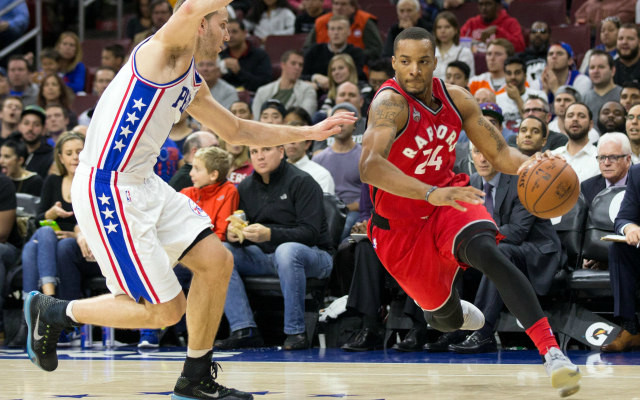 Toronto assistant coach Jama Mahlalela remembers Powell's pre-draft workout vividly. "He had a composure to him," Mahlalela said, adding that most prospects are bothered by the bright lights. Powell matched up against UNLV's Rashad Vaughn, who would be drafted 29 spots before him, and he wanted to compete. 
"There was a tenacity to his workout," Mahlalela said. "Almost like a 'screw you' mentality. Like, it doesn't matter what people are projecting me to be, I know how good I am. And that's what we see when he's playing now, guarding Paul George. He knows how good he is, he believes in himself and he shows that. It's not a cockiness, but it's a confidence."
The Raptors liked Powell before the workout, and he rose in their rankings afterward. Mahlalela said Powell earned "shining marks" for how he treated the staffer who picked him up from the airport and how he carried himself at lunch and dinner.
"He was a four-year senior, but he was even mature for that," Mahlalela said. "There was a worldliness to him. He'd seen a lot, he'd been around a lot. The bright lights didn't faze him. It was just sort of like another day at work. He treated that workout as a professional, he's treated every day he's been here as a professional."
Powell, a San Diego native, credits his disposition to his upbringing. He was raised by his mother, Sharon, a social worker who demanded good grades.
"Growing up, it was tough," Powell said. "Not having a dad there. Seeing my mom work and struggle to keep me and my two sisters afloat. So it really made me want to take the load off her plate and just make it easier for her. It really made me focus and work even harder to not struggle anymore. That just made me have to mature faster."
Sharon's brother, Raymond Edwards, became a father figure. Edwards took Powell to the gym to play one-on-one, calling him "Big Shot Powell" and "Mr. Big Shot."
Before Powell's senior year of high school, Edwards died of cancer. At the funeral, Powell dedicated his basketball career to his uncle. On Powell's right arm, there is a tattoo of hands holding a basketball. Above the ball are the words "HARD WORK." On the ball: "RAYMOND EDWARDS RIP."
Powell frequently thought of Edwards' encouragement at UCLA. He thought he'd be the No. 1 option and head to the NBA after a year or two. Instead he averaged only 5.3 points in his first two seasons, only becoming a full-time starter as a junior. This would prepare him for the beginning of his professional career. He still hears Edwards' voice in his head.
"He was a big influence on my life," Powell said. "Just always telling me that hard work gets you wherever you want in life. Don't let nobody tell you you can't do something, don't let nobody tell you no. If you know and believe in your heart that you can achieve it, then go in there and put the work in. That's what he saw in me with basketball. He saw the love and passion that I had for it, watching games with him growing up, and that carried with me throughout my whole basketball career."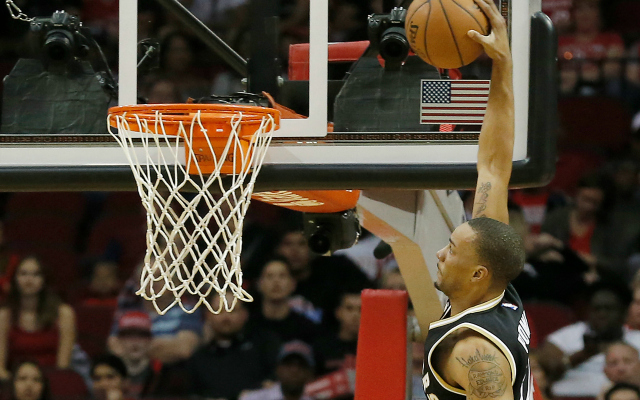 Edwards was a massive USC fan. So was Powell, at least until he joined their rival Bruins. When Powell was a sophomore in high school, his favorite college player was Trojans guard DeMar DeRozan. As DeRozan grew into one of the Raptors' cornerstones, Powell studied his game.  
Last summer, Powell and his best friend from San Diego drove to Compton High School for a session with his trainer, Chris Farr. Powell had no idea that DeRozan, one of Farr's longtime clients, would be working out with him, too. 
"I was just like, oh man," Powell said. "I knew I was going to see him 'cause he's on the team but I didn't know it was going to be this soon. I was a little bit starstruck, but then I just went in there trying to compete with him in every drill. I was always trying to show him that I'm there. And really I pushed myself to be at his level and not take any of the drills off."
Powell spent a week with DeRozan and called it "eye-opening" to see how his childhood idol approached the offseason. Farr could see a change in Powell's mentality over the course of those workouts, sounding equally proud of the mentor and the student. 
"DeMar, he led by example," Farr said. "He showed him how an All-Star works."
DeRozan loved Powell's spirit, and they will spend more time together this summer. Portland Trail Blazers star Damian Lillard could be involved, too. "Maybe one day he can be in the same position I am," DeRozan said. That is exactly Powell's plan. 
"When you see a young dude that — especially the way I work — can hang and really put in the work and really compete at a high level, it says a lot," DeRozan said. "He don't care who he's going against, he's going to work his butt off, that's one thing I definitely saw. And you see it paying off."
For the first few months of this season, DeRozan didn't know how much Powell looked up to him. They eventually talked about it, and DeRozan joked that "it really makes me feel old." Powell still calls himself a DeRozan fan and said he picks his teammate's brain as much as possible. Farr believes Powell will keep improving because of a characteristic he shares with Lillard and DeRozan. 
"He's a hunter," Farr said. "He's hunting these guys that are supposed to be better than him."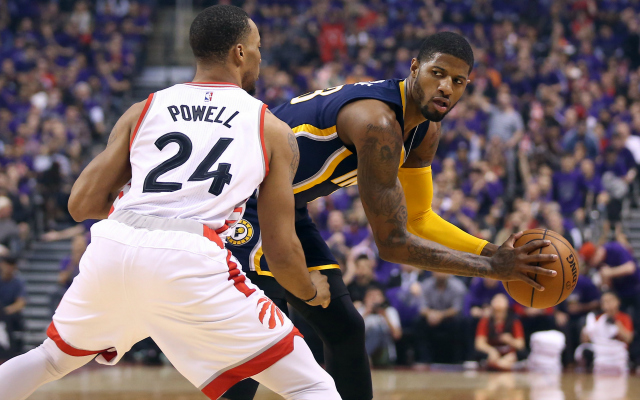 After forward Jason Thompson signed with the Raptors, he had to ask Powell where he went to college. You can hardly blame Thompson for not knowing about him — before February, Powell had appeared in only 19 games for Toronto, averaging 1.1 points in 4.6 minutes and shooting 28.6 percent. He dominated in the D-League, though, getting heavy minutes with Raptors 905.
When he first got to the D-League, he focused on attacking the basket and scoring. In late January, he spent a game passing the ball just about every time he got it, taking only four shots. By the end of it he saw himself as a totally different player, and his coaches agreed. He was a better shooter, playmaker and defender when injuries to DeMarre Carroll and James Johnson gave him an opportunity.
"He makes my job easy," Mahlalela said. "He wants to work. He listens. His coachability is unbelievable. You can show him one thing and the next day, he's doing it. In a game. It's incredible, his ability to do that."
In one of Powell's first games for the Raptors, he stepped out of bounds in the corner. The next day, Mahlalela spent half an hour working with him on simply running down the sideline and staying inbounds. The two of them have talked about increasing his range and improving his point guard skills when the season is over. 
Mahlalela laughed when asked how in the world Powell fell to No. 46. "I don't know," the coach said. "Ask a lot of scouting departments." He said Toronto loved his aggressiveness, his physicality and his leadership, but two factors had him lower on draft boards: he is 6-foot-4 and some scouts thought he couldn't shoot. In 24 starts with the Raptors, he made 46 percent of his 3-pointers while effectively guarding taller players. 
In January, before Powell's breakout, DeRozan took Powell home after a team visit to SickKids hospital. DeRozan told Powell he used to read criticism of his game and vow to prove every doubter wrong. "It sounded just like me," Powell said. In college, he was motivated by people saying he couldn't lead UCLA to the Sweet Sixteen. After the draft, he looked for stories speculating that he wouldn't make Toronto's roster and could spend the year overseas or in the D-League. 
"Right now, I'm not reading the articles because it's all this positive stuff," Powell said. "My mom tries to send me to them. My friends, my coaches back home are like read this, that and the other, and I don't read 'em. No."
When Powell's mother sends him in-game pictures and says things like, "Oh my God, you're doing so well," Powell insists he is doing only OK. "I'm never content," he said, though he does admit that his first year has gone well.
"I don't think it could've went any better," Powell said. "I knew after I was selected in the second round, traded on draft night that it was going to be a long grind to prove myself. And it just made me hungrier from that moment. Seeing my name not go in the first round, it really fueled my fire more than anything. And that's what I went in with, going for summer league, going out to prove, make a name for myself, prove myself that I'm worthy to be on the team and get a contract. And then just working my way up. That's what I had to do from Day 1 and that's what I'm continuing doing."
Powell has noticed lately that opponents are trying to run him off the 3-point line and coaches are yelling, "Close out to the shooter!" Before the playoffs began, fellow Bruin Russell Westbrook texted him a message of support. Westbrook's co-star, Kevin Durant, did the same. Powell refuses to congratulate himself, but there is pride when he mentions those names, just like with Duncan and Randolph. He knows he has come a long way.