Playoff Assist: A lot of David West could save the Pacers' season
If the Indiana Pacers are going to force a Game 7 against the 8-seed Atlanta Hawks, they need to get David West heavily involved.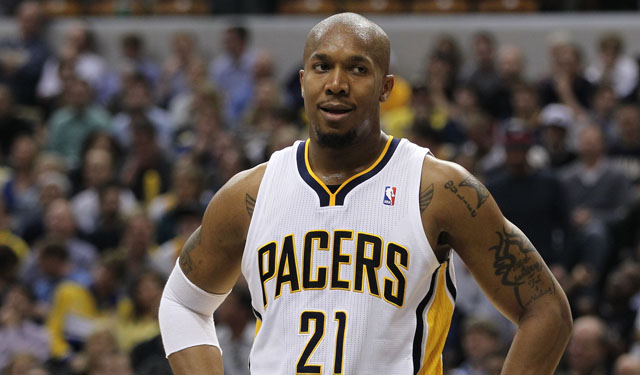 More postseason coverage: Playoff schedule, results | Latest news, notes
The Indiana Pacers are on the brink of a historically embarrassing elimination. A team that was supposed to challenge the Miami Heat for Eastern Conference supremacy and possibly turn that into a shot at the NBA title is down 3-2 heading for a Game 6 on the road against the 8-seed Atlanta Hawks, who happen to be missing their best player. This is not how this season was supposed to go, especially not after they started the season with such a dominating presence.
We know the problems with the Pacers in this series. Paul George can't play like the consistent superstar he was knighted as over the last year. The Pacers can't play with the spread, five-out style of a Hawks team that is executing coach Mike Budenholzer's Spurs-heavy game plan with aplomb. Roy Hibbert can't seem to play at all right now. And the wings of the Pacers outside of George are just as erratic as you might fear they could be.
This series is a mess for the Pacers and they officially have their backs all the way up against the proverbial wall as they enter Philips Arena tonight. 
Aside from having an intervention for the Pacers' troubled players at the moment or just performing an all out exorcism in the locker room of Indiana, there's a way to avoid a Game 6 loss and get it back to Indianapolis for Game 7 where you geared all Game 7's to go. The Pacers need to feed David West and let him punish the Hawks' depleted frontcourt all night long.
David West is a tank. I'm not speaking about being a metaphorical tank. You could legitimately overrun city streets with him and cause unfathomable destruction. He's one of the baddest dudes in the NBA that few players would dare mess with if an argument breaks out. On top of his toughness, both physical and mental, he possesses a deft scoring touch from everywhere inside the 3-point arc.
West has been great when called upon in this series but not called upon nearly enough. West's series averages aren't far off from his numbers in the regular season. His shot attempts are down just 0.9 attempts per contest while his free throw attempts have ticked slightly up by 0.1 attempts. His regular season usage rate of 21.9 percent has dropped to 20.6 percent in the playoffs. That regular season formula for how often he was used on offense was fine when this team was winning and defending with domination, but that's no longer the world the Pacers are living in.
This Pacers' team is struggling to defend against the Hawks going with the same strategy my summer league teams used to employ -- everybody hang around the perimeter -- except they're using NBA players to do it. They're giving up 5.2 more points per 100 possessions in this series than they did in the regular season, while their offensive efficiency has remained virtually unaffected. This is where you need to change up the offensive strategy and roll with the guy who seems incapable of being rattled in this environment.
During his three seasons with the Pacers, the team is 13-7 when he scores 25 points or more in a game. They're 14-9 when he takes at least 18 shots in a game. These aren't overwhelming records necessarily, but they're winning records and that's what the Pacers need right now. They need wins.
West has been effective in this series too. He's made 51.2 percent of his field goals in this series, which is up on his season percentage of 48.8 percent. He's raised his game on offense because he's such a match-up nightmare for any power forward, especially those big men on the Hawks. Here is West's shot chart, showing where he's hurting the Hawks in this series: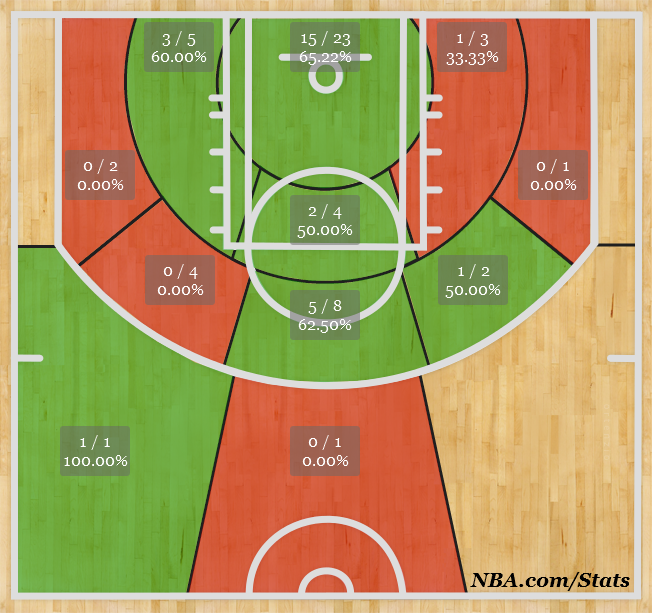 The Pacers finding him in the middle of the floor and around the basket is hurting the Hawks quite a bit. This is coming off of West finding holes in the Hawks' defense to attack. 
David West's scoring in this series
After 11 seasons in the NBA and a career scoring average of 17.9 points per 36 minutes, it's safe to say West knows how to put the ball in the basket. And he's been quite efficient in that regard in this series. The reason for that is he's adaptable to how the defense is playing the man with the ball and what they're willing to give West in return. He's not a one-trick pony just hoping to get to his spot on the floor. His spot varies on a possession-by-possession basis depending on where the defense shows itself.
He made a living with Chris Paul in New Orleans as a pick-and-pop finisher. Every scouting report in the NBA will tell you how deadly West is and that you can't let him set his feet when receiving the pass. He's a great safety valve within the flow of an offense. During this series, he's shooting 43.5 percent from midrange, which is slightly down from the 46.9 percent he shot in the midrange this season. 
The Pacers are able to run this action away from the ball in which it looks like they're setting up a post play for George, but they're in fact giving West a spot-up jumper in the middle of the floor coming off of a screen by Hibbert. It's not something they run as much as they should but the defense is so focused on George that it allows for an open look for West.
Because West is so deadly in the midrange, the defense has to try to take that pass away. When they do and the Pacers have time to adjust off of that coverage, West knows where to move. In this play during Game 1, DeMarre Carroll has a pseudo-trap on Paul George while protecting against the pass near the top of the key, which could result in a West jumper. West's savvy sees the improper spacing on the play and makes a dive straight to the basket with George delivering a perfect pass.
West is so strong with such a great scoring touch around the hoop, and he drops in the finger roll with no real shot blocker in the game to deter him. 
His jumper sets up so many possibilities for him against a recovering defense as long as he attacks quickly and doesn't try to do too much with the ball. He often plays as the middleman at the top of the key for the Pacers, allowing them to have a reliable passer and a threat from that spot on the floor. Once he swings the ball to the other wing, they can run action with him in which he's setting screens that set him up to be left alone in his shooting range.
A sloppy closeout against West will either result in a good jump shot attempt or he can use the momentum of the closing defender against them, like he does with Elton Brand here, and drive straight to the basket for an easier shot. His jumper is such a threat and he's so smart that this just seems to flow naturally for him throughout any fluid offensive possession.
The versatility of his game comes with the fact that he isn't just a jump shooter, he's a tank on the block that can overpower just about everybody. West isn't exceptionally tall for a power forward, standing about 6'9" but weighing somewhere in that 260-270 lbs. range. However, his 7'4.25" wingspan allows him to have the reach advantage like any good heavyweight would hope to have. This gives him more room to get shots off in the post despite not possessing explosive moves.
He seems intent on getting to the middle of the floor or to the basket when he's got the ball, and in this post-up against Paul Millsap, his patience provides the necessary room to get a good shot off. He waits for Kyle Korver to step back toward the perimeter player before going into the paint where he drops in a running half-hook on Millsap.
And if the defense wants to take the middle away from West, his jump shooting ability translates quite well to a baseline fadeaway shot he probably doesn't go to enough. Against the smaller Mike Scott and a closing help defender in Korver, West makes sure to use his body to create enough space to get the fadeaway shot off moving toward the baseline. He has this shot in his arsenal whenever the defense allows it to be taken.
David West's passing in this series
It's not just the scoring of West that needs to be utilized more in this series and especially in a do-or-die Game 6. West's passing has been phenomenal in this series. He's averaging 4.8 assists in the five games and those assists are leading to really good looks both at the rim and on the perimeter. He's not getting assists by happenchance; he's creating good shots when the defense collapses.
Of West's 24 assists in this series, 12 of them have led to shots around the basket and 10 of them have led to 3-pointers made. 16 of his 24 assists have come out of that middle of the floor facilitator, which usually comes from him just standing at the top of the key or him being used in a pick-and-pop where he becomes the decision-maker with cutters. Four of those assists have come out of the post, three come when he's attacking off the dribble, and one came after a steal in which he passed ahead for a George dunk.
The Pacers run a basic but effective set in which West posts up on the lower left block. The point guard delivers the post-entry pass to West and then sets a screen from George to pop out to the left wing for a 3-point attempt. West has great recognition of when George is open and delivers the ball smoothly. This is a great way to use West's feel for the game while giving George an advantageous scoring opportunity.
George is a much better shooter spotting up or coming off of screens, so any time you can get a look for him he doesn't have to create himself, it's increasing the chance of a higher offensive efficiency.
This is where West has recorded the majority of his assists. He's in that top of the key area and the Pacers run a pick-and-pop with him in which he will or won't set the screen. But the threat of the screen can create a brief trap on the ball handler that opens up a passing pocket once West receives the ball. The Pacers can have the passer cutting directly toward the basket or someone from the other side of the floor flash toward the paint if the help defense looses concentration for a moment.
During this series, the Pacers have been 11.7 points per 100 possessions better offensively with West on the floor than when he's on the bench. The defensive improvement is 13.5 points per 100 possessions when he's in the game. Asking more of him won't be a problem for him but a solution for the team.
It's the versatility and great touch in West's game that makes him so deadly and they need to feature him more in Game 6. They've struggled so often in this series to find an advantage in a match-up against this Hawks team, and sticking with the status quo against an uncomfortable style of play has left them on the brink of an embarrassing collapse. It's time to go to the one advantage the Hawks don't have an answer for and ride that option until you can recalibrate against a different match-up in the next round.
You have a tank that can save your city. It's time for the Pacers to use him.
Mirotic and Portis combined for 49 points as the Bulls won their fifth straight game, beating...

Gobert, who missed 11 games earlier this season with a knee injury, will have an MRI

Get all the latest scores, news and highlights from Friday's NBA games
Porzingis is questionable for Carmelo Anthony's return to MSG on Saturday

The Spurs and Rockets will renew their in-state rivalry on Friday night

Anthony will play at Madison Square Garden on Saturday for the first time since being trad...