Report: Clippers prefer Bargnani to DeRozan
The Clippers reportedly prefer Andrea Bargnani in any deal with Toronto, which could make for a smaller deal involving Caron Butler.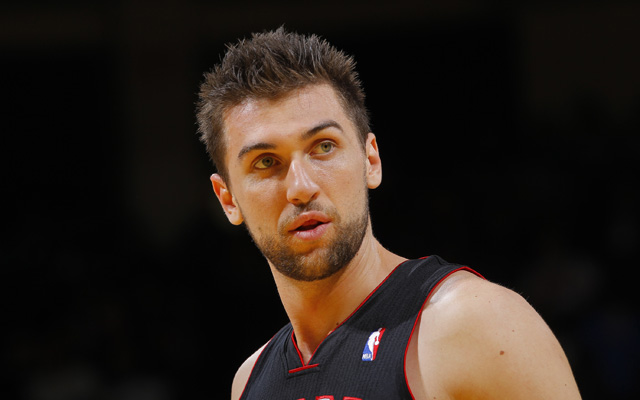 On Saturday, we told you about a reported deal being discussed to send Clippers point guard Eric Bledsoe to the Raptors, in exchange for DeMar DeRozan. As the talks continue, ESPN now reports the Clippers actually prefer bargain-bin item forward Andrea Bargnani to young wing DeRozan, but since the market values don't mach up, a smaller deal could be constructed. It's complicated. 
Although sources say the Clippers actually prefer Bargnani to DeRozan because of the Italian forward's ability to step out and stretch the floor, one source close to the process expressed doubt that L.A. would be willing to surrender Bledsoe in a deal for a player Toronto has been trying to move for months, given the considerable interest around the league in Chris Paul's athletic backup.

So one possible outcome to the Clippers-Raptors talks, sources said, is a smaller trade headlined by Bargnani going to L.A. in exchange for Caron Butler, enabling the Clippers to save Bledsoe for a bigger trade -- or, perhaps, keeping him if Rivers holds firm.
via Toronto Raptors join talks for Eric Bledsoe of Los Angeles Clippers -- ESPN.
Doc Rivers is also reportedly very big on DeRozan, so there's some mixed signals here. It's clear one of two things is happening. Either someone in the Clippers front office is genuinely interested in Bargnani as an expensive bench weapon, or someone in Toronto wants to bill it that way. 
That's the key here. Which side is leaking ths?
Because based off what we know as established info, Doc Rivers wants Bledsoe and DeRozan. But Butler for DeRozan won't fly, no matter how much room the Raptors want to make for Rudy Gay. 
Sending Butler to Toronto could only be served as a cash dump for the Raptors, because they have little to no use for him. But that's a decent priority for Toronto general manager Masai Ujiri as he continues to reshape the Raptors. 
Meanwhile, you have to wonder why exactly the Clippers are so fascinated with Bargnani. He's got mental consistency issues on the court, and is a terrible rebounder and poor help defender. Playing next to DeAndre Jordan changes some of the defensive issues, but the Clippers need help rebounding, not more challenges in that area. 
There's been enough talk on this deal to warrant an evolving conversation, but it would seem there's still a fundamental disconnect between what the two teams want and are willing to give up, headlined by LA's continued hyper-protectiveness of the Bledsoe asset. It's reaching Gollum-in-Lord-of-the-Rings level of treating him as their "precious." 
Is this rock bottom for the Cavaliers because it sure feels like it is

Wade, as he's done so many times in his career, threw it up to LeBron for the thunderous f...

The Warriors coach added there should be no shame in being picked last since everyone's an...
We've got all the scores, highlights and news from all of Saturday's games

The two teams have reportedly not had any substantial discussions to this point

Oladipo may be getting most of the shine, but this second-year big man has been phenomenal...