Report: Gordon Hayward on Mavericks' 'wish list'
Dallas would love to add young Utah star, but can they afford him?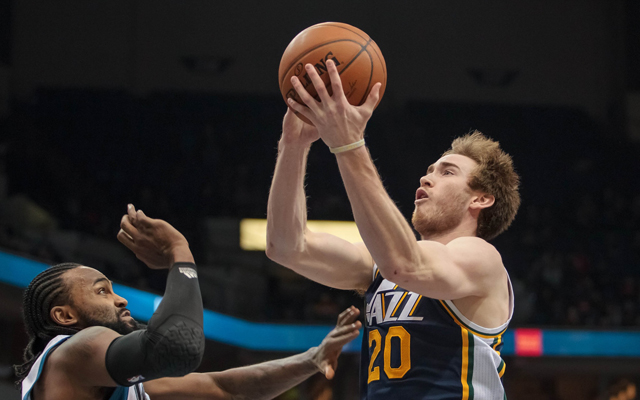 More Offseason Analysis: Updating Free Agency news | Top 40 free agents
The Fort Worth Star-Telegram reports that the Mavericks still list restricted free agent Gordon Hayward, who has drawn interest from the Cavaliers and Celtics and whom the Utah Jazz can match any offer for, on their wish list.
According to a reliable source, the #Mavs still have #Jazz RFA Gordon Hayward on their wish-list.

— Dwain Price (@DwainPrice) July 6, 2014
Hayward would give the Mavericks a tremendous replacement for free agent Shawn Marion. While Hayward might not be the star the Mavericks need to bridge their life between now and post-Dirk-Nowtizki, it would give them a versatile passer, rebounder, and scorer who can get up and down the floor. 
Maybe most importantly, it would replenish what the Mavericks need in terms of athleticism. They've used an aging Marion and Vince Carter on the wing for years now and need someone besides Monta Ellis who can leap and run. But the Mavericks' cap space is a little more confined after spending $10 million on Dirk Nowitzki. They've got lots of room left, but Hayward's also got a strong market that could be demanding as high as a $14.5 million starting offer for the Jazz star. 
The NBA's City edition Nike jerseys are bold and very different

The Wolves may be smoke and mirrors, but the Pacers have the look of a team that can hang in...

LeBron said it might be difficult if the Lakers rookie ducks out of the way before he gets...
Galin Dragiev has his finger on the pulse of the Mavericks and just locked in a play for Thursday's...

The Crimson Tide point guard has been impressive so far and joins the top tier of prospect...

The speculation has been rampant, but seeing James in purple and gold is far from a sure t...