Report: If LeBron James leaves Miami, Chris Bosh will sign with Rockets
The Heat star forward has decided that without James, Miami isn't enough to bring him back.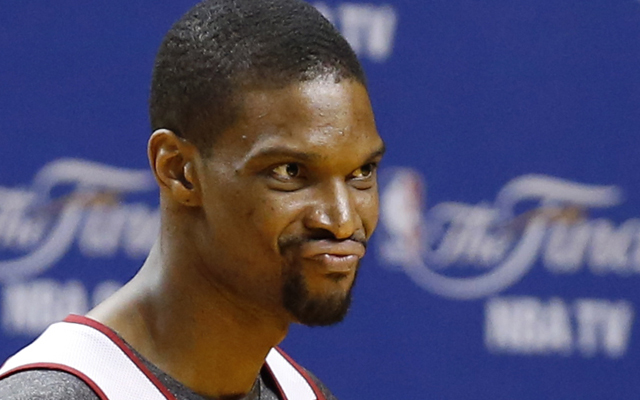 More on LeBron: James' free agency page | Doyel: NBA revolves around LeBron
ESPN reports that Miami Heat free agent forward Chris Bosh has decided to sign with the Houston Rockets if LeBron James decides to leave Miami. James met with Pat Riley on Wednesday but no decision has been reached thus far, nor is expected Wednesday. 
If James does choose to leave the Heat, free agent Chris Bosh will sign with the Houston Rockets, sources said. James not rushing to make a choice could put a time squeeze on Bosh. Though he hopes to remain with the Heat along with James, sources said, Bosh has secured a backup offer for four years and $88 million from the Rockets.
via LeBron James meets with Miami Heat but hasn't made a decision yet, according to sources - ESPN.
The issue becomes more complicated after the Mavericks sign Chandler Parsons to a max offer sheet Wednesday night at 12:01 a.m. Thursday. From the moment the offer sheet is signed and delivered to the Rockets, Houston has three days to match the offer for their restricted free agent or lose him. Until they match, only Parson's $964,000 qualifying offer counts against their cap, but after they match, his max offer at roughly $12 million per year counts against them, eliminating the room for Bosh. 
What does this mean? It means Chris Bosh has three days to figure out if James is coming back or not. If James takes until after midnight Sunday morning to decide to leave, Bosh may be stuck with Miami without James with an aging Dwyane Wade. If he signs before James does, he risks missing out on being a part of the Heat's Big 3 in Miami.
In short: this is pretty complicated.NBA.com disputes the report, on top of everything else.
Told strongly that Chris Bosh hasn't made any contingency decision w/Rockets, & "whatever is being reported in that regard is simply false."

— David Aldridge (@daldridgetnt) July 10, 2014
James is unlikely to take that long. As well as the prospect of putting everyone in the northern hemisphere out of their misery waiting for him to make up his mind, James is unlikely to want to mess with Bosh's career like that. James will take the time he needs to make a decision, but will do so with the understanding that his decision directly impacts that of a teammate and friend's career. Leaving Dwyane Wade would be unavoidable. Giving Bosh the opportunity to find another contender to join would not be.
There had been speculation that Bosh could remain in Miami even if James left, based on how much he likes Miami and his reluctance to return to Texas. Bosh grew up in Dallas, and has spoken strongly of his love for Miami's culture.  
Either way, the dominoes which everyone has been waiting for so long to fall are more closely connected than we thought. Everyone's just waiting for the push. 
Based on Gentry's tongue-in-cheek price, Boston is highly unlikely to acquire the big man

Larry Hartstein is 22-11 in ATS picks for or against the Timberwolves and has a play for T...

First they were fragile, now they're dealing with 'rotation' challenges
You could say the Brazilian big man marches to the beat of his own drum

Rivers says Ariza called him to hash everything out following the heated skirmish between both...

Larry Hartstein has his finger on the pulse of Philly basketball and locked in his pick