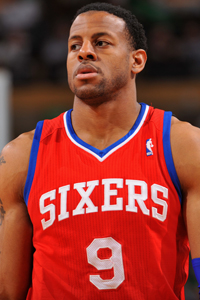 The Raptors are shopping for a wing like Andre Iguodala.
(Getty Images)
The
Raptors
have gotten a 5-15 draft pick the past five years. That spot is chock full of tweenerf forwards at that spot, again. They don't need any more tweener forwards. They need an impact player. They're ready to go forwad. Which is why they're looking to trade their No. 8 pick for an impact player, according to ESPN: 
And that's why the Raptors have already made it known to rival teams that their lottery pick on June 28 -- No. 8 overall -- is available to a trade partner that can provide the elite small forward they seek, according to sources close to the situation.

With a slew of league execs having converged on Chicago this week for the NBA's annual pre-draft camp, sources told ESPN.com that the Raptors have at least two known trade targets: Memphis swingman Rudy Gay and Philadelphia's Andre Iguodala.
via Sources: Raptors shopping pick for forward - TrueHoop Blog - ESPN.

This makes a world of sense for Toronto. They're essentially getting their star rookie by bringing over Jonas Valanciunas from Europe, their top pick from last year. With what's on the board, they're in a position to add a major player. 

Gay is a trick here, because he hasn't shown the consistency that Iguodala has, and he's not the defender or passer Iguodala is. Iguodala makes a ton of sense for both teams. The Sixers can get Jose Calderon's expiring contract to give them flexibility, along with a capable reserve forward in Davis, and an impact pick at the eighth spot. It would be a major rebuilding mode, but moving to rely more on Evan Turner might be a good plan, and adding Davis allows them to move Thaddeus Young to the starting lineup at the small forward position, or starting him while Brand comes off the bench at the four. The 8th spot opens up a lot of possibilities for them, including several quality bigs and replacement wings.

The idea of Andrea Bargnani may be tantalizing, but that's a lot of money for either team to be taking back. With the Warriors also shopping for a small forward, this is shaping up to create a buyer's market for teams with wings. The Grizzlies have yet to give any indication they would trade Rudy Gay.