Report: Warriors think they can land Kevin Love
Golden State is reportedly going to be 'aggressive' in going after Timberwolves superstar Kevin Love.
• 1 min read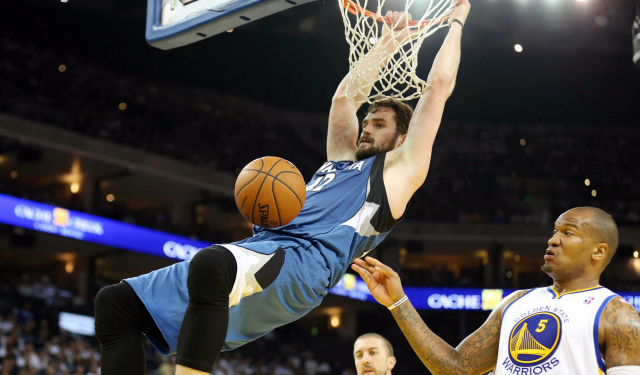 More Offseason Analysis: Coaching changes, news | Free Agency | Draft
The Golden State Warriors reportedly "intrigue" Minnesota Timberwolves star Kevin Love and they reportedly want to acquire a second superstar to pair with Stephen Curry. That isn't the easiest thing to do, but the orgainzation is confident it can pull it off, via Rusty Simmons of the San Francisco Chronicle:
"You know we'll be aggressive," one Warriors source said, asking for anonymity because NBA brass isn't allowed to comment on players under contract with other teams. "We usually get our guy."
Last summer, Golden State's guy was Andre Iguodala, and the front office managed to unload salary in order to pull it off. This could be more difficult, but if Love decides the Bay Area is where he wants to be, it's possible. Any trade would likely have to involve some combination of David Lee, Klay Thompson, Harrison Barnes and Draymond Green.
At Steve Kerr's introductory press conference, the new Warriors head coach told reporters that he would like to add a stretch four. Love is the best power forward in the business when it comes to shooting, and he is so much more than that. He would obviously give Golden State a higher ceiling, as long as it wasn't completely gutting the roster in order to get him.
Other teams, like the Houston Rockets and the Cleveland Cavaliers, who now own the No. 1 pick, might have more attractive offers for the Timberwolves. Even with all the rumors swirling, though, it could be a while before Minnesota makes a decision. Golden State does have a chance, but unless Love makes it clear that is where he wants to go, there will be significant competition.
LeBron achieved the milestone in the first quarter Tuesday

Here are the full lineups for the 2018 NBA All-Star Game

We've got all the scores, highlights and news from an NBA Tuesday
Players reportedly challenged Love for leaving Cleveland's game against OKC early

The Cavaliers are reportedly very close to acquiring the 10-year veteran point guard

Kobe Bryant is now an Oscar nominee. Here's how you can watch his short