Rose won't recruit Carmelo, unsure about Team USA tryout
Chicago Bulls star Derrick Rose said he won't recruit Carmelo Anthony in free agency and he's unsure about Team USA tryout.
More Offseason Analysis: Coaching changes, news | Free Agency | Draft
The Chicago Bulls are getting the first meeting with Carmelo Anthony on his free agency tour when he's expected to meet with team officials at 12:01 a.m. ET on Tuesday. That's when free agency kicks off and teams can contact players about wanting to sign them. The Bulls will try to convince Anthony they are the team for him, but don't expect Bulls' star Derrick Rose to be a part of that pitch or any recruiting. 
In an interview with Yahoo Sports, Rose said it's not his job to recruit players to play with him. While he says he can play with anybody they put on the Bulls, he's leaving the decision up to the free agents. 
The Chicago Bulls are expected to pursue Carmelo Anthony in free agency. They just shouldn't expect Derrick Rose to participate in the recruiting.

Rose told Yahoo Sports on Sunday that he doesn't plan to recruit Anthony – or any free agent, for that matter – even though he likes Anthony's game and thinks they can play alongside each other.

Rose's reason is simple: He said it's "not my job."

"My thing is if they want to come, they can come," Rose said.
This is a far cry from the stars of many teams asking for input on player personnel and trying to influence their respective front offices to bring in certain players they'd like to play with on the court. Whether this is a good decision by Rose or a bad decision, he's not meddling with the front office and their vision for how the roster should shape up. Anthony would be a welcome addition to a team that has struggled to score over the past few seasons. Chicago was 28th last season in offensive rating and 24th in 2012-13.
In the same interview, Rose also said he's not sure about participating in the Team USA tryout this summer.
"I still don't know yet," Rose told Yahoo Sports at the Drew Gooden Foundation Basketball Camp on Sunday. "If I'm feeling right and the time is [right], for sure I will go out there. My body is responding good, but you never know.

"Right now, I haven't really thought about that. I am just worrying about just trying to get back every day and I'm really taking rehab one day at a time instead of trying to think about competing."
Rose is recovering from knee surgery for a torn meniscus he suffered in his first season back from a torn ACL in the 2012 playoffs. He played just 10 games in 2013-14, after missing the entire 2012-13 season.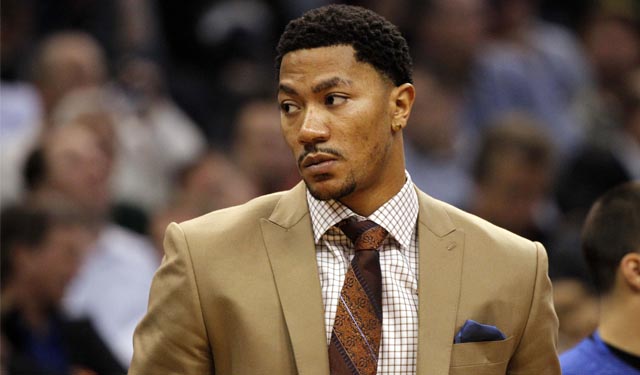 The Rockets beat the Warriors 116-108 on Saturday night

The Cavaliers gave up 148 points in their loss Saturday afternoon to the Thunder

Blatt made the comment before coaching in the All-Star Game in Turkey
We've got all the scores, highlights and news from all of Sunday's games

Is this rock bottom for the Cavaliers because it sure feels like it is

Wade, as he's done so many times in his career, threw it up to LeBron for the thunderous f...