Wade knew on flight with LeBron he was headed back to Cleveland
Heat guard knew it was an end of an era on a flight back to Miami, despite James not telling him until the next day.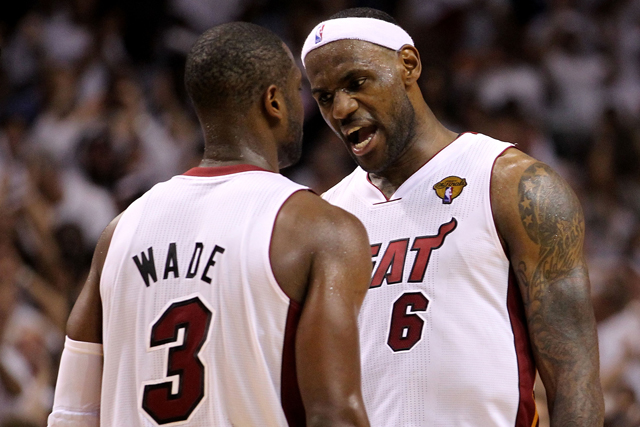 Offseason: Free Agency | Latest from Ken Berger | Rumors
Dwyane Wade said before his annual Fantasy camp Friday that he knew on the flight the day before the big decision that LeBron James was leaving the Miami Heat to return to the Cleveland Cavaliers. 
"Yeah, I went to sleep knowing," Wade said Friday before his annual Fantasy Basketball Camp at the Westin Diplomat Hotel. "He called me the next day. But I knew then. Obviously he still had to say the final yay or nay, but I knew. I could tell."

"As his friend, I'm just supportive," said Wade, who made no recruiting pitches to James. "As crazy as that might sound, I'm supportive of my friends doing what makes them happy. Obviously, same thing with him in this situation. You've gotta do what makes you happy -- selfishly do what makes you happy. The decision to go back home was that."
via Miami Heat: Dwyane Wade moves past LeBron decision; ready to move on - Sun Sentinel.
It's nice to hear Wade fill in this part of the story as it was pretty weird. Wade and James hung out all week in Vegas at James' basketball camp, then flew back to Miami together and then the next day, James bolted and left Wade with the shell of a contender before Miami scrambled and put together a sub-contender. It seemed really bizarre that the two friends would hang out for a week, fly back together, and then James would effectively end Wade's championship window barring an unforeseen development. 
It is telling that Wade wasn't informed back when he, Chris Bosh, and James had lunch before their collective decision to opt out, and that the Heat weren't informed as they struggled to find a way to fit talent upgrades around a presumed max contract for James. They really were in it up until that last night. Whether that's the truth or just what James wants people to believe will never be known, but the evidence points that way. 
He made his decision sometime before the flight Thursday night but not much before it, and then called Wade the next day. However, it would have been nice to give Chris Bosh a bit more heads up so he could have planned, even if he's happy to return to Miami on a max contract. 
Wade also said he's losing weight for next season, which could be huge for his conditioning. More on that here. 
Our advanced computer model simulated Saturday's Thunder-Cavs game 10,000 times

The Jazz are reportedly looking into trading Rodney Hood before the Feb. 8 NBA Trade Deadl...

The Cavaliers are ready to reset everything if they have to. Their interest in Lou Williams...
It sounds like the Cavaliers are going to be active before the NBA trade deadline on Feb....

We've got all the scores, highlights and news for Friday night

George Hill, who is unhappy in Sacramento, could be a solution to Cleveland's backcourt si...