More NFL offseason: Mock Drafts | Prospect Rankings | Pro days | Top free agents
You hear a lot of things about a potential high first-round pick in the months leading up to the NFL Draft. Some of it is good, some of it is bad, some of it is true and some of it what I call PBS, which is short for "process bull ---."
As it relates to South Carolina defensive end Jadeveon Clowney, there is plenty of all of it floating around the scouting world.
Among the words that have been mentioned by league personnel people when discussing him:
Freak.
Amazing.
Lazy.
Concerning.
Explosive.
Dominant.
LT-like.
Of course, the last one is more football-speak than a word, but it might be the highest compliment there is for any pass rusher. It's the comparison to former New York Giants star Lawrence Taylor, who some -- including me -- consider the greatest defensive player ever.
Before diving into Clowney's tape, I asked several personnel men who I respect to give me somebody who Clowney reminds them of on the field. Here's what they had to say:
"[Julius] Peppers. Freak athlete. Doesn't play hard all the time and some question his every down want-to, but so gifted that taking some plays off won't matter."
"[Rams defensive end] Robert Quinn is best comparison. But Clowney is a little faster."
"Tough to compare, but I saw some Mario Williams in him."
"Unique player. Not as big height/weight as Peppers/Williams, but more explosive. Can be as good as he wants." 
And the ultimate compliment came from one AFC general manager. His reply:
"No one."
Translation: He can be the best ever.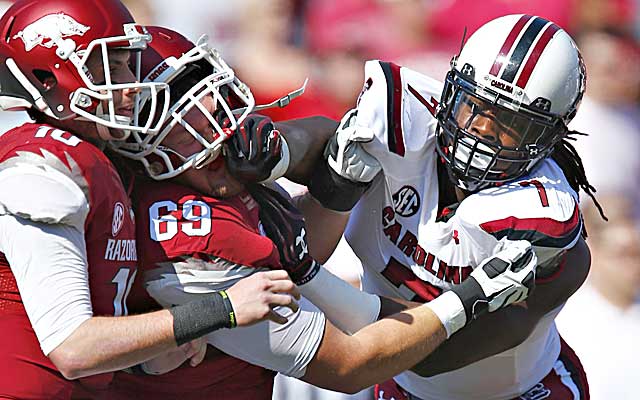 Of course, it will take hard work, drive, playing hard on every down and developing all the tricks of the trade. If he does that, watch out. The tapes I watched of Clowney confirmed what I've thought for a long time:
He is, by far, the best player in this draft.
The things that stood out to me were his dynamic first step, his amazing hands, his ability to bend the corner and stay exploding through it and the violent nature when he does make stops.
The hit he had on the running back in the bowl game two seasons ago against Michigan went viral, but his tapes are loaded with powerful hits that rock runners or quarterbacks. When he tackles, he appears to make it hurt.
Clowney is used primarily as a right end in South Carolina's defense, but he has moved around the line at times. He has dropped out in coverage, although it didn't happen a lot -- nor should it happen. But for any team looking to move him to a 3-4 rush player, I think he could do it. That's how athletic a player he was for South Carolina.
Here's a breakdown of Clowney's game in several categories.
Size and speed
At 6-foot-5, 266 pounds, he has a long, lean-looking body that makes you think tight end more than defensive end. Yet to watch him play is to see a powerful man who plays much stronger than he looks.
Clowney's speed and quickness are what truly make him special. His ability to get off the ball -- usually out of a four-point stance -- is how he makes so many of his plays. There are times when he's out of his stance before anybody else has made a football move.
That initial burst makes it so tough to get good blocks on him at the point of attack. Quinn has a great first step, and it helped him get 19 sacks last season, and Clowney has that same type of explosion.
Pass-rush ability
Clowney had only three sacks last season, an eye-opening number for a player of his ability. But he was much better than that number indicates, and he did have 13 as a sophomore in 2012 and eight as a freshman.
Teams schemed away from him last season, quarterbacks also got the ball out fast, he was doubled a ton and yet he still had a significant number of pressures. He just couldn't get the quarterback down at times, even if he was close on at bunch of plays.
There was still pass-rush production, and that's what truly matters.
That first step of his is a killer, making it tough for a tackle or a tight end to get their hands on him. And when they do grab him, Clowney counters with fantastic hands of his own. For a young pass rusher, he has the hands of a veteran. On many plays I watched, the way he used his hands was the highlight.
Let's take a look at two plays here, one showing off his explosive step and the second his great hands.
The first play came against Georgia, and it shows off his quick first step. Here's a look.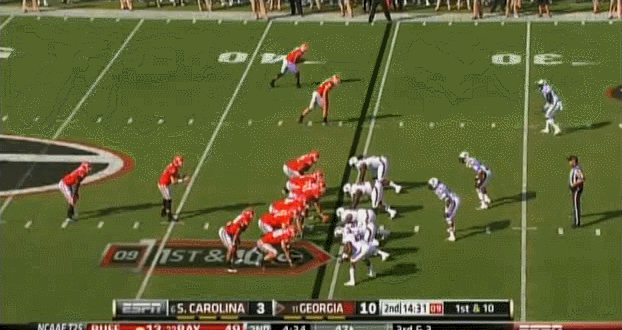 Clowney's quickness allowed him to jump inside the tackle, who had no chance to make a block. That's the type of quickness all great edge rushers possess.
The second play came against Vanderbilt and shows off his hand play. Here's a look.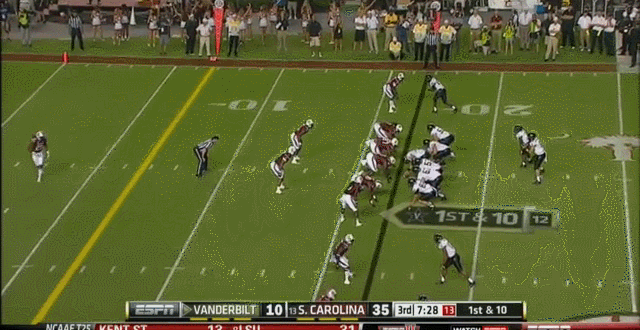 As you can see, the tackle had him in a one-on-one situation and Clowney was able to just shed him with his fast, strong hands to get to the quarterback. That's impressive hand-fighting for a veteran, let alone a 20-year-old college player. And it happened so fast.
I also saw Clowney use power to knock over tackles at times. That's because he does a great job of using his leverage to create power to get underneath them.
Run defense
I have to be honest: He was better against the run than I expected. Usually when you have an elite pass rusher, the run defense isn't nearly as good as it should be. Now there were times when he didn't play it as well as he should, but I was impressed by much of it.
Once again his quickness and speed were at play. Any team that tried to leave him unblocked on the backside was risking it. He had the great speed to chase down backs from behind, even fast ones like Wisconsin's Melvin Gordon. The closing speed really stood out as I watched Clowney play the run.
His quickness also made it tough for teams to trap him. I saw several examples where he blew up the play by beating the trapping lineman into the hole.
Here's a look at one of them against Tennessee.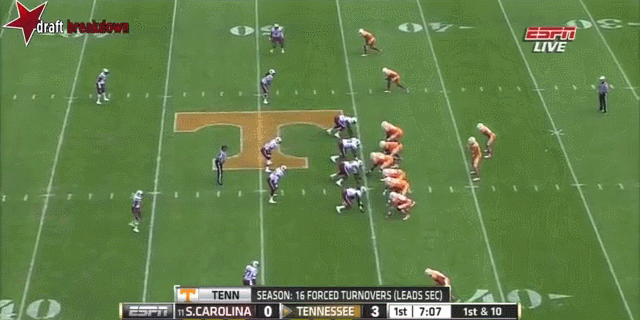 The Volunteers tried to pull the lineman to trap Clowney, but he was able to beat the block with his speed and make the play in the run game. You can't block what you can't hit.
Here's another run play against Tennessee where he was doubled, played off it, and was able to help with the tackle for a short gain. That's where his power came into play.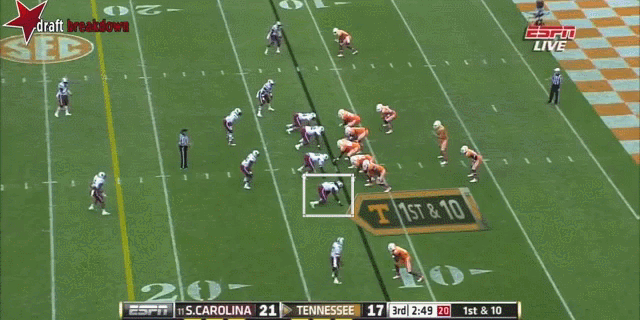 Negatives
Did Clowney take plays off? Yes. Did he loaf at times? Some. But not as much I as expected.
That part of the story is a bit overblown.
But here's a look at a play against Clemson where he didn't even try to make a move to get off the block. He was dancing with the tackle, and even one or two of those plays makes it an issue.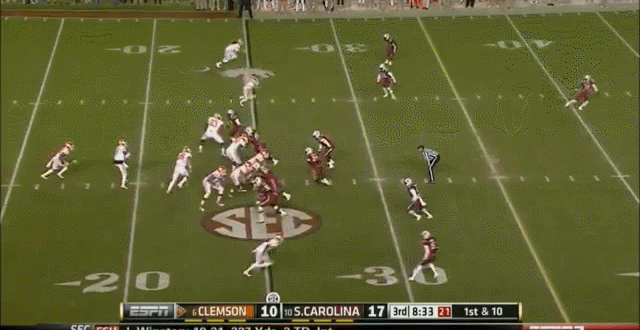 I saw another play where he quit on a play, then realized it was still alive, and he chased the runner down 15 yards from behind. His laziness was somewhat overcome by his amazing athletic ability on that play.
Sometimes, Clowney's quickness actually takes him out of plays. By jumping inside or outside of the tackle or tight end, taking advantage of that speed, he sometimes took himself out of running plays. For example, there were times where he jumped inside with his quickness and the offense just ran outside of him, with no support from another defender. You can get in trouble playing that way all the time.
Summary
It's downright scary to think how good Clowney can be if he stays focused and true to the game. Clowney has rare gifts. He's the LeBron James of pass rushers, owner of that freak size and speed combination. But to be great, he's going to need the James' work ethic as well.
Those scouts who wonder about his "want-to" need to be proven wrong. If that happens, he has a chance to be a 15-sack player in his first season and maybe one of the best pass rushers ever.
Dare I say it? We might actually have the next LT coming into this league after waiting 30 years to see it.