In the hours leading up to Peyton Manning's retirement press conference on Monday, there were quite a few NFL players who took to Twitter to congratulate Manning on his 18-year career. 
That's not what DeAngelo Williams did though. Instead, the Steelers running back went a slightly different route: He basically said that Manning was washed up in 2015 and probably shouldn't have even played last season.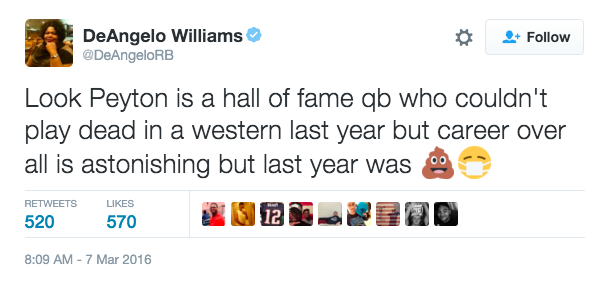 If you're not up-to-date on your emojis, that brown emoji means that Williams thought Manning was crap in 2015. 
Anyway, the Twitter firestorm from Williams started on Monday morning after our very own Pete Prisco sent out a tweet saying that Manning probably could play another year if he wanted to. 
Was watching Manning's 340-yard game vs. Packers this morning from November. Still could play.

— Pete Prisco (@PriscoCBS) March 7, 2016
After Williams saw the tweet, he went off.
First, the Steelers running back pointed out that Manning threw a ton of interceptions in 2015.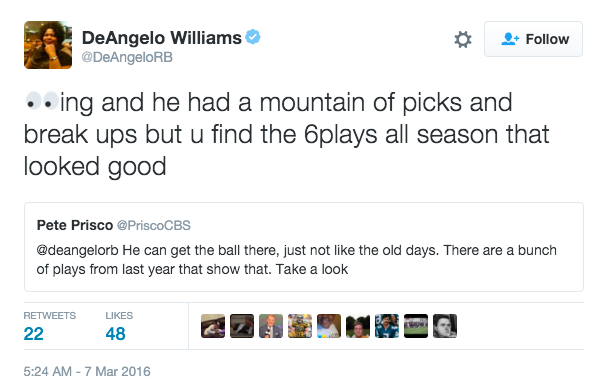 For the record, Manning's 17 picks were the second-most in the NFL, trailing only Blake Bortles' 18 interceptions. Manning threw those picks while playing in six less games than Bortles. So it's a fair point. 
In his next tweet, Williams pointed out that the only reason Manning had a job in 2015 was because of his last name.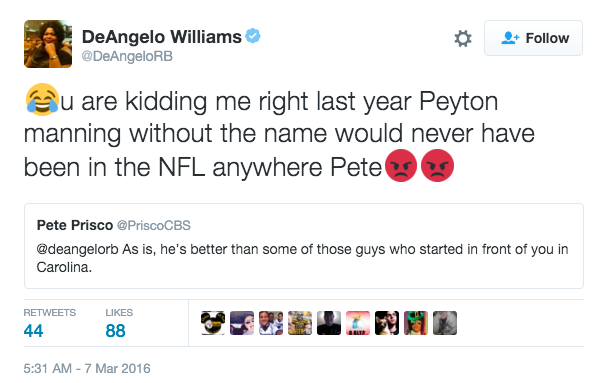 Not sure I agree with this one, DeAngelo. If the Broncos didn't want Manning last season, they could've just cut him. Instead, they kept him and paid him a $15 million base salary. That's a huge salary for someone you're only keeping for their last name. 
Eventually, Williams brought Jimmy Clausen into the debate. You know things are getting serious when someone brings Jimmy Clausen into a debate. 
Yes 2010 jimmy is better than 2015 Peyton manning (the panthers didn't have the defense Peyton had) https://t.co/c8CZN81O9d

— DeAngelo Williams (@DeAngeloRB) March 7, 2016
This is probably the first and last time that Jimmy Clausen and Peyton Manning will ever be mentioned in the same sentence. Wait, nope, because Williams would do it again.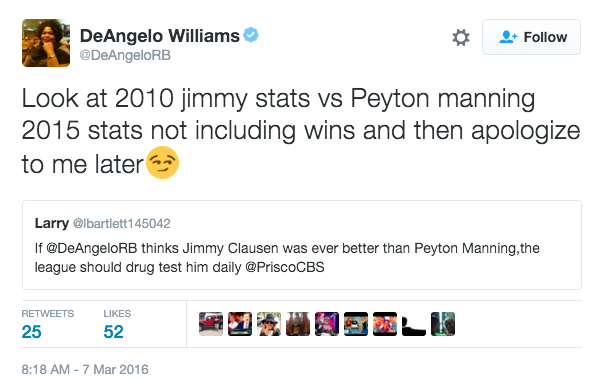 You can compare stats all you want -- for example, Manning completed 59.8 percent of his passes to Clausen's 52.5 percent -- but the truth is that there's a zero percent chance the Broncos would've won the Super Bowl in 2015 with Clausen as their quarterback. That being said, Williams obviously doesn't agree with that statement because he thinks the Broncos could've won with a random person on Twitter as their quarterback.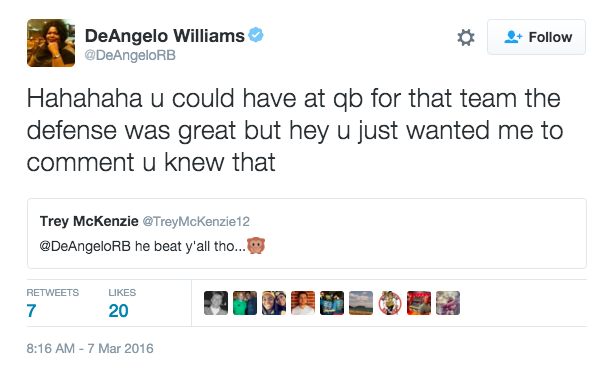 If the Broncos had been quarterbacked by Clausen in 2015, they would've gone 5-11. If the random guy on Twitter is their QB, they go 6-10. Either way, neither of them match Manning. 
Anyway, the point to all of this for Williams is that he thinks Manning got a free pass in 2015 thanks to the Hall of Fame career he put together before that.
It bothersme whenkey playersget a pass fora terrible season because of greatcareers while others are judgedin the momentwith less accolades

— DeAngelo Williams (@DeAngeloRB) March 7, 2016
Yes, Manning was bad in 2015, but not Jimmy Clausen bad. Maybe Williams was just mad because Manning and the Broncos ended the Steelers' 2015 season.