Dolphins beat Bengals on OT walk-off safety, third in NFL history
Dolphins defensive end Cameron Wake recorded only the third overtime safety in NFL history when he sacked Bengals quarterback Andy Dalton.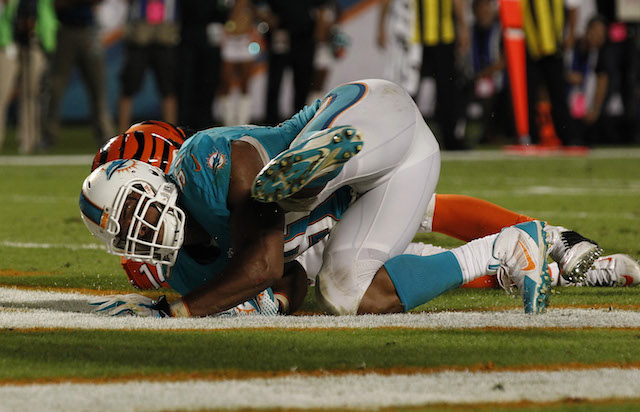 Most overtime games in the NFL end on a field goal. Some even end on a touchdown. Not the Bengals-Dolphins game though, not on Thursday night.
In front of a home crowd at Sun Life Stadium, Miami beat Cincinnati 22-20 in overtime when Dolphins defensive end Cameron Wake sacked Bengals quarterback Andy Dalton in the end zone for a walk-off safety. 
"It's almost like a movie moment," Wake told the Miami Herald. "We don't get many opportunities to do things like that."
It's not the first overtime walk-off safety ever, but they don't happen often, there has been only a total of three in NFL history. The last one came in November 2004 when Chicago's Adewale Ogunleye tackled a Titans offensive lineman in the end zone after a fumble by Tennessee quarterback Billy Volek. The Bears won the game 19-17. 
The only other overtime safety came in November 1989 when Minnesota's Mike Merriweather blocked a Rams punt out of the end zone for a 23-21 Vikings win. 
Wake's safety is the first time a game ended on a quarterback sack. The safety came on a third-and-10 from the Bengals 8-yard line. The safety ended a miserable game for Dalton, who was intercepted three times, including a 94-yard pick-six to Dolphins defensive back Brent Grimes in the third quarter. 
(Wink of the CBS Eye to Bleacher Report for the GIF)
Surprise! The coach who won Super Bowl 50 just got another job with the Broncos

Derek Carr is the NFL's new salary king, but Aaron Rodgers' deal was more valuable in 2013

A kicker and a punter are among the former NFL players diagnosed with CTE in the study
Lucky Whitehead was cleared of all charges and now has to see if the Cowboys are still cutting...

Second-round pick Curtis Samuel had his mom bring him to training camp and watch him walk...

The defensive end, who will sit out four games, probably should have seen that as a bit of...