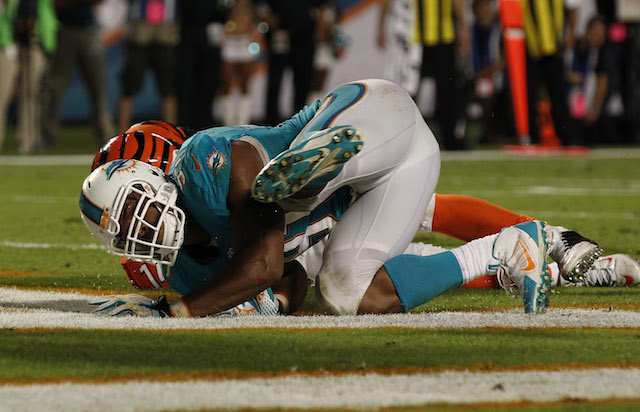 Most overtime games in the NFL end on a field goal. Some even end on a touchdown. Not the Bengals-Dolphins game though, not on Thursday night.
In front of a home crowd at Sun Life Stadium, Miami beat Cincinnati 22-20 in overtime when Dolphins defensive end Cameron Wake sacked Bengals quarterback Andy Dalton in the end zone for a walk-off safety. 
"It's almost like a movie moment," Wake told the Miami Herald. "We don't get many opportunities to do things like that."
It's not the first overtime walk-off safety ever, but they don't happen often, there has been only a total of three in NFL history. The last one came in November 2004 when Chicago's Adewale Ogunleye tackled a Titans offensive lineman in the end zone after a fumble by Tennessee quarterback Billy Volek. The Bears won the game 19-17. 
The only other overtime safety came in November 1989 when Minnesota's Mike Merriweather blocked a Rams punt out of the end zone for a 23-21 Vikings win. 
Wake's safety is the first time a game ended on a quarterback sack. The safety came on a third-and-10 from the Bengals 8-yard line. The safety ended a miserable game for Dalton, who was intercepted three times, including a 94-yard pick-six to Dolphins defensive back Brent Grimes in the third quarter. 
(Wink of the CBS Eye to Bleacher Report for the GIF)