Five things to know: What goes into finalizing NFL rosters at 53
What goes on when trimming to the final roster of 53? How is Rex Grossman relevant? And do the Packers really start four undrafted players?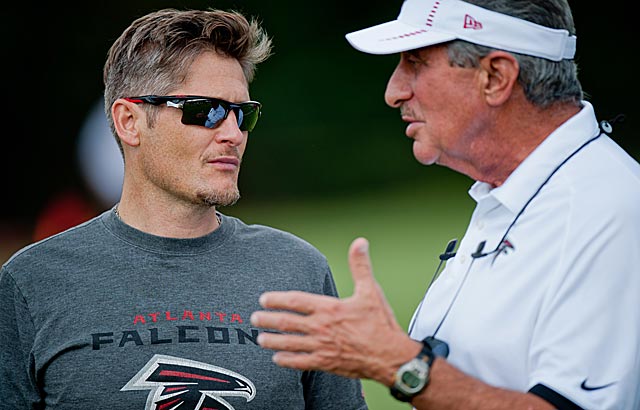 As soon as the cuts to the 53-man roster are finished, attention naturally shifts to the regular season. Not so fast! Before we start projecting the records and which coaches are on the hot seat, there always is something to be learned from the process of narrowing a 90-man roster to 53 players.
1: Why four quarterbacks, Skins?
People wonder why a team like the Redskins kept four quarterbacks. Of course, it has something to do with the health of Robert Griffin III and Kirk Cousins.
But knowing GM Bruce Allen, there's always another shrewd move to be made.
The trading deadline is now after Week 8, and by then there are sure to be a number of teams in need of a QB. Rex Grossman will look a whole lot better than the guys recently released.
Grossman looked solid this summer and sits on an active roster with 47 starts. He led the Bears to the Super Bowl in 2006 and has thrown for over 10,000 yards in his career.
2: How many undrafted players made teams?
What if I told you that two rounds' worth of undrafted players made teams. Would you believe me? There are 32 picks in every round, which makes 64 players over two rounds. As of Sunday, there are 64 undrafted rookies on 53-man rosters. Somebody really needs to look at a draft process which led all 32 teams to skip these 64 men who went into camp with very little chance of earning a job.
Of course, there were plenty of players from the "big" schools on the undrafted list who made it, but plenty of small-school players are on active rosters, too. Players from Columbia, Lehigh, Valdosta State, Saginaw Valley, Idaho, Middle Tennessee, Grand Valley, Montana State, Alabama State and Stephen F. Austin made teams.
College scouting directors need to do a better job of digging out the draftable players around the country. They need to go back and look at why they passed on many of these players. Take a look at the sixth and seventh rounds of last year's draft. There were 86 players selected in those two rounds with all the compensatory picks and 44 of those players are on active rosters. That's 20 fewer than the undrafted men.
Look no further than the Green Bay Packers, who will start four former undrafted players. Center Evan Dietrich-Smith, fullback John Kuhn, and defensive backs M.D. Jennings and Sam Shields all were ignored in the draft.
3: What positions do most undrafted players occupy?
Here's a breakdown by position of where the undrafted players came from to make teams. Take a look at the number of undrafted linebackers to make teams. Quarterbacks (3), running backs (5), tight ends (4), wide receivers (3), guards (3), tackles (5), fullbacks (1), defensive ends (7), defensive tackles (4), linebackers (15), safeties (6), cornerbacks (6) and long snappers (2).
4: What teams got the most from the undrafted group?
You can always make the case that poor teams provide an easier road for undrafted players. So a team like Jacksonville, with four undrafted rookies, isn't a big surprise.
But what about the Saints (5), Texans (4), Falcons (3) and Seahawks (3)?
I have to give Falcons GM Thomas Dimitroff lots of credit for identifying his three undrafted rookies to make the team: right tackle Ryan Schrader (Valdosta State), LT Terren Jones (Alabama State) and linebacker Joplo Bartu (Texas State). That's a great example of finding talent.
5: How many players were on injured reserve?
Last week, I pointed out that there were already 125 players on injured reserve with one preseason game to go. Last year, on Sept. 1, there were 82 players on injured reserve. This year, the number is 141. A rule change allows players more free time in the spring because they supposedly need the rest. So we practice half the amount of time we used to practice, spending more time in meetings and walk-thrus. That total -- 141 -- on injured reserve is almost three football teams' worth of men being paid yet unable to play this season.
It's too early to conclude if the new system is better, but it sure is starting to look like there is reason for concern.
Two weeks into the season, the Chiefs keep creating long touchdowns. Can they keep it up?

CBS All Access allows viewers to stream every NFL on CBS game in their local market

CBS All Access allows viewers to stream every NFL on CBS game in their local market
CBS All Access allows viewers to stream every NFL on CBS game in their local market

CBS All Access allows viewers to stream every NFL on CBS game in their local market

CBS All Access allows viewers to stream every NFL on CBS game in their local market