Giants OL David Diehl announces retirement after 11-year career
Giants offensive lineman David Diehl has decided to hang up his cleats after 11-years in the league.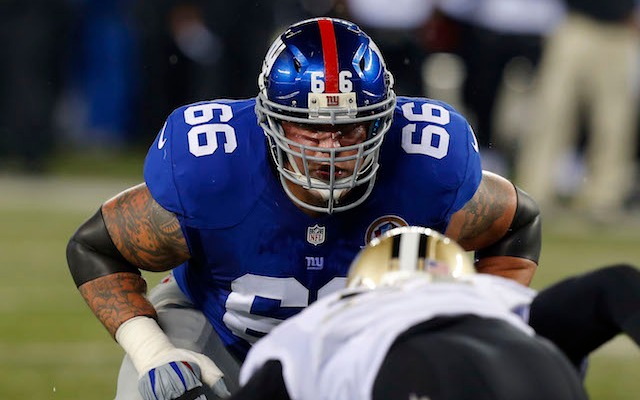 After 11 seasons and two Super Bowl wins, Giants offensive lineman David Diehl has decided to call it quits. The 33-year-old announced his retirement on Friday. Diehl had been in New York since 2003 when the Giants selected him in the fifth-round of the NFL Draft.
"I love football," Diehl said in a statement. "I love being in the game, I love watching film, I love doing all of that and I'm going to miss that aspect of it. But I know I'm ready to start the new and next chapter of my life. I'm ready to not only be a bigger part of my daughter's life, but I'm ready to spread my knowledge and help other people with the game and continue to do stuff throughout our community and charity work and be involved with the New York Giants in any way possible."
Diehl was actually thinking about retiring after the 2012 season, but his 7-year-old daughter talked him into one more year, "She wants me to play forever," Diehl said.
In 11 years with the Giants, Diehl did everything the team asked of him. During his career, the veteran played every position on the offensive line except for center. Diehl made 65 career starts at left tackle, 42 at left guard, 26 at right tackle, and 27 at right guard. 
Diehl was also a starter in both of New York's Super Bowl wins over the Patriots. 
"I've accomplished everything I could possibly dream of as a football player," Diehl said. "If in 2003, anyone would have said that Dave Diehl, a fifth-round draft pick out of Illinois, would win two Super Bowls, play in the Pro Bowl and win every single Giant award possible, people would have said you're crazy. I have a lot to be proud of."
Diehl was the only player left on the Giants roster who predated the Tom Coughlin regime. Diehl was drafted in 2003 by former Giants coach Jim Fassel.  
R.J. White, who nearly won the Las Vegas SuperContest, locks in his pick for the NFC Championship...

Mike Tierney has owned NFL totals and has a strong pick for the AFC Championship Game

The Saints coach wasn't in the mood to answer questions about Drew Brees on Tuesday
This is footage that you'll definitely want to see

It wasn't the matchup that we expected, but the Jaguars would argue that's everyone else's...

The Eagles quarterback and the Vikings quarterback have paths that have crossed many times