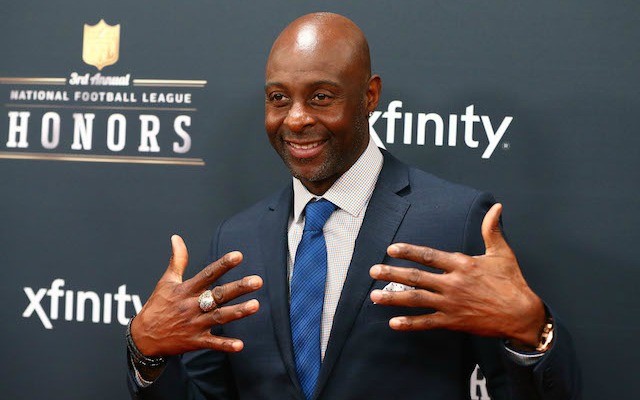 Based on Jerry Rice's logic, we might need to put an asterisk next to a few of the 49ers Super Bowl titles. 
In a video segment that was published on ESPN.com on Jan. 17, Rice admitted that he used to put stickum on his gloves during his playing days. 
"I know this might be a little illegal, guys, I just put a little spray, a little stickum on them, to make sure that texture is a little sticky," Rice says in the video that was unearthed by the readers over at ProFootballTalk.com. 
Stickum and other adhesives were banned by the NFL in 1981. Rice played in the league from 1985 to 2004. So if Rice used stickum, it wasn't a "little illegal," it was all illegal. 
Rice's comment probably wouldn't have been a big deal if Deflategate never happened, but Deflategate did happen. In the days after the Patriots-Colts AFC title game on Jan. 18, Rice had some strong remarks on the subject of deflating footballs. 
In an interview with Jim Rome on Jan. 22, the Hall of Fame receiver flat out said the Patriots were cheating.  
"I'm going to be point blank, I feel like it's cheating," Rice said. "Because you have an edge up on your opponent and its unfortunate that it happened.... I've played in cold weather, I know how hard the football is and you can grip the leather just a little bit better [if it's deflated]."
Rice didn't stop with the cheating comment either, he also added that if the Patriots end up winning the Super Bowl, which they did, their title should have an asterisk next to it. 
"I think you have to really put an asterisk on it, because this is going to follow them, you know, for the rest of their lives, because when you look at it, when people go back and they think about the New England Patriots, they're going to think about these controversies," Rice said.
Even worse for Rice is what he said next, "I've always wanted to do things the right way," Rice said. "I didn't want to take any short cuts or anything like that."
Sure, Jerry. 
I don't personally think there needs to be an asterisk next to anyone's Super Bowl title (Patriots or 49ers), but if the NFL wants to strip away Rice's Super Bowl XXIII MVP award and give it to my dad, I'd be fine with that.