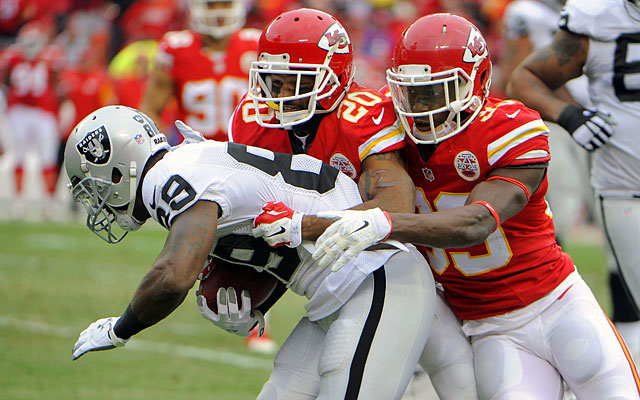 The No. 1 topic from passionate football fans that call in, send emails or tweets during my four-hour daily radio show on Sirius NFL Radio for the past two weeks is penalties. Not questions about which teams will make the playoffs or who will we have a new coach next year or even about the personal conduct policy.
Penalties.
Fans are frustrated mostly by three things: 1) too many penalties, 2) inconsistency in penalties and 3) in the name of safety, too many ticky-tack calls. I decided to take a look at the issues surrounding the No. 1 reason fans tell me they are turning games off.
On the subject of too many penalties, the fans have a point. Right now there have been 3,622 penalties called in the 224 games played. That works out to be 16.1 penalties called per game.
With 32 games left, NFL officials are on pace to call 4,139 penalties this year -- or 550 more penalties than last season! Before you look at the number of penalties called in the past seven seasons, realize that each penalty called takes about two minutes to be resolved. Some take longer when there is a challenge but, on average, it's two minutes of play stoppage.
In the Pittsburgh-Atlanta game last week for example, there were 15 less penalties called than in the Oakland-Kansas City game -- and the Raiders game took 32 more minutes to complete. Imagine the fans watching the Raiders-Chiefs game having 32 extra minutes of play stoppage.
No wonder fans call in frustrated.
Here's a look at the recent history of penalties called per season to support the fans' notion that we are watching an epidemic of penalties:
History of penalties called per season
Season
Penalties called
Penalties/game
2014
3,622
16.1
2013
3,589
14.0
2012
3,748
14.6
2011
3,849
15.0
2010
3,605
14.0
2009
3,552
13.8
2008
3,350
13.0
2007
3,366
13.1
2006
3,492
13.6
If 2014 finishes on its current pace, the additional 550 penalties called as compared to last season will consume close to 1,100 minutes -- or 18 hours of dead time -- during games on top of the normal penalty time stoppage.
On the subject of inconsistency in penalties called, here's a look at just Week 15 and the number of penalties called in 16 games played. Does anyone really believe that the Steelers and Falcons actually played a game that had 15 less penalties than the players in the Raiders-Chiefs game? By the way, the officiating crew that called 21 penalties in Week 15 called 10 penalties the week before.
Penalties in Week 15
Game
No. of penalties
Pittsburgh @ Atlanta
6
Tampa Bay @Carolina
8
Minnesota @ Detroit
8
Miami @ New England
10
New Orleans @ Chicago
12
Cincinnati @ Cleveland
14
Arizona @ Saint Louis
14
Jacksonville @ Baltimore
14
San Francisco @ Seattle
15
Denver @ San Diego
15
Houston @ Indianapolis
15
NY Jets @ Tennessee
16
Green Bay @ Buffalo
19
Washington @ NY Giants
19
Dallas @ Philadelphia
19
Oakland @ Kansas City
21
On the subject of what's being called, look no further than the defense in passing situations. The fan frustration about pass interference, illegal contact and roughing the passer are the usual suspects.
Here's a chart about where these calls are headed. Keep in mind there are 32 regular season games left in 2014, and look at the frequency of calls already.
Pass interference is on pace to be less than last year, but illegal contact is on pace to be called 111 times or more than 2013-12 seasons combined. As for roughing the passer penalties, the league is on pace for 100 calls this season.
What is interesting about protecting the quarterback is the fact that 14 quarterbacks have been injured enough in games this year to miss time for the rest of the season. Rules don't protect quarterbacks as much as pass protection, getting rid of the ball quicker and a balanced offense. The roughing the passer call last week when Russell Wilson was hit wasn't roughing the passer, but it was called and even Seahawks fans thought it was a bad call.
Defensive penalties
Penalty
2014
2013
2012
2011
2010
Pass Interference
183
240
243
205
194
Illegal Contact
97
37
62
68
68
Roughing the Passer
86
89
94
99
86
Finally, I would like the NFL to address the penalty issues before they really start to lose fans. The league could start with more direct response from its own office when they know the officials on the field are getting a call wrong instead of telling us on Monday that the call was wrong.
From there, go with Bill Belichick's proposal that everything can be challenged.
Next, take a look at penalties like illegal contact, especially when both the receiver and defensive back are hand fighting and let some things go before we all think basketball is more physical than football.
Finally, stop penalizing the result instead of the play. A few weeks ago, Brandon Browner led with his shoulder in a collision to dislodge the ball from a receiver -- which he successfully did -- but it was called an illegal hit on a defenseless player.