Owners meetings: Jets, Panthers GMs get break from home heat
Under fire through free agency, GMs John Idzik and Dave Gettleman get a Florida respite at the owners meetings with some longer perspective.
• 10 min read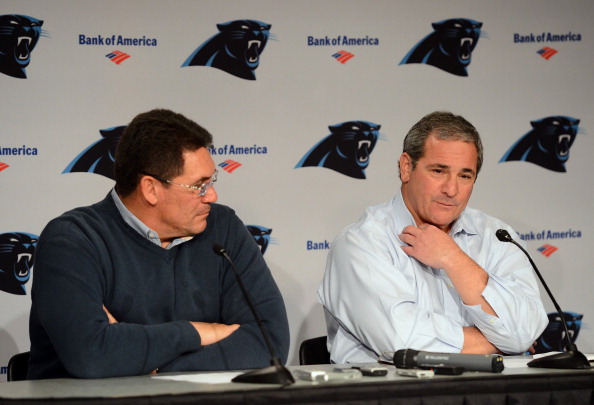 More NFL offseason: Mock Drafts | Prospect Rankings | Pro Days | Top free agents
ORLANDO, Fla. -- This is as good a time as any for John Idzik and Dave Gettleman to get away. A few days out of the local limelight and in the Florida sun, surrounded by their fellow NFL general managers -- men with whom they can commiserate -- could probably do both some good.
Because as it stands right now -- with the first wave of NFL free agency over and the market relatively barren ahead of the draft -- Idzik, the Jets second-year general manager, and Gettleman, the Panthers second-year general manager, have endured a lion's share of criticism, with the scrutiny reaching the national stage as well. It's a narrative that's easy to glom on to -- with the Jets failing to land as many top-end free agents as some had hoped, and Gettleman losing a game of roster chicken with face-of-the-franchise receiver Steve Smith -- and seems to be spreading, but I'd caution that's it's far too early to start writing off either GM.
Yes, there have been some missteps -- and no front office is perfect -- but some perspective is necessary. There is still ample time to continue massaging rosters, with training camp still a good four months away, and both of these teams will be more focused on building through the draft.
Both men inherited situations where the salary-cap mess was going to bleed into multiple seasons; there was really no way around it. And while there has been so much focus on the perceived failures of both organizations, the larger reality is that both of these teams over-achieved in 2013, made gains far beyond what most expected, and, by and large, the exodus of players from both franchises did not include too many rising assets, in their prime.
Could either GM go around crowing or boasting right now about the gains made in this stage of the offseason? Um, no. But I'm don't believe the situation has to be nearly as dire as some make it out to be, especially when you consider how little these teams were really working with offensively in 2013 to begin with. Given where these franchises are in their retooling -- and Carolina's surge to a division title last season certainly casts a more pronounced spotlight on anything Gettleman is doing now -- I didn't expect either to be loading up with players as soon as the market opened. If you did, the background and approach of these two general managers must have been lost on you.
Smith exit painful in Carolina
Gettleman is getting savaged in Carolina right now for bungling the situation with Smith, the most decorated player in the history of the franchise, someone whose fighting spirit came to define the way many fans viewed the franchise. And Smith is someone you don't trifle with, or spar with publicly or want to instigate. When Gettleman talked about assessing Smith's future with the team when he met the media at the combine, I'm sure to him it was relatively innocuous stuff, if a bit lacking in the usual deference to a player of that stature. But it ended up igniting a standoff Gettleman could not win.
By the time Smith came out publicly and said he was done as a Panther and would never play there again, Gettleman was backed into a corner. Smith was calling his bluff, and in the end Carolina paid Smith $3 million, with no offsets, to then hit the open market. He ended up double dipping with the Ravens and will make more in 2014 than the $7.5M the Panthers owed him. The situation obviously could have been handled better, and I don't like the idea of a team this bereft of pass-catching options paying that much to cut a player savvy franchises like Baltimore, San Francisco and New England believe has something left, even at age 35.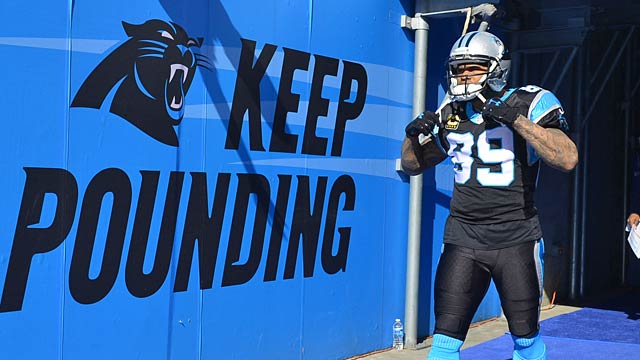 I also don't believe it's the end of the world even though the shadow Smith casts is so large in Carolina. He is slowing down, and this was going to come to a head at some point anyway, with Gettleman not inclined to pick up a team option for Smith in June that would have bound him to the club for 2015 and 2016. It was probably going to get a little messy -- not this messy, but messy -- and Smith was coming off his second-least productive full season ever. The reality is, while the specter of Smith still looms large, the Panthers should be able to find someone to produce 745 yards and four touchdowns, whether through players like Jerricho Cotchery, who they just signed (and I like that deal quite a bit), or with someone like Miles Austin or Jacoby Ford or, gulp, Kenny Britt, all of whom are still on the market.
Further, given the way this draft is shaping up, it's hardly unreasonable to think Gettleman can add an impact pass catcher or two. And, yeah, he damn well has to now.
Let's keep in mind the entire Carolina receiving group did not have any receiver other than Smith with even 50 catches, and Smith was the only receiver with even 650 yards (tight end Greg Olsen led the team with 73 catches, 816 yards and six TDs, and he is still on the roster). No Panthers receiver averaged even 50 yards per game, and Ted Ginn was the only one over even 13 yards per catch. If it weren't for the sorry Jets receivers, this group may have been weakest in the league. It's a unit that needed some overhauling, regardless.
The moves to this point -- his already pedestrian secondary was also stung by departures of corner Captain Munnerlyn and safety Mike Mitchell -- are not glowing, and they put increasing pressure on Gettleman to nail most draft picks and value signings. Impact receivers like DeSean Jackson -- albeit with his attitudinal warts -- could still hit the market and every year a host of veterans are released in the summer before rosters are set. There will be options.
Gettleman has time to recoup
If Gettleman can come close to duplicating the astute bargain shopping he did a year ago, then he can plug a few more gaps with productive veterans on one-year deals as he did with Ginn, Mitchell, Drayton Florence and others last year. If he has nearly the success selecting players in the draft as he did in his first go around, the Panthers will replenish at wide receiver, and get younger and cheaper in the process.
Quarterback Cam Newton is the type of generational talent who I believe will make an offense and those around him better by his mere presence and development alone. He may not require a host of big-money, big-name pass catchers, and the Panthers' success last year despite a roster-in-transition last year alone would speak to that. Newton's recent surgery, likely keeping him out until camp, I believe, is a much bigger real-time setback than anything Carolina's general manager can be held accountable for. That loss of precious practice time with an evolving roster will surely sting, and you can't blame Gettleman for tackle Jordan Gross's decision to retire, either.
Not to say there are not lessons to learn here for the GM. Certainly, Gettleman could perhaps loosen up a bit, embrace a bit more of a touchy-feely side (his years spent with the no-nonsense New York Giants could instill a bit of a stoic bent in anyone), and there are lessons to learn from this offseason for sure. I'm just not convinced he has wreaked the kind of havoc some others are, or that's he's dug a monstrous hole that he won't be able to get out of in relatively short order.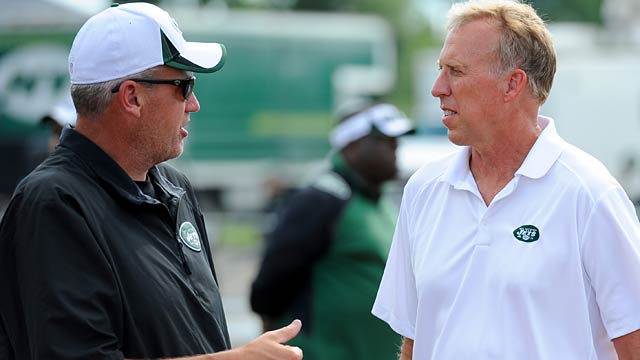 As for Idzik, his decidedly low profile, both publicly and privately, his unwillingness to engage the media in much meaningful conversation, his uber-pragmatic and measured nature, and the circus he walked into in New York all make him an easy target. He does little to combat that, which only serves to exacerbate the situation.
But the misperception that was floating around there in some corridors that the Jets were going to come out of the gate smoking and "win" the first few hours of free agency with an over-the-top spending spree to convince players with better options to come to New York, well, that was never happening. Yes, I agree, the need to add an impact corner was significant, but several players stayed with their current teams, Green Bay drove the market higher by giving Sam Shields over $10M a season, and New York's top target, Vontae Davis, was always focused primarily on staying with the Colts. He told confidants days before the market officially opened that he would be staying in Indianapolis, and that's how it played out.
Idzik lost out on Rodgers-Cromartie
Overpaying for Aqib Talib, given all of his issues, wasn't in the plans for a franchise that was focused on getting rid of bad apples and rebuilding the locker room culture, so options were limited. Could you knock him for allowing Dominique Rodgers-Cromartie from ever leaving his building, as he signed with the Giants the day after his Jets visit? Sure. Does Idzik, a bottom-line guy, need to better grasp the realities of how much above market it might take to land top free agents given the state of the Jets as more pretenders than contenders? Absolutely, and like Gettleman there are some lessons to take away from the last few weeks.
But keep in mind landing a receiver was the overall priority and he did in fact spend more than he would have liked to keep Eric Decker from getting away. That was a must have, and they have him. And the Jets had focused on Josh McCown and Mike Vick as their best options to push Geno Smith for the starting job. Idzik's pragmatism was rewarded by letting the market settle first, leaving Vick as the last quarterback standing, and getting him on a very reasonable one-year, $5M deal and putting him in a system and with a coordinator where he could thrive if healthy.
That was huge, and shouldn't be overlooked in the haste to bash Idzik. Let's not forget the haul Idzik got for Darrelle Revis a year ago, or the selection of Sheldon Richardson in the first round (and conversely Idzik must hope fellow first-round pick Dee Milliner shows signs of life in 2014). Some will bash Idzik for not showing much patience with Smith, a second-round pick, but remember how many times the Jets passed on potentially taking Smith before they did. It was always something of an experiment, and with this team's defense, and should they land an elite receiver in the draft, the opportunity for quick gains on offense are very real with more stable play at quarterback.
As for all the additional money and cap space some believe Idzik should have already spent, if he is able to funnel much of that into a cap-friendly extension for dominant defensive lineman Mo Wilkerson, investing his ample cap resources into his own worthy players (and admittedly that's a short list right now for the rebuilding club), I call that a win. And if Vick stays relatively healthy, the Jets will have continued fortifying that dominant defensive line and they simply have to be better on offense.
They can't possibly be worse, and the addition of Decker is a massive upgrade over anything they had at the receiver spot last year already, and keeping versatile offensive lineman Willie Colon was big, and the trade-off of losing right tackle Austin Howard to the big-spending Raiders by adding Breno Giacomini (a player Idzik knows well from their time together in Seattle), then that might be a wash as well. I still think Chris Ivory -- acquired in trade last spring -- could pay bigger dividends and the running game could improve.
Finally parting with perennial malcontent Santonio Holmes, the quirky Antonio Cromartie and ending the Mark Sanchez era eliminates distractions and amounts to addition by subtraction for Idzik. Getting out from under their albatross contracts was huge as well. If Vick plays, he will far outperform Smith's numbers from a year ago, and you can't convince me that by the time the Jets emerge from the draft -- one overloaded with prospects at receivers, that they, like the Panthers, won't look much better on paper at that position that they do today. And, with Vick and coordinator Marty Mornhinweg politicking for DeSean Jackson, his addition would certainly spice up this moribund offense as well.
So while I'm not going to champion Idzik's and Gettleman's work to this point, I wouldn't discredit it either. Let's see how the long, arching NFL offseason plays out, let's see how their draft picks perform, both this upcoming rookie class and their 2013 picks as well. I'm going to reserve ultimate judgment until these teams at least take the field for their first training camp practice, let alone set their 53-man rosters. A lot can change between now and then, and it these two cases, it probably will.
Pick Six Newsletter
Get the day's big stories + fun stuff you love like mock drafts, picks and power rankings.
Please check the opt-in box to acknowledge that you would like to subscribe.
Thanks for signing up!
Keep an eye on your inbox for the latest sports news.
Sorry!
There was an error processing your subscription.
Running backs around the league have their eyes on Gordon's contract standoff with the Cha...

Looking at some under the radar games for early in the season and camp storylines on the Pick...
The retired QB has made it no secret that he's gotten interest from teams around the leagu...

The Texans need to keep their young franchise QB upright, but who's the right man to do it...

College football's best QBs have some work to do to bolster the reputation of the 2020 cla...