Patriots camp observations: WRs coming along under Brady
How will the Pats use Tim Tebow? How are Tom Brady's young WRs coming along? What's the TE situation? Pat Kirwan gets an up-close look at New England's first practice in full pads.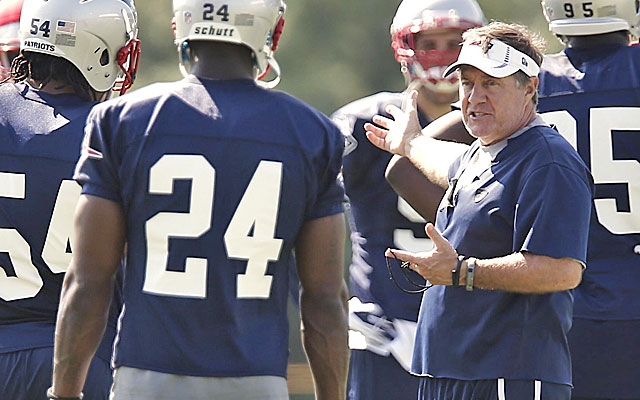 Many thanks to Coach Belichick for letting me on the practice field and close to all the drills during practice. I got a birds-eye view of all the things going on during the New England Patriots first practice in full pads.
Here are some hings that jumped out at me from practice.
•  Tom Brady and the young receivers: Right now if Rob Gronkowski can't make it back for the opening game Brady will play minus the players who caught 356 of the 401 receptions last year. Before I got to camp I thought this could be the biggest problem the team faces. I was impressed with rookie wide receivers Aaron Dobson and Josh Boyce . Dobson can be a vertical threat between the numbers and sideline, a role Brandon Lloyd played last year. Dobson did struggle catching the ball occasionally but that was because he was still learning the route running. Boyce missed all the OTAs but shinned at practice on two routes. He ran a post corner for a touchdown showing deep speed, good route running and concentration. Then he came back on a shallow crossing route, caught the ball and showed plenty of YAC.
• The Shane Vereen factor: Vereen is being groomed to take over the Danny Woodhead role as a receiving back and he looked impressive. He already has multiple screen pass plays mastered and can empty out of the backfield into a no back set and run routes like a wide receiver. I wouldn't be surprised if Vereen catches 50 balls this year.
• The tight end population: It's clear there is no replacement for Aaron Hernandez in the tight end group. Without Rob Gronkowski, a number of players are competing for playing time. Jake Ballard doesn't look 100 percent yet but is working through the medical recovery. Veteran Daniel Fells flashed a few times during the drills but is only a candidate for a backup spot at this point. Zach Sudfeld , the 6-foot-7, 260-pound kid from Nevada is a work in progress. Mike Hoomanawanui did come out of the backfield a few times like Hernandez did but is hardly the threat Hernandez was in the past few years. It's possible the Patriots could look to a veteran on the street in the next few weeks.
• The Patriots run game: They are under the radar screen when it comes to the running game. They have the offensive line and running backs to be a very physical run team, and I think they are planning to feature the run game while the young receivers learn the ropes. I expect the Patriots to be a 50 percent run team on first downs and finish the season running the ball close to 45 percent of the time. As long as Ridley doesn't have fumble issues, he should get close to 300 carries.
• The no-huddle offense: Some believe the no-huddle offense will be shelved with Welker, Hernandez, Lloyd and maybe Gronkowski not on the field. I think you will still see the no-huddle attack, especially on second downs. It will be a challenge with all the inexperienced receivers, but Tom Brady will push his teammates along until they can function in the package.
• Defensive line depth: The starting front four looks good with Rob Ninkovich and Chandler Jones at the ends and Tommy Kelly and Vince Wilfork inside. The problems start when you look to the roster for quality depth and a hybrid 'joker' player who will stress opposing quarterbacks. Justin Francis , a defensive end out of Rutgers, is a dark horse to become a factor in the pass rush, according to his teammates I spoke with Sunday. It may take some time, but rookie Jamie Collins has a chance to be a hybrid linebacker/pass rusher.
• The rookie class: There were many years that I would come to Patriots camp and it was simply too hard for rookies to crack the lineup and make a big impression. This year there are a few rookies looking to contribute right away. I already mentioned the two wide receivers, Josh Boyce and Aaron Dobson, as well as linebacker Jamie Collins. Keep an eye on corner Logan Ryan out of Rutgers. If Alfonso Dennard finds himself in legal troubles and is unavailable to play, Ryan will have to step up. He flashed a few good things at practice in his zone awareness and needs to be studied as the summer progresses.
•  Tim Tebow : I'm not sure how much impact Tebow will have on this team but a few things stood out as I watched him and spoke with the owner Bob Kraft. He really likes what Tebow stands for, and with all the issues surrounding the club right now, he sounds like a guy the owner wants on the team. Bill Belichick said to me: "We have three good quarterbacks to work with this year." Tebow is the third QB on the team. The defensive players expressed to me that Tebow will do a great job of preparing them for the pistol offenses they may see this season and finally, when the team went to the cafeteria for lunch, Tebow was one of the guys who just sat down with the veterans and seemed to fit in well. A month ago I thought he was a prime candidate to be cut in August. Now I say he makes the team.
• Position competition: There is competition at a few spots on this team. If Dennard is unavailable Ras-I Dowling , Kyle Arrington and maybe Logan Ryan are battling for the corner spot opposite Aqib Talib . The third defensive tackle spot is wide open and Marcus Forston appears to be leading, but things will change and another veteran could be added. Veteran wide receiver Michael Jenkins may have to hold off the two rookies to stay on the field. The best battle may be OG Marcus Cannon and Dan Connolly for the right guard spot.
• Final thoughts leaving camp: The Patriots are still the team to beat and Brady will get the receivers ready in time. If Danny Amendola stays healthy, he will catch 80 balls. There is little depth for the front seven on defense and they can ill afford an injury. This is still a double-digit win club.
Here are some more practice notes:
1. Vince Wilfork ran over Logan Mankins in a one-on-one pass rush.
2. Tim Tebow worked exclusively at QB and took some reps in a scramble pass drill which helped the receivers re-adjust their routes. It looks like Tebow will move around if he plays.
3. Tom Brady spent a lot of time between plays talking with Stevan Ridley about the passing game.
4. Ryan Mallett 's deep ball was very impressive, and if he has to play, opposing corners will get challenged right away.
5. LeGarrette Blount had a good short-yardage inside run at the goal line for a touchdown in the live team period.
6. Ridley had two fumbles in practice and Vince Wilfork picked one up and ran for a long touchdown.
7. After the 9-on-7 run game period, the team broke up into position groups in all parts of the field. Then Belichick blew a whistle and made the whole team run back to the 9-on-7 spot, line up and run two more plays while they were huffing and puffing. It was a great opportunity to deal with sudden change. Belichick warned the team if they walked or jogged slowly the next time they split up into position groups he would do it again.
8. Newly acquired safety Adrian Wilson , a true strong safety, wound up in a lot of deep middle free safety coverages during the practice.
9. Any time a player made a mental error or fumbled the ball he had to take a lap around the field. I counted nine players taking that lap.
10. Chandler Jones had an exceptional bull rush on left tackle Nate Solder and it was clear his offseason weight room work is paying off.
The Steelers quarterback weighs in on the hit that might've ended Rodgers' season

Smith was not pleased with the Steelers safety's hit on him

SportsLine's Mike McClure, a DFS pro with more than $1M in winnings, gives optimal lineup...
Many players and owners met on Tuesday to discuss the national anthem and social issues

Meeting productive, both sides optimistic, but no changes were enacted

SportsLine's computer model simulated every Week 7 NFL game 10,000 times with very surprising...