Pete's Pics: Trent Richardson makes tacklers miss
Pete Prisco goes to the telestrator to break down film from Week 8's NFL action and comes out of it with several observations. This week, we watch Trent Richardson in action and discover how Dez Bryant shares the blame for one Tony Romo interception.
Last Sunday against San Diego, Browns running back Trent Richardson looked like the guy the Browns expected when they drafted him third overall in the 2012 draft. He ran over and around tacklers.

His 26-yard touchdown run was an impressive display of making tacklers miss, and turning what should have been a short gain into a touchdown run.

Here's a look at the play.

In the first screen shot, you will see Richardson ready to take a handoff to the right. Eric Weddle, white line, blitzed from the left side of the offensive formation. The Browns ran away from it. Safety Atari Bigby (red circle) is the last line of defense.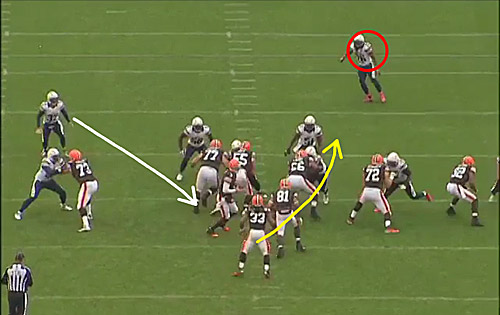 In the second shot, you will see that Weddle (white circle) dove at Richardson's legs, but missed. Jarrett Johnson (black circle) had an easy shot at Richardson, but the rookie back made him miss. That left it up to Bigby (red circle) to make the play. He didn't.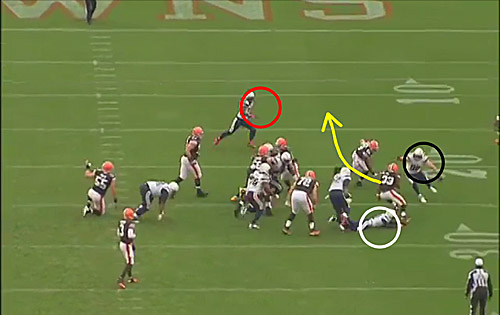 The third shot shows Bigby missed his tackle and Richardson was off to the end zone. What should have been a short gain turned into the only touchdown of the game for either team. Richardson, and some missed tackles, made it happen.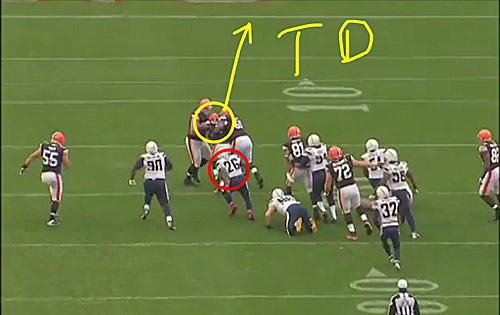 Don't blame it all on Romo

In After Further Review this week, I mentioned how Cowboys receiver Dez Bryant was responsible for Tony Romo's first interception because of the way he ran his route.

Here's the play. Romo tried to hit Bryant (yellow circle) in the middle of the field on a skinny post in front of safety Steve Brown (red circle). But Bryant ran the route more like the blue arrow, rather than the yellow one, which would have allowed him to cross the face of Brown.

The second shot shows how Brown stepped in front of Bryant for the pick. Bryant ran behind Brown, instead of in front of him. Brown easily picked it off for the Giants.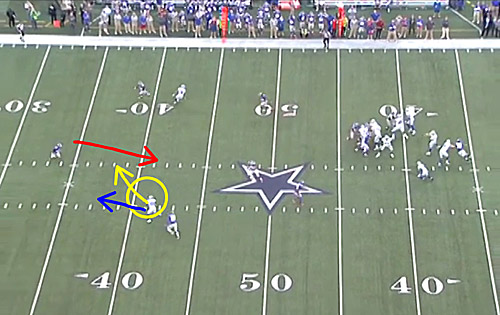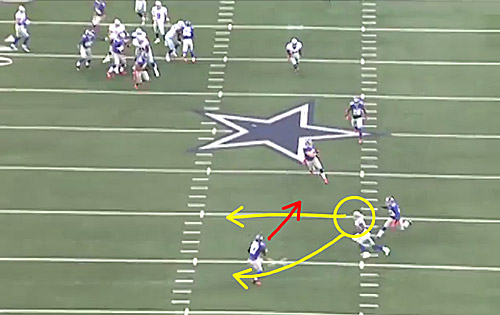 Route choice backfires on the Bears

It's not every game we get to see one-man routes. Not in this pass-happy era. But the Bears ran one to Brandon Marshall last week, and the ball was intercepted. Why? There were three Panthers around him.

Take a look at the screen shots and you will see Marshall is the only guy in the route. No backs. No tight ends. No other receivers. It's just him. And Jay Cutler tried to hit him with a long back that was easily intercepted by Josh Norman of the Panthers.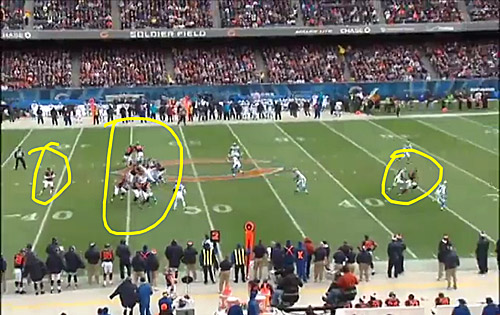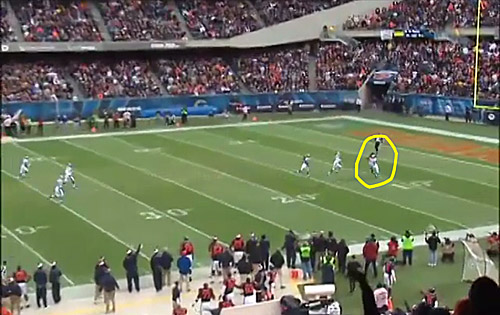 Freeman tearing it up

Colts linebacker Jerrell Freeman is playing some good football. One play from the Titans game last week shows how impressive he can be.

It was a delayed draw to Titans running back Chris Johnson. In the first shot, you can see Freeman (yellow circle) lined up outside the left guard. Johnson (red circle) ends up running wide right, even though the play is designed for him to pick a hole.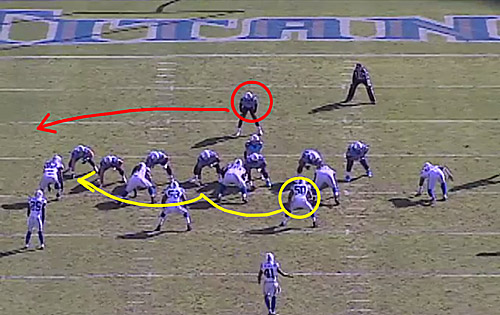 The second shot shows Johnson bounced it outside and Freeman pursued down the line. He maintained his gap control while doing so. You can see by the second shot here that he had a long way to go to get Johnson.


In the third and final shot, you can see Johnson went wide right, tried to cut it back and Freeman was there to nail him. That's a long way to go for a linebacker against a speed back like Johnson.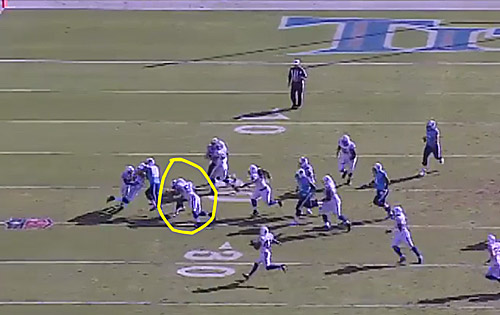 The Steelers have found their replacement for Todd Haley

The pop superstar will seek halftime show redemption at Super Bowl LII

Our computer model simulated the AFC and NFC title games 10,000 times with surprising resu...
Todd Haley's name has also been floated as a possible replacement

It wasn't the matchup that we expected, but the Jaguars would argue that's everyone else's...

CBS All Access allows viewers to stream every NFL game on CBS in their local market