PHOTO: Levi's Stadium sod fails after one game, 49ers tearing it out
After only one preseason game, the 49ers have been forced to replace the sod at their new $1.2 billion stadium.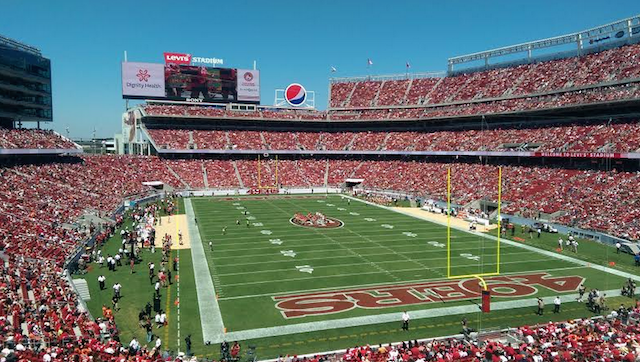 There's a lot of things that $1.2 billion can buy you, but apparently, it can't buy nice grass. After only playing one game at their new $1.2 billion home, the 49ers have been forced to replace the sod at Levi's Stadium. 
The team started the process on Thursday and will definitely will have to have the job finished by Sunday because the 49ers are scheduled to host the Chargers in a Week 3 preseason game.
@RosenbergMerc there's access today. I'm here now. pic.twitter.com/P5uA5fefi2

— Steve H (@sthung13) August 21, 2014
The sod seemed to look fine for San Francisco's preseason home opener against Denver on Aug. 17, but things took a turn for the worse on Wednesday. Coach Jim Harbaugh pulled his players off the field during practice after several players were slipping, according to CSN Bay Area.
The team ended up leaving the Levi's Stadium field, which was a disappointment to the many fans who were attending the 49ers final open practice of the season. 
"The 49ers organization would like to apologize to any fans who were inconvenienced by today's practice ending early," the team said in a statement on Wednesday night. "We have determined the appropriate measures necessary to have the field ready for Sunday and look forward to hosting the San Diego Chargers." 
The 'appropriate measures' apparently included tearing out all of the grass at Levi's Stadium, which the team started doing on Thursday morning. 
Ironically, the Bandera Bermuda grass that was installed at Levi's in mid-April was picked because it was supposed to be able to withstand heavy foot traffic.  
#49ers turf installer in April: "It's exceptionally wear-resistant & quick to recover. Divots should be almost nonexistent in this stadium."

— Mike Rosenberg (@RosenbergMerc) August 21, 2014
Since the ribbon-cutting ceremony on July 17, the stadium has hosted an on-field gala, an MLS soccer game and the Broncos-49ers game on Aug. 17, a game where CBSSports.com reviewed the stadium. 
The stadium is also scheduled to host several events before the 49ers regular season home opener on Sept. 14. Those events include two high school football games on Aug. 29 and a Mexico-Chile soccer game on Sept. 6. 
Stephen Hauschka explains why it's important for white people to understand racial inequal...

Surgery is going to end Jason Verrett's season for the second year in a row

There's still a couple of celebrations you're not allowed to do in the NFL
NFL players aren't very happy with Donald Trump

NFL commissioner wasn't thrilled with the president's comments from Friday

Mike McClure, a DFS pro with more than $1M in winnings, gives optimal DraftKings and FanDuel...