PHOTO: Tampa Bay Buccaneers unveil new helmet and logo
What does Tampa Bay's new helmet look like? Did the Buccaneers dramatically alter their logo? Find out here.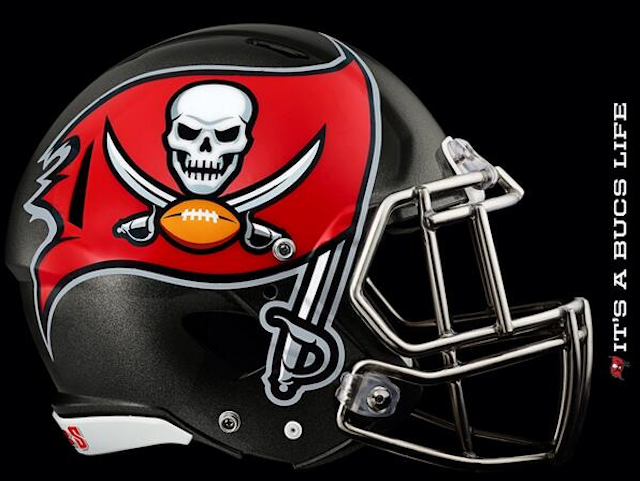 If you got a tattoo of the Tampa Bay Buccaneers logo, we have bad some news, there's a new logo -- and a new helmet. 
The Buccaneers unveiled a new, enhanced logo on Thursday and a new helmet that they'll wear beginning with the 2014 season. The new helmets will be the third ones that the team has worn in franchise history.
As you can see in the picture above, the new logo looks a lot like the old logo -- so that tattoo might be able to be saved -- but the helmet is waaaaaaay different. First, you'll probaly notice that the Buccaneers decided bigger is better. That's a giant decal. That thing might be bigger than an actual pirate flag on a pirate ship.  
The picture at the top of the page is an image provided by the team, but as you can see here, the helmet looks a little different in person: 
New Buccaneers helmets are shiny on TV. pic.twitter.com/Mkz72FdFUw

— John Breech (@johnbreech) February 21, 2014
The actual helmet is still pewter-colored, it's just a darker shade than the helmets Tampa Bay wore last season. The logo was only slightly changed. For instance, the laces on the football are white on the new logo instead of black.
The helmet the Buccaneers wore last year was introduced in 1997. The only other helmet Tampa Bay has worn in its franchise history is the famous Creamsicle ones that the team wore from 1976-96.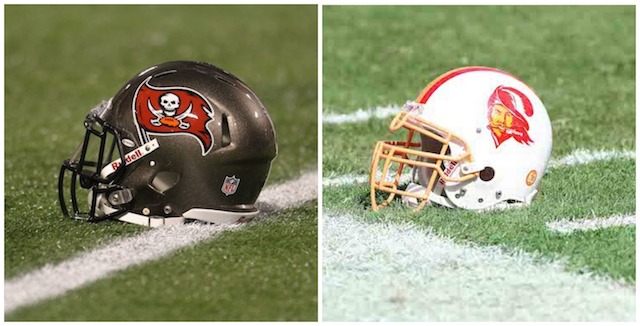 Cowboys rookie Jourdan Lewis got some good news on Tuesday.

The Ravens might need some help at running back

The Jaguars are making people rich
It looks like Michael Vick is hoping to make the transition from player to coach

The former undrafted free agent is about to get a huge raise

Both Malik Hooker and Andrew Luck are on the PUP list, so maybe it's time to start worryin...