Report: Buccaneers OL Carl Nicks showing MRSA infection again
Tampa Bay Buccaneers guard Carl Nicks is reportedly experiencing another MRSA infection. Nicks' specialist believes that the new infection is a reoccurrence of the first one Nicks was diagnosed with in August.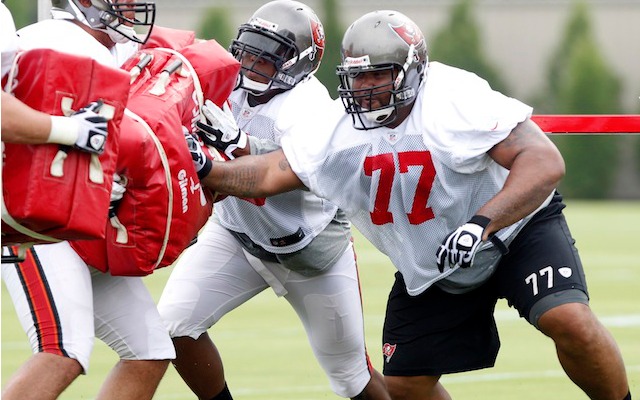 The MRSA nightmare doesn't appear to be over for Tampa Bay Buccaneers offensive lineman Carl Nicks. Nicks was cleared of the infection and returned to practice in September, however, the infection has returned, according to FoxSports.com.
Cultures taken from Nicks are showing MRSA in his left foot. The infection is believed to be a reoccurrence of the original infection, according to the report. 
According to the Mayo Clinic, MRSA (Methicillin-resistant Staphylococcus aureus) "is caused by a strain of staph bacteria that's become resistant to the antibiotics commonly used to treat ordinary staph infections."
The antibiotics-resistance is what makes MRSA such a scary infection, and it actually can be life-threatening.
The MRSA outbreak was discovered by the Buccaneers in mid-August. Since then, Nicks and kicker Lawrence Tynes have been been dealing with the most serious infections.  
As CBS Sports NFL Insider Jason La Canfora previously reported, Tynes has filed a grievance that argues the team violated proper protocol when it placed Tynes on the Non-Football-Injury list after he was infected with the potentially-deadly MRSA bacteria during training camp.
By placing Tynes on the NFL list, the Buccaneers will keep him from accruing a season of service toward his pension and he's also not able to receive 401k matching or annuity benefits. 
Tynes has undergone two procedures to attempt to scrape the infection out and clean his infected toe, however, he's still unable to play football. Tynes' wife took exception to a late August comment by Bucs coach Greg Schiano, who said Tynes was doing 'well.' 
In a season where the 0-4 Buccaneers are struggling, things seem to be slowly going from bad to worse.  
The Lions fired Jim Caldwell and kept some assistants in place, so Patricia is setting his...

Is there an NFL conspiracy that will help the Patriots win another Super Bowl? We investig...

There's no bigger stage in the world than the 50-yard line on Super Bowl Sunday
From snowballs at Santa to assaults and batteries, there's no shortage of craziness in Phi...

The sports world's most unlikely relationship continues to find new legs

Riveron, who replaced Dean Blandino in 2017, has the support of NFL commissioner Roger Goo...