If Johnny Manziel doesn't change, his NFL career is over. It's that simple, really, at least according to those close to the former 2014 first-round pick, including Manziel's father and his agent-for-now, Drew Rosenhaus.
But Manziel's actions seem to indicate that football not only isn't important, it isn't even on the radar. The latest: TMZ reports that Manziel and his friends rented a $4.5 million home in Los Angeles, and after two days of partying, did $32,000 in damages.
That led to neighbor Kathy Griffin calling police, and now, according to the real estate agent who rented Manziel the property, someone identifying themselves as suspended Browns wide receiver Josh Gordon was also there.
Nicholas Goodwin, who owns LA Exotic Life, told the New York Post that Manziel and his friends "were supposed to check out at noon. Manziel was passed out ... There was cocaine all over the kitchen table, and mushrooms were still out on the table in front of him. There was booze everywhere ... broken glasses over the floor and a champagne glass in a tree."
On Friday, Goodwin told Cleveland.com's Mary Kay Cabot that he never saw Manziel or Gordon doing drugs or drinking, but when Goodwin came over to the house at noon and found a sleeping Manziel, he said he spoke with a man who identified himself as Gordon.
"I didn't recognize Josh because he's not as recognizable as Johnny," Goodwin said. "I sat and talked to him and said, 'How do you know these guys?' He goes, 'I played with Johnny over at Cleveland.' I said, 'Your name?' He said, 'Josh Gordon.' And I was like, wow, OK, I don't know if it's a good idea for these guys to be hanging out together."
Goodwin said he returned at 6 p.m. and Gordon was gone but Manziel was still asleep on the couch.
It's worth noting that Manziel spent part of last offseason in a treatment facility, and Gordon has been suspended since February 2015 for violating the league's substance abuse policy. He applied for reinstatement in February 2016, but reportedly failed a recent drug test, and now won't be able to apply for reinstatement until Aug. 1.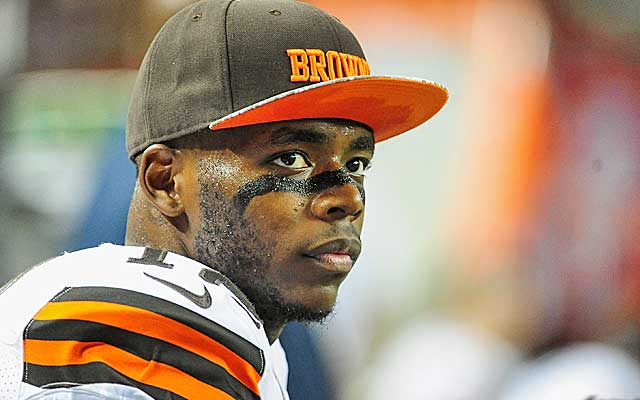 And while Manziel's NFL career is teetering on finality, Gordon is expected to generate plenty of interest once he's reinstated. On Friday, hours before the Cleveland.com story put Gordon with Manziel in Los Angeles, BleacherReport.com's Mike Freeman wrote, "Over the past few days, in speaking with sources in eight NFL front offices, I've seen a clear picture of Gordon's future emerge. Despite failing multiple drug tests -- despite apparently thinking the NFL's drug policies are voluntary -- Gordon still garners a great deal of interest."
Freeman added that teams are willing to give Gordon another chance because "He's not Greg Hardy," and there's good reason to believe that the 25-year-old could still become one of the league's best young wideouts.
Having "I'm not Greg Hardy" at the top of your resume is a good start, but Gordon might want to add "I no longer hang out with Johnny Manziel either."
Back in L.A., Goodwin told Cabot that Manziel contacted him on April 4 about renting the home for the night.
"I ended going over there myself and they misrepresented themselves," Goodwin said. "They didn't say the rental was for Johnny. He was with Ryan Silverstein [who's an assistant for Manziel's friend and rapper Drake]. ... It was so late and I was so exhausted that I didn't know it was actually Johnny that was renting the house. I got home and I was like, 'Oh my God, I just rented a house to Johnny Manziel. I don't know if that was the right move.' ...
"My colleagues gave me a lot of heat," Goodwin continued, "saying, 'Why would you rent to Johnny? We all know he's in party mode.' And then the party started."
When it was over, the house was trashed, and three days later, Manziel was the passenger in a hit-and-run accident.
#JohnnyManziel: Mangled Wreckage Of Hollywood Crash VIDEO https://t.co/8Y8ctRPeNa #Celebrity pic.twitter.com/cJXN95bp0C

— Zesty Celebrity News (@zesty_celebrity) April 15, 2016
Meanwhile, Rosenhaus told PFT Live on Friday that he's worried that he and Manziel aren't "on the same page" about what the quarterback needs to do to get his life together.
"Unfortunately, there hasn't been any movement toward getting help or seeking treatment that I'm aware of," Rosenhaus said. "I'm trying diligently to recommend this to Johnny. I'm not the first one, certainly not the only one. There are a lot of friends and family and people that want the best for this young man. He's got a plan, it's just different than the one he and I talked about and what I would recommend to him."