Seahawks-49ers wrapup: Colin Kaepernick falls apart in 4th quarter
San Francisco quarterback Colin Kaepernick turned the ball over three times in the fourth quarter as the Seahawks came back to beat the 49ers 23-17 in the NFC Championship.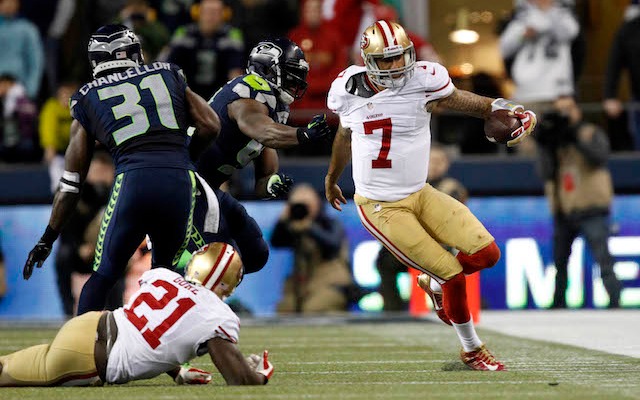 More Super Bowl coverage: XLVIII odds and lines | Expert picks| Latest news
•Talk about Déjà vu for the 49ers, their season ended on Sunday the same way it ended last year: With Colin Kaepernick trying to hit Michael Crabtree in the end zone. That was the final offensive play of San Francisco's Super Bowl XLVII loss to Baltimore and it was the 49ers final offensive play in their 23-17 NFC Championship loss to Seattle. 
The play on Sunday ended with a Kaepernick interception, but it's hard to blame the third-year quarterback for the loss because the 49ers wouldn't have been in a position to win the game if not for Kaepernick's play through the first three quarters.
In the first half, it almost looked like the Seahawks were afraid to tackle Kaepernick. The 49ers quarterback ran for 98 yards in the first two quarters, including a career-long 58-yard run in the second quarter. Kaepernick was almost perfect in the first half as the 49ers went to halftime with a 10-3 lead. 
Kaepernick wasn't even bad in the third quarter either, it was the fourth quarter where he fell apart. The 49ers have a history of clutch quarterbacks -- a history that includes names like Joe Montana and Steve Young -- and Kaepernick had a chance to etch his name into 49ers lore in the fourth quarter. 
Kaepernick is a ticking time bomb and I have no idea which side is going to sustain the damage.

— Matt Hinton (@MattRHinton) January 20, 2014
Instead, the 26-year-old turned the ball over three times in the fourth quarter, a total that includes an inexplicable interception thrown to Seattle's Kam Chancellor. The pick led to a 47-yard field goal by Steve Hauschka that put the Seahawks up 23-17. 
Kam Chancellor is really good. But that pass by Colin Kaepernick was horrendous.

— Grant Paulsen (@granthpaulsen) January 20, 2014
The interception Kaepernick threw at the end the game wasn't a horrible throw, it was a horrible decision to make the throw. The 49ers were at the 18-yard-line with two timeouts and about 20-seconds. Kaepernick didn't have to go for the win yet, and if he did want go for the win, he definitely didn't need to throw it into double coverage. 
Kaepernick may have thought he could squeeze it in there because he made the throw below earlier in the game. That's a 26-yard touchdown pass to Anquan Boldin thrown like a bullet and he even threw it off of his back foot while jumping.
•Kaepernick wasn't the only quarterback who struggled in the NFC title game, Seattle's Russell Wilson also had trouble at times. Wilson fumbled on the first play from scrimmage after taking a hit from 49ers linebacker Aldon Smith. The fumble could have been costly, but the Seattle defense stepped up and held San Francisco to a field goal. 
Wilson looked overwhelmed and even slightly unnerved at times against the San Francisco pass rush, but he made plays when he had to. Most notably, Wilson hit wide receiver Doug Baldwin for a 51-yard gain in the second quarter that led to Seattle's first points on a Steven Hauschka field goal. 
Wilson also seemed to heat up as Kaepernick cooled down in the second half. Wilson's biggest throw of the game was a 35-yard touchdown pass to Jermaine Kearse on 4th-and-7 that put Seattle up 20-17. If Wilson messed up that pass, the 49ers would have taken over from their own 35 with a 17-13 lead early in the fourth quarter. 
•It wouldn't be a 49ers game unless Jim Harbaugh made at least one wild face. In this case, he didn't even wait for the game to start, he made it just before the National Anthem. 
Already mad http://t.co/91KNb45hoE

— Michael Shamburger (@mshamburger1) January 19, 2014
Don't worry though, Harbaugh did make a few faces during the game, like this one at the end of the third quarter.
This is actually HAPPY Jim Harbaugh. #goodcall pic.twitter.com/7hJuU7DUbq

— Will Brinson (@WillBrinson) January 20, 2014
•Harbaugh was also probably making that face at the beginning of the third quarter because that's when Marshawn Lynch opened up a tropical-flavored Skittles pack on the 49ers defense and ran for a 40-yard touchdown. 
Caution: Receiving reports that a Beast has broken loose on @CenturyLink_Fld #gohawks

— Seattle Police Dept. (@SeattlePD) January 20, 2014
When Lynch scores a touchdown at home, fans are known to throw Skittles on the field. However, one fan had a bigger idea on Sunday: He dressed like a pack of Skittles. Then he celebrated Lynch's touchdown by dancing. Then everyone around him danced. Then I don't know what happened after that because I went partially blind looking at all the colors of the rainbow in Hi-Def.  
Lynch was his usual Beastly self, he averaged five yards per carry against the 49ers and ran for 101 yard in the game. 
•Another player who was beast in the NFC title game was 49ers linebacker NaVorro Bowman. Bowman had the most solo tackles in the game and was one of five players from either team who recorded a sack. Unfortunately, Bowman didn't get to finish the game though. The 49ers linebacker suffered a knee injury in the fourth quarter while tackling Seahawks receiver Jermaine Kearse. 
NaVorro Bowman clearly has the ball. Also, that looks very painful: #49ers pic.twitter.com/IhsDuhOvbS

— John Breech (@johnbreech) January 20, 2014
It was a controversial play and it looked like Bowman had stripped Kearse, but the refs ruled that it was still Seahawks ball. After the game, Harbaugh said Bowman likely has a torn ACL.
The news wasn't much better for 49ers offensive lineman Mike Iupati. San Francisco's starting left guard left the game in the second quarter with an injury that Harbaugh called a fractured ankle. 
•The Seahawks are now headed to the second Super Bowl in franchise history, but before they left CenturyLink Field on Sunday night, cornerback Richard Sherman made sure to get in the last word of the season in the San Francisco-Seattle rivalry. 
During a postgame interview with Fox's Erin Andrew, Sherman -- actually, instead of trying to explain it, lets just go straight to the video. 
Sherman was loud, brash and honestly, I kind of liked it. Fans and the media are almost always complaining that players are too boring and talking in too many cliches. The Seahawks win was easily the biggest one in Sherman's three-year NFL career and if he wants to talk trash at the top of his lungs about Michael Crabtree in the postgame interview, I'm all for it. 
Also, I'm all for Sherman taking to Twitter after his rant to quote HBO's Game of Thrones.
A lion doesn't concern himself with the opinions of a sheep.

— Richard Sherman (@RSherman_25) January 20, 2014
---
Follow John Breech on Google+ or you can even sometimes find him on Twitter
After an injury to Trevor Siemian, Brock Osweiler entered the game and helped the Broncos to...

The 32-year-old running back is done for the year

Brandon Williams was involved in a scary situation in the first half against Denver
The Broncos are turning back to Osweiler after an injury to Siemian

The Cowboys legend admits he's not on 'great' terms with the Cowboys suspended running bac...

Here's the latest information on injured Steelers linebacker Ryan Shazier