Super Bowl 2016: Broncos, Panthers ride dominating defenses to title game
The Broncos and Panthers have punched their tickets to Santa Clara and will meet in Super Bowl 50. Here's an early look at the matchup.
DENVER -- The shots from the Denver Broncos' defense kept coming, 23 by unofficial count. Tom Brady stood in and took all of them, a tough guy for sure, a player who will fight to the end, but ultimately those shots would make anybody pay the price.
Brady was brutalized as Denver beat New England 20-18 in the AFC Championship Game on Sunday to earn a spot in Super Bowl 50 against the Carolina Panthers.
"He saw ghosts," Broncos corner Chris Harris Jr., said in reference to imaginary pass rushers when there weren't any.
"He's a warrior, but, yes, he was flinching," Broncos defensive lineman Antonio Smith said. "Nobody wants to get hit that hard. If I was in there and took all those shots, I'd be flinching too."
The Broncos sacked Brady four times, hit him 19 other times and completely shut down an offense that came in as one that was viewed as unstoppable when healthy.
"They forgot how good we were," Harris Jr. said.
Brady was picked off twice with a passer rating of 56.4, and it took 56 attempts for him to get to 310 yards. They took away his short passing game, and it made Brady look mortal. Von Miller had 2.5 sacks and a pick of Brady.
"It was just tough for us to get into a rhythm," Brady said. "They've got a great pass rush."
Even so, Brady made it interesting with a late touchdown, but his two-point try was knocked into the air and picked off by Bradley Roby with 12 seconds left to seal it.
Now comes a different challenge, trying to contain Cam Newton, a big, strong physical quarterback who can kill you with his arms and his legs. Carolina will run the ball, which New England does not, and they will be more physical on the offensive line.
Newton has improved greatly as a pocket passer, but this Denver secondary and front will provide a tough challenge for him in the pocket.
"I think the media was overlooking us," Broncos linebacker Brandon Marshall said. "All the media was talking about who the Patriots were going to play in the Super Bowl, but they forgot they had the Broncos in the way."
Carolina rolled over Arizona on Sunday in the NFC Championship Game with an impressive defensive showing as well. They forced the Cardinals to turn it over four times in the first half -- Carson Palmer lost two fumbles and threw two picks -- as they rolled to the big halftime lead.
This might come down to which offensive line can play the best. On paper, that edge goes to Carolina. Then again, they have to face that Denver front.
"No matter who it is, if you hit them they will show it," Smith said.
Hitting Cam Newton won't be the same as hitting Tom Brady, that's for sure.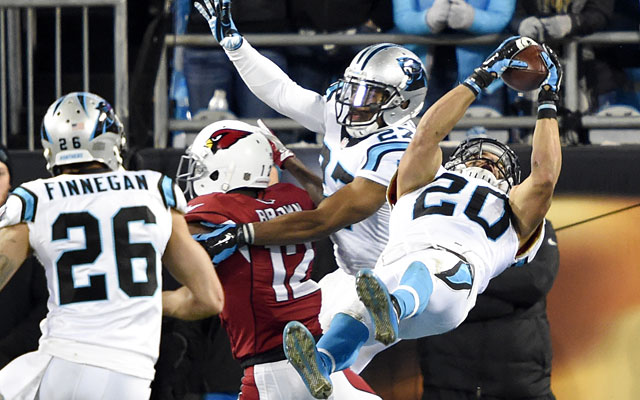 Here's a first look at Super Bowl 50:
The Skinny: The Panthers and Broncos were the top seeds heading into the playoffs, so many expected them to meet in this game. Carolina really impressed in its two playoff victories, while Denver had to win two close ones to advance.
The teams have met four times in their history, with Denver winning three of them. The last time they played was in 2012 at Carolina and the Broncos rolled to a 36-14 victory. The Broncos had an interception return for a touchdown and a punt return for a touchdown that day.
Peyton Manning threw for 301 yards and a touchdown that day, but this is a far different Manning. He threw for a 176 yards against the Patriots as he has taken on more of a game-manager role.
Newton was the leading rusher in that game with 64 yards, but he was picked off twice. Denver has six starters still starting from that game, while Carolina has eight.
Key Matchup to Watch: It's the Carolina offensive line against the Denver defensive front. The Carolina line, which was a major question mark heading into the season, has been a pleasant surprise. The interior, led by center Ryan Kalil, is the strength of the line.
The tackles have done a solid job, but they might be overmatched by Denver's outside rushers in Miller and DeMarcus Ware. Mike Remmers and Michael Oher have held up well, but this will be a tough task.
Players on the Spot: For Denver, it has to be Manning. The next two weeks will be all about him trying to win a second Super Bowl and help his legacy. Manning will be playing in his fourth Super Bowl, but is 1-2 after losing badly in 2013 to the Seattle Seahawks.
For Carolina, I will go with Newton. OK, I made it easy. He's carried this team all year, will be the MVP, and will be a tough player to defend for the aggressive Denver defense. He can hurt them with his legs when they play man and turn their backs. That might change the way they play some.
Interesting stat from last meeting: The Broncos sacked Newton seven times, once for a safety, when they beat them in 2012.
Line: Panthers by 4.5.
Here's an up-to-date look at the 2018 Pro Bowl roster

New England is 3-0 wearing white in Super Bowls under Bill Belichick

Bettors are favoring the Eagles to keep Super Bowl LII close, but the Patriots remain clear...
No one wants to give the Eagles any respect

The three-time Grammy winner will sing before Super Bowl LII on Feb. 4

Here's a look at the NFL's entire postseason schedule for 2018