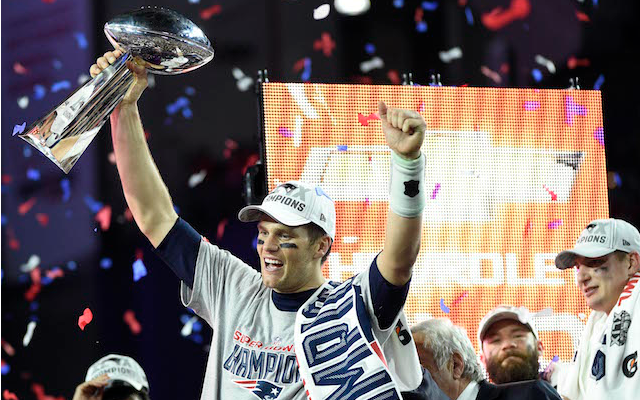 Maybe it was Deflategate. Maybe it was Tom Brady's good looks. Maybe it was the fact that the game went down to the wire.
Whatever the reason was though, over 114 million viewers tuned into Super Bowl XLIX on Sunday night on NBC, making it the most watched television show in U.S. history. 
The exact number of 114.4 million topped the old viewing record of 112.2 million, which was set last year when the Seahawks beat the Broncos in Super Bowl XLVIII.
There have only been seven shows in American television history that have topped 100 million viewers -- and six of those are Super Bowls. The only non-Super Bowl to top the 100 million viewer mark came in February 1983 when the M*A*S*H finale drew 106 million viewers on CBS.  
The viewership number for Super Bowl XLIX peaked between 9:45 p.m. ET and 10 p.m. ET, when an estimated 120.8 million viewers watched Tom Brady lead the Patriots on an offensive drive that would lead to New England's game-winning touchdown.
That peak number dropped to 120.3 million for the Seahawks final drive.
The Super Bowl also drew a 47.5 rating, making it the highest rated Super Bowl since the Bears beat the Patriots in Super Bowl XX, a game that drew a 48.3 rating. A rating is the percentage of viewers with a TV who were watching the game. 
Super Bowl XLIX also pulled in a 71 share, which means 71 percent of people who were watching TV on Sunday were watching the Super Bowl. The 71 share is the highest since the Bengals and 49ers drew a 73 share  in Super Bowl XVI. 
Not surprisingly, Boston and Seattle had the highest shares on Sunday. The city of Boston drew an 81 share, while Seattle drew a mind-boggling 89 share.