Titans CEO: Jake Locker is 'absolutely' Tennessee's QB
There's no question about who the starting quarterback is in Tennessee. According to Titans president and CEO Tommy Smith, it's 'absolutely' Jake Locker.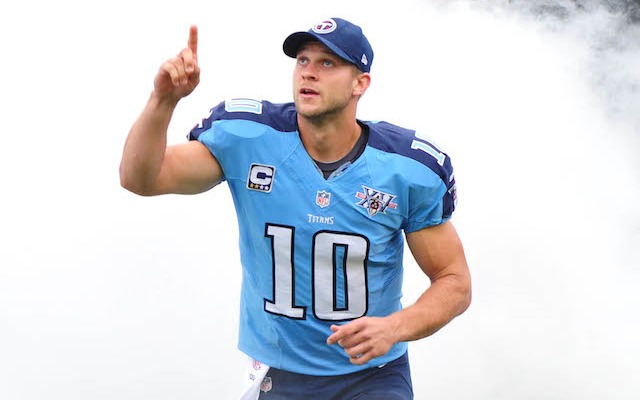 It sounds like Jake Locker is going to get at least one more year to prove that he's Tennessee's quarterback of the future. New coach Ken Whisenhunt said this week that he's 'excited' to see what Locker can do.
On Tuesday, Titans CEO Tommy Smith added to Whisenhunt's comments, saying that Locker is 'absolutely' the team's starting quarterback. In an interview with the Tennessean, Smith was asked specifically if Locker would be given the chance to remain the team's starter going forward. 
"Absolutely," Smith said. "I do like Jake... and I think Ken is going to be very good for Jake. Jake is a competitor. He is a smart guy. I think he has the ability. He is the quarterback. That's what I have told him every time I see him. And that's the way it is."
The upcoming season will be a big one for Locker. The eighth overall pick in the 2011 NFL Draft needs to prove he can stay healthy. Locker has missed 14 of 32 games since being named the team's starter before the 2012 season. 
Locker missed the final seven games of 2013 after suffering a Lisfranc injury in Week 10 against Jacksonville. The third-year quarterback is under contract through 2014, and after that, the Titans have a $13 million option for 2015. The problem there is that Tennessee can't wait to see what Locker does in 2014 to decide on the option. The Titans have to make the decision to pick up the option by May. 
If the Titans don't pick up the option, then Locker would play the 2014 season knowing that he's going to be a free agent and a big year could earn him some serious money. On the other hand, if the Titans don't pick up the option and Locker has a big year, Tennessee could just hit him with the franchise tag after the 2014 season. 
Either way, Locker will have a lot on the line in 2014. 
The Texans desperately miss their tackle, but they're not going to break precedent to bring...

Receivers like Pryor don't want to be hit low but defenders are running out of places to hit...

The Browns' Pro Bowl left tackle has mastered the art of losing gracefully
An example of how not to use social media

Mike McClure, a DFS pro with more than $1M in winnings, gives optimal DraftKings and FanDuel...

Let's check in on the Giants a day after their loss to the Lions