NHL Rumors: Rangers still favorites for Rick Nash, but Flyers, Red Wings, Sharks in mix
While the trade market awaits the free-agency market to make some moves, an update on the Rick Nash situation has the Rangers as the favorite.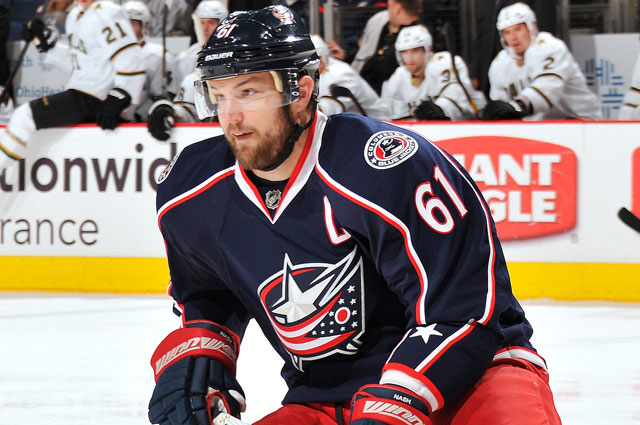 Rick Nash will be playing with some team next season. But that's about all that's known. (Getty Images)
Because the free-agent market has come to a grinding halt, the trade market has too. Everybody, not just the next-level free agents, are waiting to see where Zach Parise will sign. His decision will impact a lot of others across the NHL.
Chief among those is the ongoing Rick Nash trade talks. It feels like we've been talking about this for half a year because, well, we have. Nash has been on the block for a long time, and the Blue Jackets continue to wait for the right deal. GM Scott Howson hasn't seen anything worthwhile.
But that doesn't mean the suitors aren't lined up. In the case of Nash, he has a lot of control with his no-movement clause. That cuts the list of potential teams significantly. But there is interest.
The teams are who you'd expect, the same ones we've been talking about all along, according to Aaron Portzline of the Columbus Dispatch. The Rangers are the favorite, if they can get Howson to bring the asking price down.
The New York Rangers still appear to make the most sense, based on their organizational configuration. Larry Brooks of the New York Post reports Howson is insistent on getting Chris Kreider, Ryan McDonagh or Derek Stepan -- one of those three, if not two of them -- in any deal for Nash. We've not been able to confirm those names on this end, but it's been suggested that most of the clubs still interested in Nash have presented a couple/few possible packages.
The Flyers, Sharks and Red Wings are also on the list. As were the Senators, but Nash wasn't interested in moving to Canada's capital. And, according to Portzline, the Hurricanes are in touch with the Jackets, but the no-movement clause is probably in the way there, too.
It seems appropriate that the Parise situation has dragged out a little longer -- and I do emphasize little -- than people anticipated because it allowed for the Nash saga to continue. It is the trade saga that just won't happen. Blame Howson if you'd like, but I can't too much. He needs to get the best return he can.
At least we know that the high demands haven't turned everybody off yet.
For more hockey news, rumors and analysis, follow @EyeOnHockey and @BrianStubitsNHL on Twitter and like us on Facebook.
The decision would likely be met by anger from some fans, but it could also make sense

Toronto shoots to the No. 1 spot, just ahead of the Chicago Blackhawks

The Penguins' standout is at it again
Gary Bettman all but reverses course from his September comments on anthem demonstrations

The 'Washington Post' says many teams have stopped booking stays at Trump-owned properties

New Jersey has the long-term promise; Vegas is nothing like an expansion pushover