College Basketball Preview: Question marks for title contenders
Even the most talented teams have question marks -- Jeff Borzello and Doug Gottlieb go through each of the title contenders and express their concerns.
• 11 min read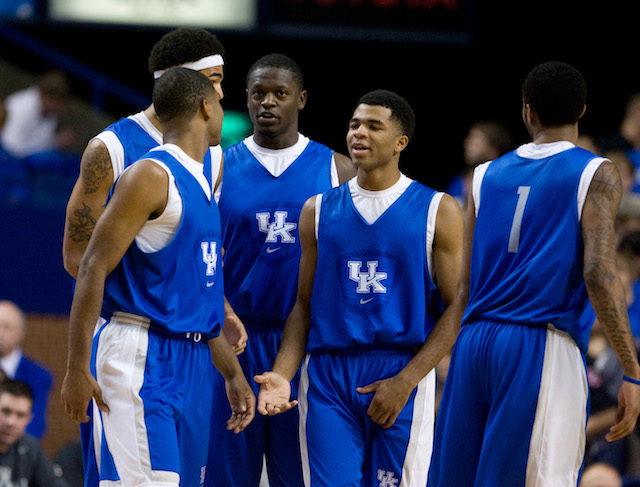 More College Basketball: Season preview | Top 25 (And One) | Conference predictions
Throughout our entire college basketball season preview package, we have focused on the best what everyone has to offer. Best backcourts, best frontcourts, best freshmen, best transfers, best teams, best players – getting everyone prepared for the main storylines of the season. However, this time we're going to switch gears – and look at what could hinder some of the best teams in their run for a title.
I went through each of the top 12 teams in our consensus top 25 (and one) with colleague Doug Gottlieb, trying to figure out the biggest issues facing each team. The questions ranged from consistency to chemistry to health to various roster deficiencies. Either way, if any of these teams struggle this season, it's likely to be as a result of something we've included in our concerns.
The Wildcats are the most talented team in the country, but there are certainly some questions. Foremost could be consistency at the point guard position. Andrew Harrison is a terrific playmaker, but he's been unhealthy in the preseason and it could be interesting to see how balanced the offense is with him running the show. Moreover, there is little depth behind him – there is a steep drop-off from him to Jarred Polson. And overall, chemistry. When the going gets tough, how will everyone get along?
Doug's take: Kentucky has a ridiculous depth of top-end young talent, but there is a certain level of volatility there with the Harrison twins in your backcourt. There is the possibility of implosion and anyone who denies that is either uneducated on their reputation or is just too taken by what many of these kids will eventually be as basketball players. Most of them are freshmen. Can they play through the outside white noise of parents, runners and Twitter friends, who can pollute kids' minds with nonsense of "the league," and just play for Kentucky and each other?
The biggest question facing Louisville heading into the season is the status of Chane Behanan. He's suspended indefinitely, with most people pegging his return in mid-December or so. Without Behanan, the Cardinals don't have the inside pieces to repeat as national champions. Outside of Behanan, point guard play is going to be a major key. Chris Jones is more talented than Peyton Siva, but Siva made plays when it counted and was a leader.
Doug's take: Louisville will have better talent than last season, but will they be as tough? Will they lack ego on offense and will they be able to score? Take away Peyton Siva's toughness, experience and lack of scorer's ego, and you have a JUCO point guard with no real game experience. Though Louisville will have more options, how will they defend and can they take good shots without a true point guard?
I think Adreian Payne is the key for Michigan State. He has to consistently play like the All-America is capable of being. When he's being aggressive, he's very difficult to stop. But sometimes, he tends to play a little soft on the interior. That can't happen if Michigan State is to make a deep run. Secondly, Keith Appling has to be consistent. He has the ability to be a very good playmaker, but turnovers and shooting were issues last season.
Doug's take: They do not have a point guard, as Keith Appling is a scoring lead guard. If I was on Michigan State's staff, I would push for a lineup where Denzel Valentine and Branden Dawson are the posts, but Izzo will likely not do that and Payne can play like Jane as much as Tarzan. Sparty gets undressed by quick backcourts and is a prime candidate for triangle-and-2 when Dawson is at the three.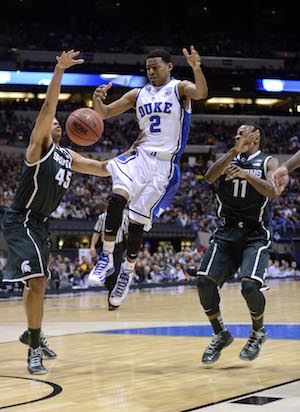 Cook has to be effective consistently this season. (USATSI)
To get their five most talented players on the floor, the Blue Devils would be best to go with Jabari Parker at the five – but that's going to be tough to do against bigger teams. As a result, the key for Duke will be someone stepping up inside. Amile Jefferson will likely get the first crack, but can he be a dominant rebounder or post defender? Also, Quinn Cook's NCAA tournament stats: 23 points on 7-for-34 shooting in four games. That can't happen again. 
Doug's take: Quinn Cook was a Godsend last year early and was awful late in the tournament. Cook must play better for Duke to get to Dallas. They have to get something out of their big men. When Duke last won the title, they did it with phenomenal 3-point defense and rebounding. I am also concerned with Duke's ability to make plays off the dribble. They have shooters and athletes, but not break-you-down guys.
This is a team for which I have more questions than most – and the majority have to do with frontcourt roles. Aaron Gordon said he wants to be a small forward, but he would be better for Arizona playing the four. Going with Gordon, Brandon Ashley and Kaleb Tarczewski together in the frontcourt wouldn't work out well. Moreover, can you imagine having Nick Johnson, Rondae Hollis-Jefferson and Gordon together defensively? Steals galore. Offensively, who can create their own off the bounce? That's another key.
Doug's take: Can they shoot? I know they have shooters, but will they play enough of them? I do not believe that Aaron Gordon is a college (or even pro) three man. Gordon would be best suited at the four or five, which I think ultimately happens with Brandon Ashley not improving at the rate some expected. I'm a big T.J. McConnell fan, but I worry he will be overwhelmed by uber-quick, athletic point guards and he hasn't played in meaningful games in March. Arizona will be tough, but will they play to win, or to win recruiting?
With three of the best freshmen in the country, along with breakout prospect Perry Ellis, Bill Self has a ton of talent at nearly every position – except point guard. Naadir Tharpe was inconsistent last season, but might be the most important player on the team this season. If he has a bad year, it's doubtful that the Jayhawks will reach their full potential. Andrew Wiggins will thrive with a playmaker who gets him the ball in good positions to score; can Tharpe be that guy?
Doug's take: Kansas has more talent than last year. But does that talent translate into wins against a ridiculous schedule early? More importantly, will they figure out their roles and get rolling through the Big 12 late? I have never been a huge Naadir Tharpe as a point guard fan. When your shot selection and decision-making is bad at the point and you have a young team, I do not know how quickly it comes together. Do they use Selden, Wiggins, Ellis and Embiid all at once – and is that enough shooting with Tharpe?
This is another team that roles could play a major factor into their success. Marcus Smart is clearly the first option and the point guard, and Markel Brown has emerged as a consistent perimeter scorer. Will Le'Bryan Nash be fine with being a third option – and a very talented third option at that? If Nash excels at that role, Travis Ford will have one of the best trios in the country. Last season, the Cowboys shot poorly from 3-point range; the offense needs more balance.
Doug's take: Le'Bryan Nash seems to have bought into playing the power forward spot, but he did pout at times last year when he was out-shown early by Marcus Smart. Travis Ford has a tendency to love shooters, and now he has a ton of them – but will their shot selection and defensive intensity be at the peak level? Lastly, Oklahoma State needs another scorer or some offense inside on rebounds. Cobbins played a big role last year; he needs the same level of improvement this year.
Thad Matta will always have his team playing defense, which means they won't be out of many games. But someone has to get points. DeShaun Thomas was one of the best pure scorers in the country – can LaQuinton Ross shoulder the offensive load? If Ross takes on that role, the perimeter players need only make small strides to keep the offense humming. Aaron Craft and his backcourt buddies are better as secondary options – Ross needs to be the go-to-guy for that to happen.
Doug's take: Ohio State made huge strides in overall offense when they went small last year and moved DeShaun Thomas to center, but he is gone and while that lees a lot of shots, it was also a lot of makes. Who scores for Ohio State? Shannon Scott and Aaron Craft have improved as shooters, but neither are creative passers nor are either going to give you 20.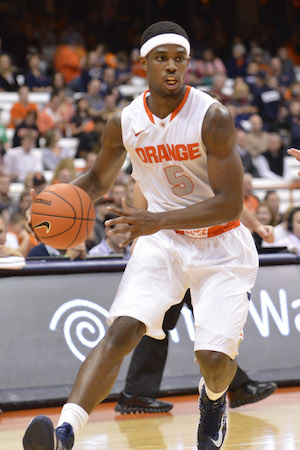 Fair will be the focal point of opposing defenses. (USATSI)
It's hard to lose Michael Carter-Williams, Brandon Triche and James Southerland, and just stay rolling offensively. C.J. Fair was perfect when he wasn't the focal point of opposing defenses; who takes the pressure off him? Trevor Cooney has been inconsistent from behind the arc at Syracuse, but he was a big-time shooter in high school. His backcourt partner, freshman Tyler Ennis, is also basically the only ball-handler on the roster; there's no second option if he struggles. Down low, Syracuse has some of the best depth in the country – but who steps up as a go-to option?
Doug's take: Syracuse may be the least effected by the new defensive rules since they do not take charges and do not play man-to-man. C.J. Fair had a lot of mismatches, but now he will be the focal point of the offense (and the defense). Ennis should be very good very quickly, but freshmen do not hit shots early and though Syracuse runs a very basic half-court offense, they struggled with a veteran team last year. Can they get out in transition off their zone is always a question. Additionally, can DaJuan Coleman give them some interior offense, which they did not have last season?
I'll be honest; I'm not as high on the Tar Heels as many people. I think the lack of offensive weapons on the perimeter is going to be an issue; besides Hairston, can J.P. Tokoto or Leslie McDonald be consistent threats? Roy Williams has a host of interior options, but are any of them ready to take on 25 minutes per game and be a rebounder and defender? Brice Johnson showed flashes last season. Lastly, we have James Michael McAdoo – is this the year he finally lives up to expectations? I don't see it.
Doug's take: Does James Michael McAdoo have the drive to lead the team and dominate inside? Marcus Paige is a nice player, but can he take over like Raymond Felton and Ty Lawson used to? Do they have enough wing scoring as Paige is not really a scorer? Besides Hairston, who makes shots with Reggie Bullock gone?
With the status of half their roster in flux, the Gators have a lot of issues to work out aside from whatever on-court problems they might have once the season begins. At full strength, the talent level is second to none. But can Pat Young be the dominant physical force he looks like he could be? Can Dorian Finney-Smith be the matchup problem he was back in high school? Who will provide shooting from the perimeter? And how will the point guard situation play out once Scottie Wilbekin returns from suspension? Freshman Kasey Hill is more talented.
Doug's take: When will they be whole? Assuming Chris Walker joins the team in December, will their rash of injuries and suspensions be over by conference play? Who scores? Erik Murphy opened up their offense as a stretch four, which they do not have. Hill is a true point, but Kenny Boynton took a ton of shots and actually made some of them (I kid). This team has maybe more talent than Brad Beal's team that should have beaten Louisville, but chemistry, shot-making and lack of cohesion with this wild offseason will be trying.
The losses of Trey Burke and Tim Hardaway Jr. are obviously huge, and the biggest question facing the Wolverines will be filling those shoes. However, I'm more curious to see how Glenn Robinson III and Mitch McGary do without Burke and Hardaway taking the pressure off on the offensive end. Robinson III and McGary were the recipients of plenty of open and easy looks because of the two guards; can they create their own offense consistently?
Doug's take: Last year, Michigan's guards did everything. Derrick Walton is going to be terrific, but those are big shoes to fill. Can Michigan generate the same level of offense with an entirely new backcourt?
The FBI investigation took another high-profile twist

The Zags are ranked No. 9 in the CBS Sports Top 25 (and 1)

Davis is averaging 8.8 points and 2.4 rebounds per game this season
CBS Sports reached out to coaches across the country to get their reaction to Friday's huge...

Our advanced model simulated Saturday's Creighton vs. Villanova game 10,000 times

The ex-UCLA star says college players are getting paid under the table, so it's time to legalize...