'It's all politics:' Behind the curtain for Big Ten's bowl selection
Why did Michigan wind up in the desert instead of Nebraska? Who would Minnesota face in the Texas bowl? Jeremy Fowler has the answers as he goes behind the scenes at the Big Ten's bowl selection process.
• 6 min read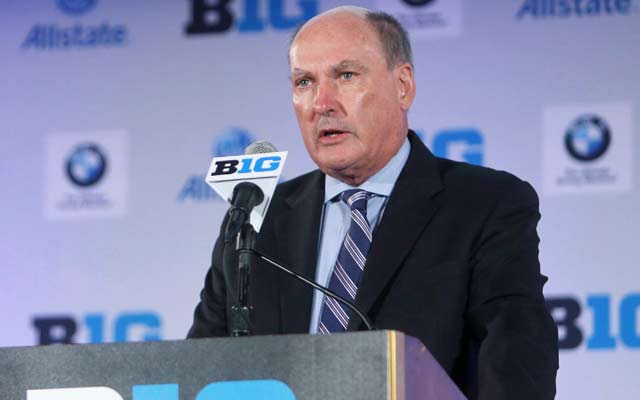 Bowl season starts Saturday, and though the Big Ten's first game isn't until Dec. 27 when Minnesota faces Syracuse in the Texas Bowl, league officials kept their cell phone batteries low as they worked the bowl scene in early December.
Planning for seven bowl-eligible teams to play over an eight-day period -- ending with the Jan. 3 Orange Bowl pitting Ohio State vs. Clemson -- requires a feeling-out process among the league office, athletic directors and bowl directors.
Athletic directors have their preferred destinations in sight. Bowl directors have their preferences, too. Big Ten Commissioner Jim Delany encourages the two sides to talk as much -- and as honestly -- as possible.
"We really just kind of referee it," Delany said.
Senior associate commissioner Mark Rudner is Delany's traffic cop behind the scenes. He had his wife drove home from the Big Ten Championship Game in Indianapolis back to Chicago early on Dec. 8 so he could make calls and take notes before the selections.
By Sunday, the league expected minimal surprises. It's not always easy, however, to decipher what the bowls are thinking.
"It's all politics," Rudner said.
The Big Ten provided a few glimpses into its bowl process this year.
The bowl lineups will change in 2014 as part of the college football playoff. Conferences will likely have more sway in the selection process. For this last rotation of the BCS era, the bowls have the contractual right to pick a team.
That's why Michigan is headed to the desert and Nebraska isn't.
Clear the air
A few days after the regular season ended, Delany jumped on a conference call to encourage athletic directors to be proactive with bowl officials.
Delany had noticed a lack of communication between bowls and schools. Schools were relying on the league office for clarity.
Big Ten officials used to meet in early October to discuss bowl matchups and got away from that a few years ago, which Delany thinks fueled the communication barrier.
Schools aren't allowed to make promises to bowls about, say, ticket sales, but they can convey to bowls why they want to be in their game.
"Lobby them and tell them what you want and make your case," Delany said.
Delany points out a perception that the Big Ten is "picking winners" with its bowl matchups. League officials say the reality is schools want to play the best possible teams.
"If we're going to be seen that way, we might as well actualize it and do it for a good reason," Delany said.
On the call, Rudner outlined the potential lineups for the athletic directors. The league wanted to ensure all parties were well-informed entering the release of the BCS rankings to commissioners at 3 p.m. Sunday, the day after conference championship games. 
"By then we've had a number of calls collectively and individually with athletic directors and executive directors," Rudner said. "It puts us in position to be where we're at."
Saucy negotiations for Buffalo Wild Wings Bowl
Most of the league's bowl schedule was easy to forecast. The way things fell, the Big Ten felt pretty good about Ohio State and Michigan State cracking the BCS bowl rotation regardless of the conference championship game outcome.
Michigan State was in the Rose Bowl, win or lose. The Spartans defeated Ohio State 34-24, so there was no question where they were headed.
With Ohio State's loss, effectively erasing the league's title game chances, the Orange Bowl was always the likely fallback. The Orange Bowl made this known to the league.
After that, the next two pieces fell: Three-loss Wisconsin to the Capital One Bowl, four-loss Iowa to the Outback. The Big Ten felt pretty confident the bowl folks in Tampa wanted the Hawkeyes all along.
The Buffalo Wild Wings Bowl was considered a wild card. Nebraska had eight wins to Michigan's seven. The Huskers also had a built-in rivalry with Kansas State, the Big 12 recipient for the spot in Tempe. But Michigan is Michigan, with its huge alumni base that travels well. Delany said both schools made their cases to bowl director Robert Shelton. What won out, Delany believes, is that Michigan hadn't played in the desert since the 1986 Fiesta Bowl. Nebraska went in 1999. This was a chance for a fresh matchup.
But during the week, the league office wasn't exactly sure which team would end up in the BWW. The league has come to anticipate the occasional bowl misdirection play because bowls want to maintain good relationships with all schools.
"They all sort of send mixed signals," Rudner said.
Those signals are borne from a good place, the Big Ten says. Bowl committees often have a varying alumni base they must satisfy. "It's all about relationships. It always has been," said former Illinois athletic director Ron Guenther, who now consults for the Big Ten.
Last-minute maneuvers
With Michigan and Nebraska headed to the BWW or Gator Bowls, Minnesota would naturally slide into the Texas Bowl with a potential rematch with Texas Tech.
But the Gophers had options.
The league discussed a matchup against C-USA in the Heart of Dallas Bowl, also owned by ESPN, as an alternative. Minnesota didn't mind a potential rematch with Tech because it wanted the best matchup possible and had a good experience in Houston last year.
A switch wasn't necessary because the Big 12 had six bowl-eligible teams, two of which were in BCS games, leaving an open spot in the Texas Bowl that ESPN filled with Syracuse.
But such contingency plans are discussed ahead of time so bowls and schools can feel comfortable if the unexpected happens.
With Penn State still bowl ineligible and a second team in a BCS bowl, the Big Ten failed to occupy two of its non-BCS bowl slots. But the league liked its matchups for this year.
"The one thing I've heard from ADs and coaches is they want to play the best possible team they can," Rudner said. "I feel we've got that here."
The Sunday calm
At 3 p.m. eastern, the BCS mails its final rankings to the commissioners. An hour later, commissioners and BCS bowl officials hold a conference call to confirm the matchups.
 Afterward, there's about a three-hour process for the Big Ten to double-check with its bowl partners. These teams are off the board, which team do you want?
Once the lineups are set, the information is embargoed until ESPN releases them on air at 8:45.
Leaks usually happen. But, as Rudner points out, "It doesn't leak from us."
"You don't get too many surprises at that time," said Delany of the Sunday lineup confirmations. "ESPN and the BCS had laid out parameters releasing teams. It's rare that you get a shocking surprise."
 Now it's time to produce on the field. Two BCS wins by Ohio State and Michigan State would help the Big Ten forget last year's 2-5 bowl record.
Wins and losses aside, the Big Ten tried to give bowl partners what they want: Teams that travel well and enter bowl season with positive momentum.
 "Most of our sites, we have a lot of population [there]," Guenther said. "It's a good setup for us."
You can only go to the well so often before it dries up

The Trojans beat LSU earlier in the year and now have their first 11-win season as a FBS t...

Saban has never been a fan of the early signing period and made it clear that hasn't chang...
Paul Tyson is a three-star quarterback prospect for the 2019 recruiting class

College football bowl games were all announced on Sunday, and you can check out the entire...

SportsLine simulated every bowl game 10,000 times for pick'em leagues and confidence pools