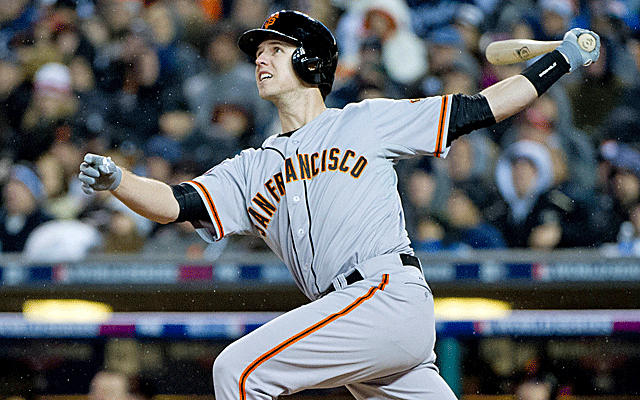 Buster Posey has had a fairy tale beginning to his career.
(Getty Images)
Catchers become managers. Catchers don't win the MVP.

But they should.

Catchers win the MVP only when it's obvious. Buster Posey was obvious.

In a year where shouting about the MVP became popular, no one shouted about Posey. No one had to.

It was obvious.

This isn't about numbers, sabermetric or otherwise (although Posey had plenty of them). This is about value.

This is about a guy who carried his team into first place, and eventually to a second World Series title in three years (although that part didn't figure into the voting).

This is about an MVP we can all agree on. Here's an MVP so impressive that not only did he get 27 of the 32 first-place votes, but he also got a strong endorsement from the guy who finished a distant second.

"I think Buster Posey deserved to win," Ryan Braun told the Milwaukee Journal-Sentinel's Tom Haudricourt. "I thought he was the best player. I thought he deserved to be the MVP."

But he's a catcher.

Catchers don't win the MVP. The last one to win in the National League was Johnny Bench in 1972. That's 40 years ago.

In the 39 years between Bench and Posey, three catchers won the American League MVP (most recently Joe Mauer in 2009). That's three out of the last 78 MVPs, before Posey.


More MVP coverage
Related content
More MLB coverage
In fact, before Posey, the last catcher to finish even in the top 10 of NL MVP voting was Javy Lopez of the Braves, nine years ago. Before Posey (27) and Yadier Molina (2) won 29 of the 32 first-place votes this year, the last catcher with even one NL first-place vote was Mike Piazza, 12 years ago.

That's incredible. It's also crazy.

"I think anybody that has caught understands the grind," Posey said on a Thursday night conference call. "Not only the physical, but the mental grind of running a pitching staff."

The grind is double on Posey, who has to run one of the best staffs in the game, but also bats cleanup on a team that relies on him greatly to produce runs.

With Posey in the middle of the lineup (and behind the plate) in 2010 and this year, the Giants won the World Series. With Posey missing because of injury in 2011, the Giants missed out on playing in October.

There was talk after that injury that Posey shouldn't catch anymore, that he should move to another position that would better help preserve his health. He would have none of it.

"It's a position that to start playing in the first place, you have to love it," he said. "There's something about being behind the plate and working with pitchers."

That something makes a great catcher incredibly valuable, especially if he can hit the way Posey does. And especially if he hits the best when his team needs him most, which is what Posey did after the Giants lost Melky Cabrera in August, to a failed drug test.

"Honestly, I tried not to change too much," Posey said.

Except for that one horrible injury, there's not too much about Posey's career that you'd want to change. As teammate Brandon Crawford pointed out Thursday night on Twitter, Posey has two World Series rings, a Rookie of the Year award, a silver slugger, a comeback player of the year, a perfect game (Matt Cain's), an All-Star Game -- and now the MVP.

And he's just 25 years old.

"Not a bad start to a career," Crawford tweeted.

Where does he go from here?

Well, you can bet wherever it is, it'll be with the Giants. In general manager Brian Sabean's successful formula for winning, pitchers normally get all the money.

But you'd better believe that when it comes time to pay Posey (who will be first-time arbitration-eligible in 2013), the Giants will be ready to spend.

Right now, of the $79 million the Giants have committed to players for next year, all but Pablo Sandoval's $5.7 million is committed to pitchers. Sabean always favors keeping and paying his pitching.

But when the time comes, he'll keep his catcher, too. The catcher is just too valuable.

"He's so valuable with the way he catches, handles the staff and hits cleanup," manager Bruce Bochy said. "He not only has a huge impact on our lineup, but a bigger impact with the way he leads by example."

Bochy, of course, was a catcher. So was Jim Leyland, the manager he beat in the World Series, and Mike Matheny, the manager he beat in the NLCS (and Joe Girardi, the manager Leyland beat in the ALCS).

Baseball already recognizes the value of catchers as managers.

It's time to recognize the value of catchers as catchers.

In the National League, we just did.