Can we please enjoy both Miguel Cabrera and Mike Trout?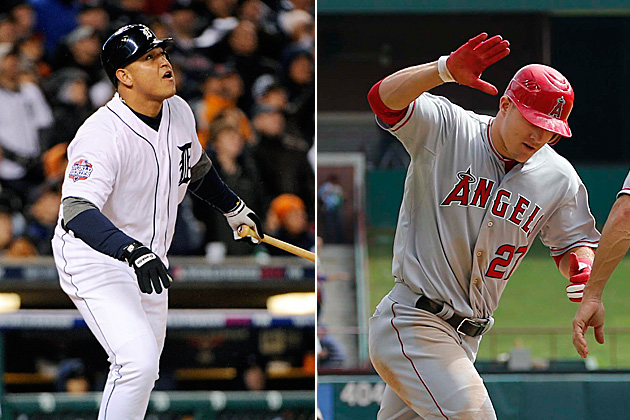 Both of these guys had an amazing season, so let's focus on that. (US Presswire)
Finally, it's over. The AL MVP voting has been revealed and Miguel Cabrera of the Tigers has won the award. The arguments over Cabrera vs. Angels phenom Mike Trout went beyond contentious down the stretch and moved into a theater of the absurd. I wrote about it, and so did my colleague, Gregg Doyel. Things haven't changed. If anything, they've intensified. But there's no reason to rehash it. Instead, I'd like to plead with everyone to respect the amazing season put together by each player.
More MVP coverage
Related content
More MLB coverage
Can we not support Cabrera as the MVP winner without treating sabermetric stats as if they are some made-up formula by some dork with an ulterior motive? All walks of life evolve over time. You aren't still dialing up your parents on a rotary phone or cranking on the old record player to listen to music. So why is someone a dork for wanting to find better ways to measure a baseball player than only batting average, home runs and RBI?
Not only that, but Trout was pretty awesome at traditional stats. He led the majors in runs scored and stolen bases despite not being called up to the majors until late April. He sports an outstanding .326/.399/.564 triple slash line. He was the first player in baseball history to record at least 30 homers, 125 runs and 45 steals. He was the youngest player to ever record at least 30 homers and 30 steals in a season. And, again, he spent nearly a month in the minors.
Can we not support Trout as the should-be MVP winner without trying to dismantle Cabrera's non-hitting skills? Offense is a huge part of the game, and we are talking about the most fearsome hitter in baseball -- one who led the majors in homers, RBI, OPS and total bases while also leading the AL in batting average and slugging percentage. He added 40 doubles and 109 runs. He drew 17 intentional walks, all of which came with the dangerous Prince Fielder on deck. Think about that kind of respect, and it might just be Cabrera's most impressive stat. A pitcher would rather face Fielder with a runner on base than Cabrera with no one on base.
As far as defense, the detractors of Trout are hilarious. He covers as much ground as anyone in center field and made some spectacular plays to rob opponents of home runs. He recorded 23 defensive runs saved. According to Baseball Info Solutions' plus-minus ratings, Trout was the best defender in the majors in 2012. But I see on our comments boards stuff about how overrated Trout is and that he's some sort of "media creation." What a joke. Watch the games. He runs down everything.
On the flip side, we have the mockery of those wishing to glorify the history of baseball's first triple crown since 1967. Actually, allow me to rephrase. Many are actually mocking those who wish to accept that it means anything. What a joke.
And did you know Cabrera carried his team to the playoffs and Trout didn't -- even though Trout's team actually had more wins in a tougher division. And did you also know Trout "sucked" down the stretch (.900 OPS in Sept./Oct.)?
And on and on and on it goes with the accusations.
But all of this is beside the point, right? Arguments like these are becoming akin to the political process. Heaven forbid your guy has one shortcoming (seriously, Cabrera people, stop defending his defense with "he makes all the plays") or the other guy has a leg up in any arena (seriously, Trout people, the triple crown's historical significance means something). No, it's tear down the opponent in every single way possible. What a joke.
Also of note, if either of these players happened to be in the National League, he'd have taken down the competition in a landslide. These were the two most valuable players in baseball by far in 2012. Instead of enjoying it, much of the media and fans alike have taken to trying to tear down one of the candidates. Can we enjoy some positivity for once?
Miguel Cabrera and Mike Trout each had an incredible 2012 season. I'd like to simply focus on that and move on from this torturous MVP debate. Who's with me?
For more baseball news, rumors and analysis, follow @EyeOnBaseball on Twitter, subscribe to the RSS feed and "like" us on Facebook.