GIF: Brian McCann, Dean Anna both take silly falls due to McCann's mask
Fun little sequence on Wednesday afternoon, when Yankees Brian McCann and Dean Anna fell over each other on a pop-up. Everyone is okay.
MORE: Spring Training | Scoreboard | FA tracker: hitters | FA tracker: pitchers
There was a fun little sequence of events on a pop-up during the fourth inning of Tuesday afternoon's Yankees-Nationals game. Here is the unexplained visual: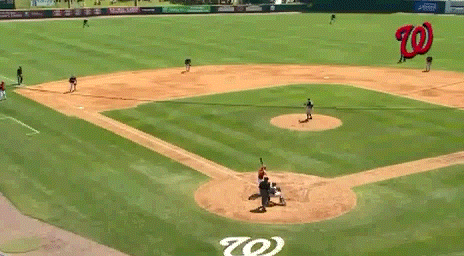 Did you see what happened there? Third baseman Dean Anna tripped over Brian McCann's mask after he tossed it away to follow the pop-up, then McCann flopped backwards over Anna. Both guys are fine, so feel free to laugh.
I'm pretty sure the last thing the Yankees wanted to see was their new $85 million catcher flop over the 39th or 40th man on the 40-man roster. If McCann had gotten hurt ... oh boy.
The lefty starter is coming off a terrible season

After acquiring Ian Kinsler and Zack Cozart in recent days, the Angels are trending upward

Cozart's coming off a big season as the Reds' shortstop
The veteran slugger spent the last eight seasons with Cleveland

The Padres may be poised for an active winter

Yes, Bryce Harper is going to make a lot of money next winter