Grading the Week: D-Backs get an A
The Diamondbacks earned the highest grade for their work these last seven days. One of their wild-card competitors was in the mix as well.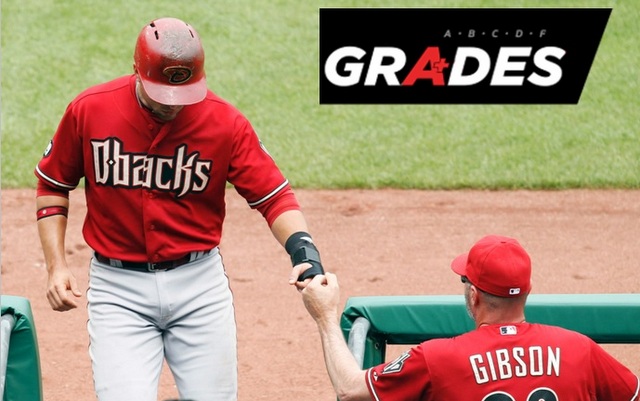 More MLB: Scoreboard | Standings | Probable Pitchers | Sortable Stats | Odds
Although we've scaled this feature back to once a week, the idea hasn't changed. We're handing out grades for the past week, and given the time of year, playoff contenders and spoilers get extra special attention. Remember, we assign one team per letter grade, not one letter grade per team.
Given the format, there are bound to be snubs. The Dodgers, for example, are very worthy of an "A" following a 5-1 week, however they beat up on the Mets and Phillies. Plus they have a gigantic division lead. Not the toughest week in the grand scheme of things. Anyway, onto the week's grades.
| Team | Grade | Analysis |
| --- | --- | --- |
| | A | Every NL team with a winning record currently holds a postseason spot except for one: the Diamondbacks. This week could have buried them, but instead they won five of six against two strong teams in the Orioles and Pirates. That includes three extra-inning wins that could have gone either way. Arizona is five games back of the Reds for the second wild-card spot and they only gained a half-game in the standings during this great week, but they're still alive in the race with six weeks to go. That's something you can't say about most NL teams right now. |
| | B | Many people -- myself included -- thought the Reds were the clear favorite in the NL Central coming into the season. They been stuck behind the Pirates and Cardinals all summer, but they took care of business and made up serious ground this week by winning five of seven games against the lowly Cubs and Brewers. Those are two really bad teams a contender should push around. Cincinnati is now 2.5 games back in the division. |
| | D+ | The Royals have played well since the All-Star break, and this was the week they had a chance to really boost their playoff hopes. Instead, they lost two of three to the Marlins and three of five to the Tigers. They did sweep a doubleheader in Detroit, so give them props for that. Still, a 3-5 week for a team trying to claw its way into the playoff race is close to unacceptable. |
| | D | The Rangers and Athletics have been trading first place in the AL West back and forth all season, but Texas had a great opportunity to create some separation this past week. They played one game against the Astros, two against the Brewers and three against the Mariners. The result? Three wins and three losses. That's three games against last place teams and three games against a fourth place team. Yuck. Way to drop the ball. The Rangers had to take advantage and didn't.  |
| | F | Although they maintained a one-game lead in the NL Central, the Pirates had a really bad week. They lost two of three to both the second place Cardinals and D-Backs, two clubs who are chasing Pittsburgh in the standings for different reasons. The Pirates have actually lost seven of their last nine games dating back to last week, their first real slump of the second half. This week was a good chance to create some separation with St. Louis, but they couldn't do it. |
Mark Appel was one of the players being moved about on Monday night

Garrett Cooper is the answer to a trivia question

We still don't know if Ohtani will be jumping to the majors yet
Kinsler is a free agent next winter

Opening Day will be Thursday, March 29 -- the earliest opening day in MLB history

The World Series champion and big-time wrestling fan was on hand Sunday night