They say it takes a village to raise a child, but it also takes one to make a World Series champion. And the Kansas City Royals won't get away with handing out rings to just the 25 guys on the active roster who were with them when they beat the Mets 7-2 in 12 innings Sunday night in Game 5 clincher. They'll have to make the team jeweler go to work for others, some of whom could not be with the team for the final out at Citi Field.
For example. Remember when Jonny Gomes and Joba Chamberlain teamed up with Eric Hosmer and Salvador Perez in order to help the Royals beat the Mets? No? Well, perhaps that's because Gomes didn't see any action in the postseason, and Chamberlain was designated for assignment Oct. 27 when the Royals brought up rookie Raul A. Mondesi for the World Series.
And how about Aaron Brooks, Joe Blanton and Dusty Coleman? Well, the first two guys were traded -- Brooks to the Athletics in the Ben Zobrist deal, and Blanton to the Pirates for cash, just before the non-waiver deadline in late July. Coleman played four games in July for the major league team, breaking in as a rookie at age 28, but finished the season in the minors. 
But fair is fair, and anyone who played even a moment of the 2015 season is going to get a ring. It might seem ridiculous for some, but it's possible to make a case for every one of those guys being deserving. Almost.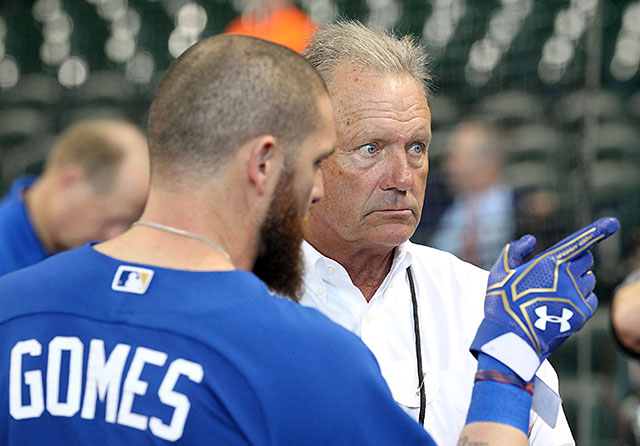 Gomes: He batted .167 in 12 games for the Royals in a redundant role, with guys such as Paolo Orlando and Jarrod Dyson getting all of the time as backup outfielders. But, Gomes also has what we like to call veteran presence -- he also helped the Red Sox win a title in 2013. And after Christian Colon got the go-ahead hit in Game 5, he credited Gomes in multiple postgame interviews with helping him to stay mentally ready for the moment when the Royals might need him. Well, Colon obviously stayed ready, didn't he?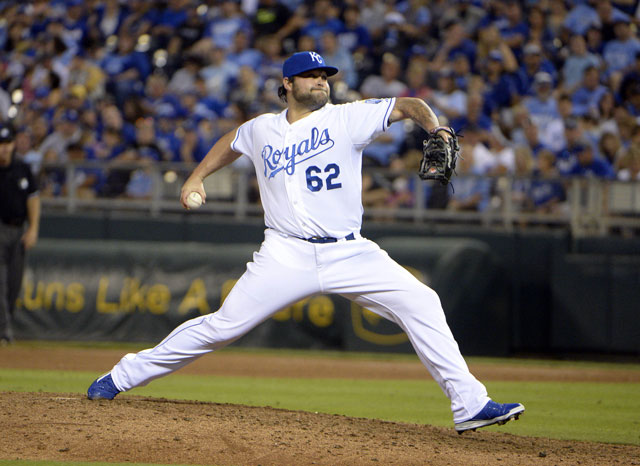 Chamberlain: He had a 7.94 ERA in 5 2/3 innings. He obviously was brought over because he's won a ring with the Yankees in 2009. It's not as easy to find anyone crediting Chamberlain after the Royals won Game 5. But perhaps there was a conversation with Luke Hochevar, or something said in passing to Danny Duffy, that clicked in their minds and helped them get an out against the Mets. He's due to be released one or two days after the Royals victory parade Tuesday.
Brooks: Not to be confused with the Chicago Bulls guard of the same name, he pitched in just two games for the Royals in '15. But he was currency for Zobrist, who was an absolutely crucial addition to the pennant drive, and that alone deserves gratitude. His first two starts for the A's were great, too, and it made you wonder why the Royals never started him. Overall, he posted a 6.67 ERA for Oakland, with five of his nine starts rating better than average.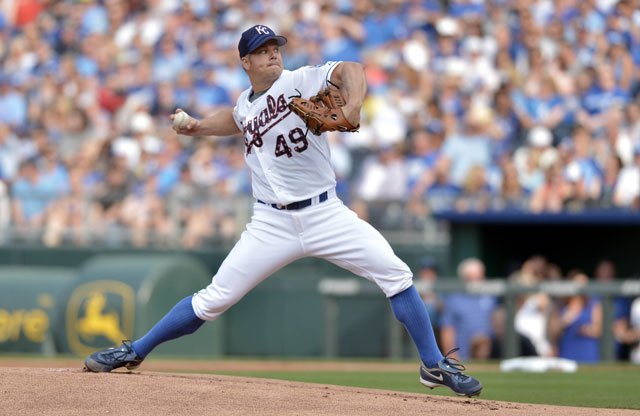 Blanton: Came out of retirement, might have been in the best shape of his career, and wasn't bad in relief for the Royals, posting a 3.89 ERA in 15 appearances and four starts. He was even better for the Pirates in long-ish relief, striking out 10.2 batters per nine innings. It's also his second ring, after winning one with the Phillies in 2008. (Remember the home run he hit against the Rays?) Nearing 35, he might have a second career as a short reliever still.
Coleman: Sigh. Dusty Coleman has a great name, a great baseball name, but he seemed way over his head in his four games with the Royals. His biggest moment was a baserunning mistake that cost them a victory. It's chronicled at Grantland, it was so epic. Everybody liked Dusty. So if you don't like him getting a ring, you can go to heck!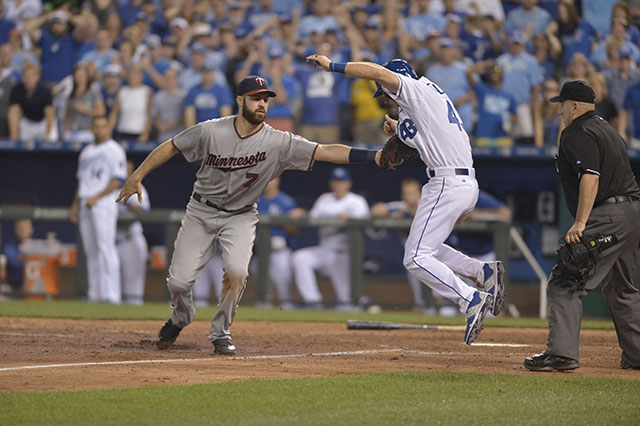 World Series Champs! Proud of those guys they are the definition of a great team! #ForeverRoyal

— Dusty Coleman (@DustyColeman8) November 2, 2015
Don't forget me!