Time for Mets to give a real fulltime shot to Flores as well as Lagares
GM Sandy Alderson said, barring trade, it is indeed Flores' time to show what he can do. That is a good thing.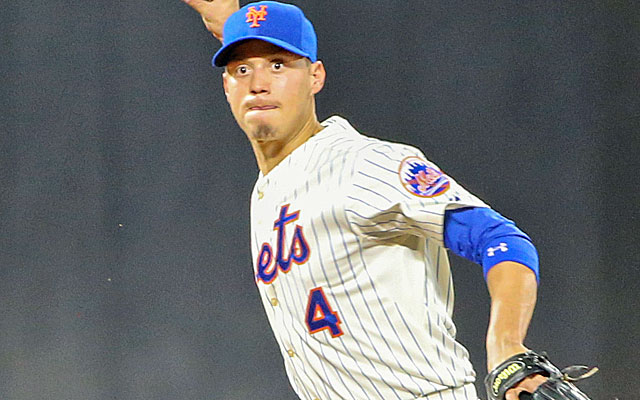 Mets GM Sandy Alderson said he didn't aggressively pursue free agent shortstop Stephen Drew because he was concerned about Drew's time off. Anyway, with Drew going to Boston and Ruben Tejada failing to impress early, the Mets' plan currently seems to be to give Wilmer Flores a chance to see if he can handle the important position while also canvassing the trade market to see if anything else possibly makes sense. That seems like the right idea, assuming they can stick with Flores through all the ups and downs.
The two teams the Mets have spoken to most regarding a potential shortstop trade are the Diamondbacks, which has Didi Gregorius in the minors, and the Mariners, which has two young shortstops, Brad Miller and Nick Franklin. It doesn't seem certain anything's especially hot on the trade market, and there may be complications in those talks, anyway, making Flores' tryout likely all the more important.
Alderson may wonder how Arizona's appointment of Tony La Russa as chief baseball officer might affect their discussions with the D-Backs, as La Russa presumably won't rush into big trades in his first days in the new big job. As for Seattle, the Mets still may not be any more positive Franklin profiles as a shortstop any more than Flores does.
If there is another trade option, it isn't immediately in evidence. So indeed, Flores seems likely to get his shot. After playing only part-time following his recall (that was partly due to flu, and partly due to the mostly disappointing Tejada's brief hot streak while Flores had the flu), Flores now has four hits in the Mets' last two games, raising his average to .308.
The Mets are pretty sure Flores can hit enough, as opposed to Tejada, who seems to have regressed and struggled to bat .200. However, the question remains whether Flores can handle that key spot defensively on a daily basis. Most baseball people have assumed that any of the other infield positions might better fit Flores, who is tall at 6-foot-3 and doesn't appear to possess great range, but Alderson is ready to give him a shot at short.
"He's been fine. While he's not going to be a conventional looking shortstop, we're just going to let him play and see how it works," Alderson said."So far he's made all the routine plays and shown decent range. The early returns are positive."
It was just about as curious seeing Flores on the bench seven of 11 games after his recall as it was seeing young center fielder Juan Lagares on the bench -- though the defensively strong Lagares' only occasional play stirred much more controversy in New York. The Mets are trying to balance their goal to win now with their future plans, and perhaps struggling at times to find the right balance.
Considering their current roster and play, they should probably worry more about the future. Finding a starting shortstop for the future should be a priority for the team that looks built to win in 2015 once Matt Harvey returns and other young pitchers are more ready. Just as making sure the promising Lagares is the answer in center field is equally as vital.
Drew might have made sense even if Alderson had concerns about his immediate returns due to his lack of spring training and layoff, but only if the Mets were willing to do a multiyear deal with the veteran shortstop. A one-year deal for Drew and the Mets never made much sense. Neither did a half-year deal. Alderson also said he wondered "what we actually were going to get as a player," meaning in 2014.
The Red Sox, which received mostly decent play from their own unconventional looking shortstop, Xander Bogaerts before turning back to Drew, ultimately put a premium on 2014, which makes sense for the defending World Series champions. The Mets by all logic should look more to the future.
Alderson's optimistic, behind-the-scenes hope to win 90 games this year aside, the main concern has to be next year and beyond. In that regard, playing flying for now with Flores makes sense -- just as playing Lagares every day makes sense, as well. The Mets need to put aside their '14 aspirations and commit to the kids who may be key to a brighter future.