Heat-Pacers Game 4 Preview: Miami, the boot, and the throat
For half the season people have expected the Pacers to fail when things got tough; they responded. But now can they find a way to even the series vs. Miami?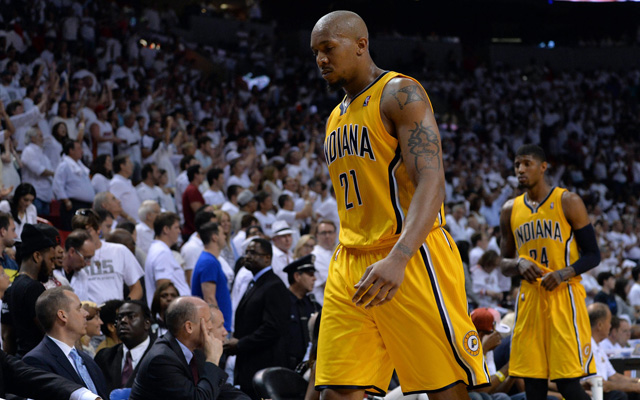 More postseason coverage: Playoff schedule, results | Latest news, notes
Previewing Game 4 of the Heat-Pacers Eastern Conference Finals.
1. The Facts: 8:30 p.m. ET (ESPN). Follow the action here. All players are expected to play. 
2. Where We Are: The Pacers have blown two leads to go down 2-1 and if Dwyane Wade keeps playing like this, they may simply not have enough weapons to keep up. LeBron James has been his usual brilliant self and the Heat's defense keeps adapting in-game with its trap to force more and more turnovers. 
Turnovers lead to fast breaks. 
Fast breaks lead to death for Heat opponents. 
That's how Miami creates easy buckets vs. this great Pacers defense. And on the other end, the Pacers are getting stuck in corners and holding the ball trying to make simple post entry passes. They're not moving into those sets, they're trying to throw those passes stationary over the Heat's long arms, and that's creating disaster for Indiana. 
The Heat can effectively end the series in Game 4. A 3-1 series lead, even with homecourt in the Pacers' favor, is a hole Indiana can't climb out of. The whole world seems to believe the Pacers are closer to the disaster they were from February through April than the team that closed out the Wizards and took Game 1. Meanwhile, Indiana has bounced back from every challenge it's had to this year, securing home court, coming back against Atlanta, responding vs. the Wizards. But they also hadn't lost back-to-back games until Game 3. Miami is simply not like other teams. 
3. The Big Number: The Heat are 16.7 points better than Indiana per fourth quarter through three games. That's this series, in a nutshell. The Pacers have been within range or held leads in second halves, have had the chance to slam the door and take full control of this series. 
And then bam, the Heat just take over. LeBron James in Game 2. Ray Allen in Game 3. The Heat have more answers than the Pacers do late in games, and you wonder if that's in part due to their starters' exhaustion on account of how bad overall the Pacers' bench has been. Whatever the cause, if Indiana can't do something in these fourth quarters, there's no chance they can win this series. 
4. Key Adjustment: Ruthless aggression. The Pacers have GOT to stop slowing it down on fast breaks. They get numbers, and then a good defensive move by the Heat makes them slow it down and reset. Their halfcourt offense is a lost cause; they're not going to suddenly start working faster in the shot clock or creating better looks, and the post entry stuff is going to be a problem because they don't have any counters. 
Lance Stephenson seems to understand this. The worst case is a high-percentage shot that happens to miss, the second worst case is a foul. But just backing it off when you have a scoring opportunity that's not against the Heat's awesome halfcourt defense is not going to work. 
5. The Big Story: Is this it? The Pacers were declared dead after the Game 5 loss to the Hawks. They were supposed to be really dead after the Game 1 loss to the Wizards. Then, again, after they were blown out at home by Washington in Game 5. And now here again, down 2-1 facing the danger of being down 3-1 to the defending champs. They worked all season to wind up with home court for a Game 7, and they may not make it close to that far. 
Will the Pacers finally become the team that everyone has said they are for months? Are they really done? Or, will they respond one more time to force this thing back to a three-game series with two in Indy? Game 2 and 3 were about the Heat responding. Game 4 is entirely about Indiana. 
Leonard's relationship with Spurs also reportedly strained because of how injury has been...

San Antonio hasn't missed the playoffs in 20 years, but the road is rocky this season

Last year's MVP finalist has missed all but nine games this season
The design for the patch is still being worked on

The explosive forward and upcoming free agent is having a career year

Cuban said on Dr. J's podcast that losing is Dallas' 'best option'