Kevin Durant on Westbrook's injury: 'I know I can lead us'
Down Russell Westbrook for the foreseeable future, the Thunder need Kevin Durant to rise to the occasion.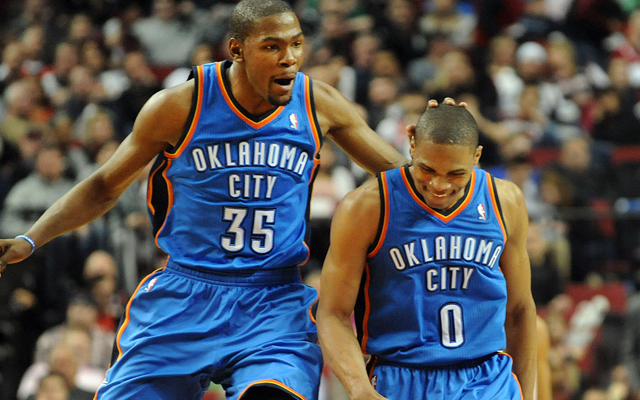 OKLAHOMA CITY -- When news of Russell Westbrook's knee injury broke, the focus was squarely on how this impacts the Thunder's chances to compete for a title. It was about if the Thunder could possibly compete with the Clippers, or Spurs, or Grizzlies, or even the Rockets, without their energizer point guard. 
And rightly so. For all the opinions and debates that Westbrook fuels, the guy is some kind of a fantastic basketball player. 
But sort of lost in all this is that the Thunder still have Kevin Durant, the undisputed No. 2 in the league. A guy who has been growing his game seemingly, at this moment. He has taken on more of a distributor role in the wake of losing James Harden and has sort of evolved playing more LeBron James-style basketball as a well-rounded player. 
"I got faith in myself and my team that I can go out there and lead us," Durant said Friday at practice. "In fact, I know I can. I know I can lead us.
"We all got to step up and play a bigger part because he's a huge part to our team. [Westbrook's] a huge part. I know I have to do a better job of being a better leader on the floor. Maybe doing some of the stuff that he was doing for us. It's going to be a tough task, but we're all looking forward to it."
That's where the Thunder are right now. It's unknown what Westbrook's timetable is currently and if there's a chance for him to return this postseason. Westbrook's competitive drive is almost unmatched in the league, so it's obvious he wants to be back, but the Thunder, as they always do, are taking the long-term view here. 
"I think we all know Russell. He obviously wants to play," said Thunder general manager Sam Presti. "But at the end of the day, this was a medical decision ... Once we were able to gather all of the necessary information and everything was accumulated, it was an easy decision for our medical team."
Said Durant: "Our first thing is to make sure he gets healthy, gets that knee back right. The basketball part, we're not trying to rush him or bring him back ahead of schedule, we want to make sure he's healthy and his knee is right. That's our only concern with it right now. As players, we have to come together as a team and worry about the basketball. All he has to worry about is him getting healthy.
"He wants to play. This is the playoffs. You don't want to miss the playoffs, no matter what it is. Russ is an ultimate competitor but, like I said, the only thing I'm worried about is him getting healthy. The basketball part, people put a lot of emphasis on it, but his health is more important to me. So him coming back earlier just to help us out in the playoffs, if it's not a good idea, he shouldn't do it."
What's the Thunder's plan of attack without Westbrook? It's a unique situation for them because they literally have never played a game without him. Westbrook has started all 394 regular-season games for the Thunder, and all previous 45 playoff games. He has been the Thunder's constant, the sparkplug they could always rely on. 
Now it's up to second-year guard Reggie Jackson to step into Westbrook's role and provide some sort of semblance of his production. Durant obviously will be more of a focal point than ever, but the Thunder have to get help from all over. Starting, obviously, with Jackson. 
"Reggie Jackson is ready for the moment," Durant said. "He's been working his tail off ever since he got here. So he's ready for this, and we've just got to rally behind him and give him confidence. He's going to make mistakes just like everybody else, but we've just got to keep encouraging him."
There's also veteran Derek Fisher, who will now slide into a more conventional backup point guard role.
"We have options, obviously," Scott Brooks said. "[Jackson's] a very viable option that I have a lot of confidence in. He's been playing great basketball when we inserted him into that backup position."
More than anything, it's on Durant now to carry the Thunder. It's his team more than it has ever been. And he says he's ready for it. 
Check in throughout the night for the latest news and highlights from NBA games

The Lakers legend details why the NBA popularity will continue to rise

SportsLine's Mike McClure, a DFS pro with more than $1M in winnings, gives optimal lineup...
If the Thunder forward doesn't know the reason, he has a very short memory

The 76ers star doesn't see a bright future for Jon Snow

Valanciunas played professionally in Lithuania before joining the Toronto Raptors