Pacers-Heat Game 6: Where do the Pacers go from here?
After losing to the Heat in Game 6, what should the Pacers do in the offseason?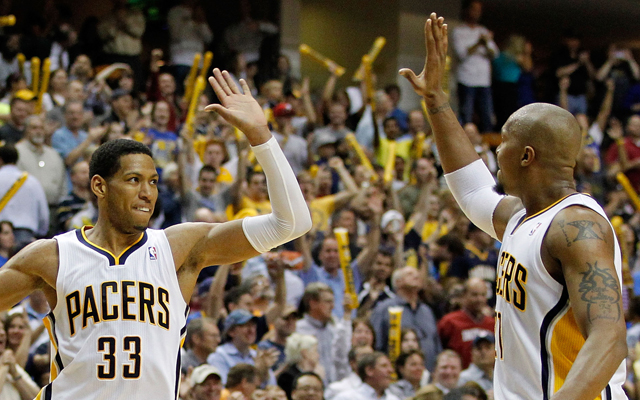 The

Pacers 

have nothing to be ashamed of about their season.
(Getty Images)
You can be impressed with the Indiana Pacers' 2012 season and you'd be on target. You can be disappointed with the Indiana Pacers' 2012 season and you're not far off. If the Pacers' season was a coin flip, it would have landed on its edge. A good showing, a disappointing end, no magic to speak of, but nothing to be ashamed of.
Midwestern work ethic, reasonable results.
So where does Indiana go after losing in six games to the might
Heat
, without
Chris Bosh
, after being up 2-1 going into Game 4 at home? That's a trickier question.
More on Heat
Related links
The Pacers showed that the roster put together by Larry Bird can contend for the East, but winning it requires that singular talent that the Pacers were missing. That's an easy narrative to throw together, right? "Oh, they don't have a designated star, so they need that."
But it rings true after watching what
LeBron James
and Dwayne Wade did to the Pacers. The entire series was built on defense, with both sides grinding out wins through the first three games. But then in the fourth game, it became about talent, as Miami's
Dwyane Wade
and LeBron James just put in phenomenal performances knocking in shots in, over, and through contact.
And the Pacers just didn't have that. They had tough, gritty performances from both
David West
and
Roy Hibbert
, but never fed either one consistently.
Danny Granger
showed flashes, but never took the game over. The
Spurs
rely on a total team concept because they always look for the open man to knock down the right shot. The Pacers, though, kept looking to different options trying to find something consistent. And it just didn't come, especially after Miami adjusted to West and Hibbert by fronting and doubling, even without Chris Bosh.
The Pacers do retain all the pieces for next season, however. Granger, West, Darren Collison, and Paul George are all signed at reasonable prices (with the exception of maybe Granger, whose $13 million seems steep). But they will have to re-sign both
George Hill
and more importantly Roy Hibbert in restricted free agency. Hibbert in particular will likely draw a huge offer the Pacers will have to match.
But even then, they'll still have some room under the cap for improvements.
Jeff Foster
,
Lou Amundson
, and
Leandro Barbosa
come off the books, and they'll have options on a few other role players to toy with. Larry Bird will have his options. But that's just it. It may not be Larry Bird.
It's been widely discussed that this could finally be the year Bird walks away from the game for good, and six months ago, that would have seemed like a fine development. The Pacers have David Morway who has drawn high marks working under Bird and others, and former
Portland
GM Kevin Pritchard has worked as a consultant. But with Morway and Pritchard both under consideration for other openings, and Bird retiring, the Pacers could find themselves without management. And that would get bizarre, very quickly.
For now the team has to take solace that it had a good showing, that had the seedings worked out differently, they likely would have played in the Conference Finals, and that they have both a talented group of young players and some veterans who can show up and muscle up. But a championship? The're one player away. Unfortunately, that one player is Dwyane Wade.
Teague no longer plays the game, however, because he's mad about his rating

Our NBA scribes break down what we've learned from the first two nights

Imagine if the Orlando rookie ripped off his warmups and stepped on to the court topless
After Brett Brown said his star would likely play somewhere in the teens, Embiid logged 26...

The Miami big man knocked down the set shot from the top of the key

Lin landed awkwardly after a layup attempt and winced in pain while grabbing his knee