2013 NFL season preview: Cincinnati Bengals
There are great expectations in Cincinnati this season. The pieces are in place, and now they have to take the next step. Here's a look at the Bengals' season.
• 3 min read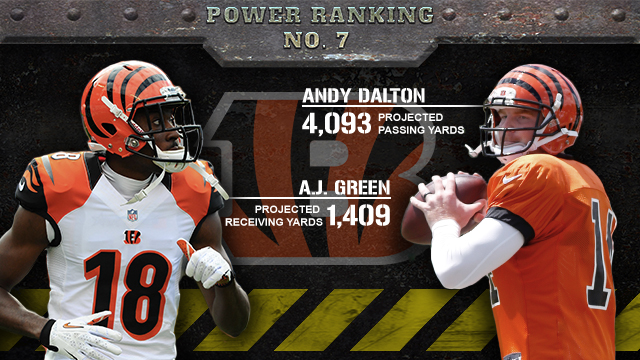 The Bengals are for real. They have one of the best rosters in the NFL, loaded with former high picks who have panned out very, very well. They are shooting for a third straight playoff appearance, which is pretty much unprecedented for them but doesn't seem a stretch at all after watching them in camp and the preseason.
The problems from the past of maturity, dealing with success, sustaining consistency -- which have long dogged this franchise -- seem a thing of the past as well. Marvin Lewis is clearly the voice of this organization and he commands respect. He has put together a quality staff that will stay on this young team. They are deep at receiver and tight end and probably have the best defensive line in football, to go along with an elite offensive line.
So merely making the playoffs again won't cut it. Bengals fans want a long playoff run, and if quarterback Andy Dalton can develop and improve in big-game situations, they will do just that.
Offense:
Bengals' Rivals: AFC North


2013 Preview • Schedule
Ravens @ Bengals: 12/29 (1 p.m. ET)
Bengals @ Ravens: 11/10 (1 p.m. ET)


2013 Preview • Schedule
Browns @ Bengals: 11/17 (1 p.m. ET)
Bengals @ Browns: 9/29 (1 p.m. ET)


2013 Preview • Schedule
Steelers @ Bengals: 9/16 (8:40 p.m. ET)
Bengals @ Steelers: 12/15 (8:30 p.m. ET)
It's all about Dalton and offensive coordinator Jay Gruden. Both have to elevate their game in the playoffs, and there are no shortage of reasons to believe that's possible. Rookies Giovani Bernard and Tyler Eifert will be very good, very soon, and Gruden can attack teams in two tight end sets and four wide sets. Bernard brings verve to what was a plodding running game.
No longer will teams be able to focus entirely on shutting down AJ Green on third down and in the red zone. There are too many other young and fast kids to worry about. Dalton will have no excuses to just be a game manager, and make no mistake, the pressure will be on him to grow into much more than that. Some scouts I've talked to compared him to Matt Schaub, who hasn't been able to get over the postseason hump, either. Though with all the talent on those two teams, you wonder how great the quarterback has to be.
Defense:
There isn't much not to like. They may be the best defense in football, and the fact that stud defensive coordinator Mike Zimmer hasn't gotten a head coaching job -- too many owners, it seems, can't handle a gruff, honest football man who won't play politician -- is huge. He gets this bunch to play with fire every week.
Few teams can get the interior push the Bengals can, and with rookie Margus Hunt now in a rotation on the edge, they can throw people at the quarterback with abandon. Free agent signing James Harrison only really has to show up on third down, and though I'm not as high on the secondary as some others -- outside of Pro Bowl corner Leon Hall -- if youngsters Dre Kirkpatrick and Brandon Ghee step up, then the defensive backs will be yet another reason to love this defense.
The bottom line is it's hard to see anyone running the ball down their throats, and with their ability to menace the quarterback, getting the ball deep on them will be a challenge as well.
Final thoughts:
I expect this division to be a three-team fight right until the end, but I'm giving the edge to the Bengals. I love the way the schedule sets up, aside from the very late bye, and from a travel standpoint it couldn't be much better. Very minimal.
All the prime-time games should help prepare the team for the postseason feel, but, again, the Bengals won't be measured by anything they accomplish in November or December anymore. It's all about January, and securing the division title, staying at home and getting a bye would all be huge. None of that would surprise me at all, by the way.
More 2013 NFL season previews: Select a team
AFC North
AFC South
AFC East
AFC West
NFC North
NFC South
NFC East
NFC West
It's Matt Moore time in Miami for the time being after tests confirm Cutler's cracked ribs

The fog was clearly part of Bill Belichick's diabolical plan to beat the Falcons

The stalwart tackle's next streak of consecutive snaps will not be resumed anytime soon
Jeff Heath played two very important positions for the Cowboys on Sunday

Josh Nagel has won five straight Eagles picks and has a strong 'Monday Night Football' pic...

Mixon ripped off 48 yards on seven carries, then the Bengals never gave him the ball again