Aaron Rodgers ties Packers record with 480 passing yards
Green Bay Packers quarterback Aaron Rodgers threw for a career-high 480 yards in the Packers' 38-20 win over Washington on Sunday.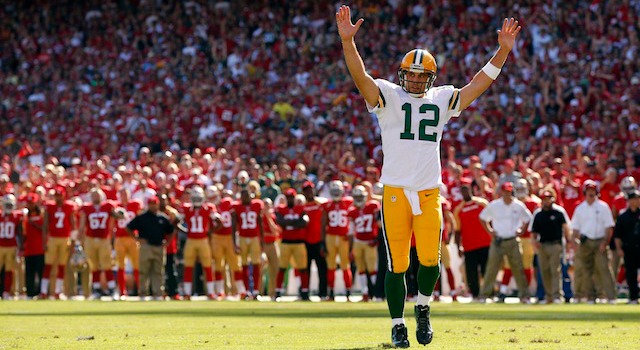 The Washington Redskins had no answer for Aaron Rodgers on Sunday. Rodgers threw for a career-high 480 yards as Green Bay blew past Washington 38-20 at Lambeau Field. Rodgers' 480 yards matched Green Bay's franchise record, set by Matt Flynn in the Packers' 2011 regular-season finale. 
Before Sunday, the highest passing total of Rodgers' career was a 408-yard performance in a October 2011 win over Denver. Including the win over the Redskins, the 29-year-old quarterback has now thrown for over 400 yards three times in his career. Rodgers' other 400-yard game was a 404-yard, four-touchdown performance in a December 2010 win over the Giants. 
Rodgers got ridiculously hot early against the Redskins, throwing for 335 yards and three touchdowns in the first half as Green Bay jumped out to a 24-0 lead. Rodgers almost had four touchddown passes in the first half, but Packers wide receiver James Jones fumbled on the Redskins' 1-yard line with nine seconds left in the first half.
Jones more than made up for his first half gaffe with 11 catches for 178 yards, both numbers were career highs for Jones. Randall Cobb also went over the 100-yard mark for Green Bay, catching nine passes for 128 yards and a touchdown.
Packers wide receiver Jordy Nelson also got in on the action, catching three passes for 66 yards and two touchdowns. 
The Packers didn't just pass all over the Redskins either, they also got their ground game going, something that doesn't happen too often in Green Bay. Running back James Starks finished with 132 yards, marking the first time the Packers have had a running back go over 100 yards since Oct. 10, 2010. 
The Packers also made some NFL history: Sunday's win over the Redskins marked the first time ever that a team had a quarterback throw for over 450 yards and a running back go for over 132 yards in the same game. 
Reports of Tom Brady's demise are premature

Emory Hunt has his finger on the pulse of the Boys and locked in a strong pick for 'Sunday...

Larry Hartstein has his finger on the pulse of the Bears and has a strong pick for Bears-Lions...
The Pittsburgh linebacker was placed on injured reserve Tuesday

Steelers coach Mike Tomlin wanted the Patriots and now he's got them

Brady has been reluctant to speak about his friendship with the president since the electi...