After Further Review: Will Broncos, Patriots run, run and run some more?
Peyton Manning won't hesitate to hand off in the AFC title game. The Patriots have a better chance to shake receivers loose with crafty picks.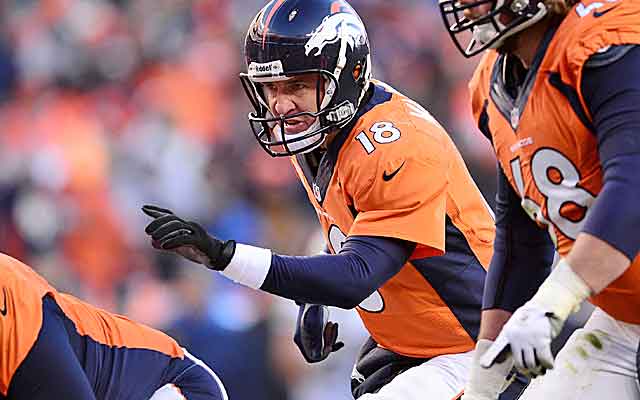 More NFL: Prisco: NFC title keys | Kirwan: Burning questions for title games
The Denver Broncos and New England Patriots, who meet in Sunday's AFC Championship Game, met once already this season with the Patriots coming back from 24-0 at halftime to win 34-31 in overtime.
The teams are a lot different since that Week 12 meeting -- injuries to some key players have made it that way -- but there are still things that I think will pertain to this meeting.
Here are three things that caught my eye in regular-season matchup:
1. The two-deep factor: The last time the two teams met, Broncos running back Knowshon Moreno ran for 224 yards and Peyton Manning threw for a season-low 150 yards.
Why that happened is simple: When Manning sees two-deep looks, he will call for a run. That's what New England played much of that game. They had man-under with two-deep safeties in their nickel packages against the Broncos' three-receivers set for much of the game.
That left a lot of six-man looks for the box. For Manning, that's a simple call at the line: Run, run and run some more.
The idea that Manning is stubborn and won't check to runs is absurd. The reason Denver can run is because of him and that passing game. It's the same on the other side with Tom Brady.
Great quarterbacks scare the hell out of defensive coordinators. Patriots defensive coordinator Matt Patricia was no different in the first meeting. He dared the Broncos to run and wanted to take away Manning's ability to throw. It helped that the wind was howling that night, but the reality is the Broncos moved the football because they ran it well into six-man fronts. Here's a look.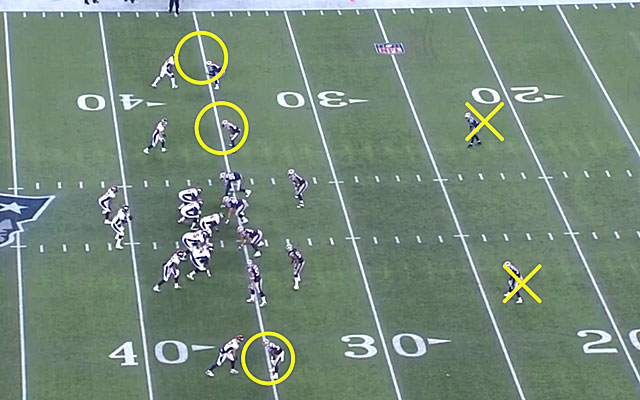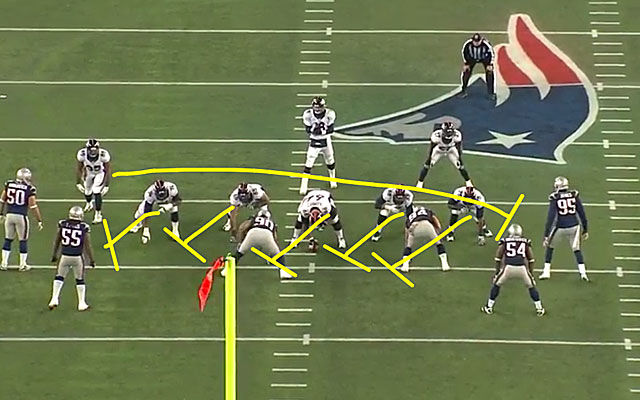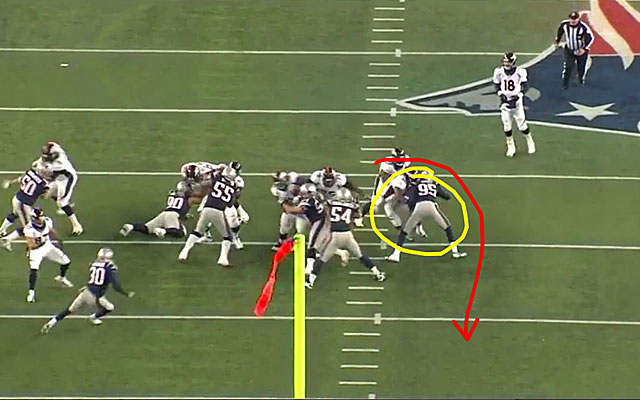 This is a 12-yard run by Moreno. As you can see, the Broncos are in a three-receiver, one-tight end, one-back look with the Patriots countering with five defensive backs, two linebackers and four defensive linemen. You can see how deep the two safeties are playing.
The Broncos had the run-game action go to the right, with Manning in the shotgun with Moreno next to him. At the snap, tight end Virgil Green came across the formation to trap defensive end Chandler Jones. That allowed Moreno to cut back inside that block for the nice gain. The Broncos used the tight end in that way several times on run plays. Look for more of that this week, although Julius Thomas, who didn't play in the first game, isn't a good blocker.
I would expect if the Patriots play off again, you would see a lot of Moreno and Monte Ball in the run game this week.
2. Expect to see New England use pick plays a lot: The Patriots are great at freeing up receivers with "picks" or "rubs" against man coverage. They do it as well as any team in the league, and get away with it most of the time. That's because they are crafty when doing it.
Here's a look at two plays from the first meeting that shows how good they are at it, and what those plays can produce.
The first one was actually an incomplete pass to running back Shane Vereen that he dropped, which ruined what could have been a huge play. But the concept shows what the Patriots like to do.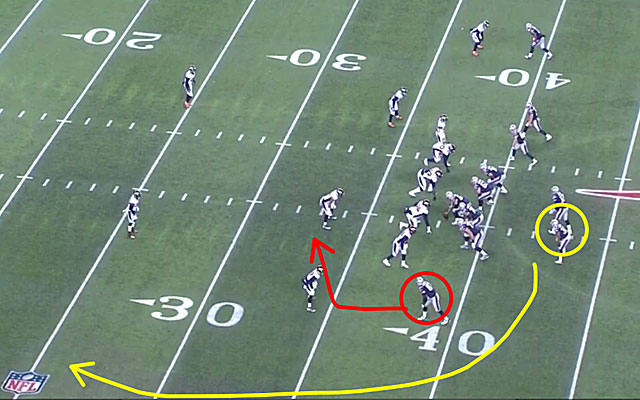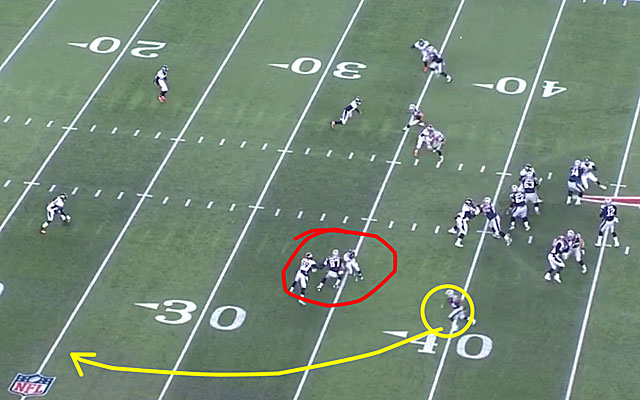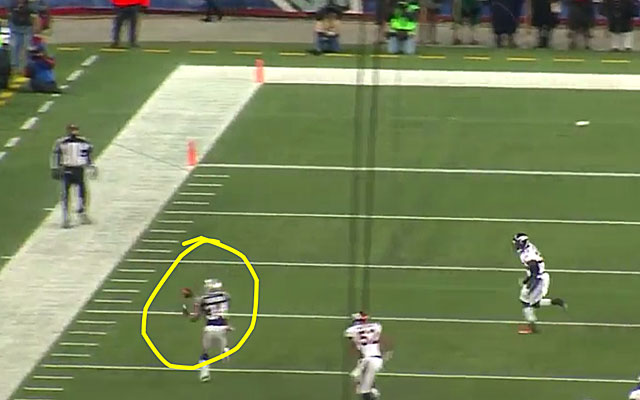 The Patriots lined up with three receivers to the right and tight end Rob Gronkowski (red circle) in the slot to the left. Vereen was lined up next to Brady in the shotgun. At the snap, Gronkowski ran a hard inside slant. When he did, he was able to use his body to pick off linebacker Wesley Woodyard, who was in man coverage on Vereen (yellow circle) as he ran a wheel route. Woodyard had no chance to get over in coverage as Gronkowski picked him off with a sly hip extension. This is the kind of thing the Patriots love to do.
Here's another look at one of those types of plays they ran for Gronkowski, who is out this week and on injured-reserve, but the concept works with whoever is playing tight end.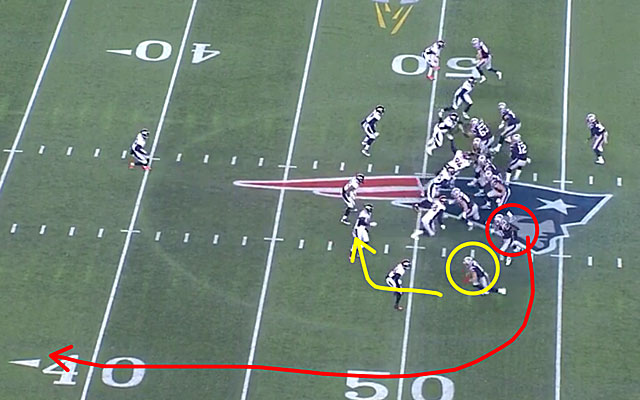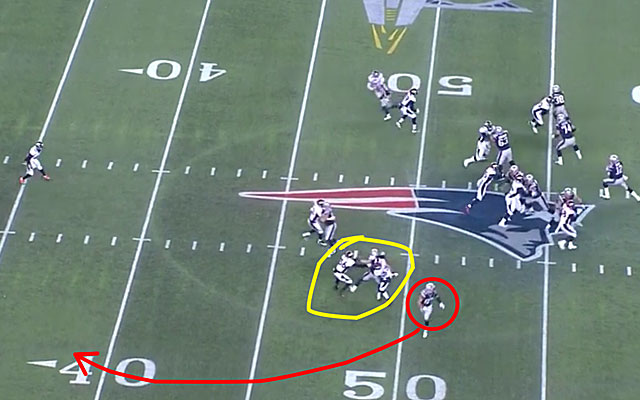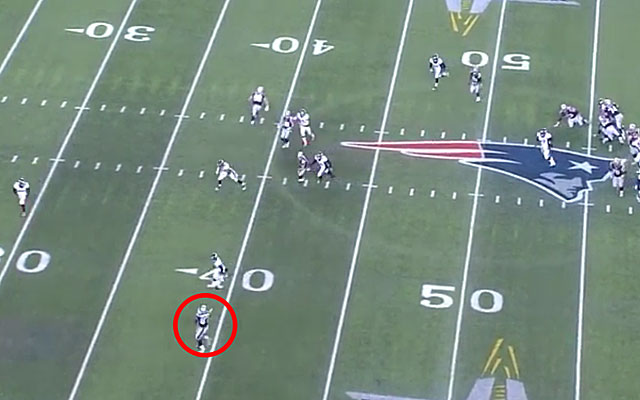 This time, Gronkowski (red circle) was the one running the wheel route from the slot after settling there after going in motion from right to left. It was clear with that movement that he was in man coverage with safety Duke Ihenacho, who followed him across the formation. Julian Edelman (yellow circle) ran a hard inside route to pick off Ihenacho to make for an easy throw for Brady and a 33-yard gain.
I would expect the Patriots to use more of this type of design against the Broncos when they see they are lined up in man coverage. With Gronkowski out, it could mean a lot more of Vereen in the passing game. He was used a lot that way in the first meeting.
3. Can the Patriots run it again this week like they did last week, but didn't do in the first meeting? New England ran it 46 times for 234 yards last week in their victory over the Colts. So that has everybody thinking they will run it again this week at Denver. But the Broncos have a better run defense than the Colts, and it's tough to run on a team that has a lead and we know the Broncos can score. It will be a lot tougher to do.
The Patriots ran a lot of power runs last week against the Colts out of different sets. Those runs call for the guards to pull and lead, but that's tough to do if there is penetration. The Broncos have a key penetrator against the run game in defensive tackle Terrance Knighton. In the first meeting, Patriots center Ryan Wendell and right guard Dan Connolly had problems with Knighton. Here's a look at a play Knighton made against Wendell.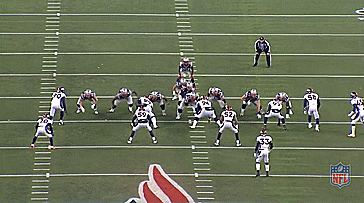 It was a Power-O run to the right with a fullback as the lead blocker. Knighton, as you can see, threw Wendell to the ground and chased down Stevan Ridley for no gain. Kevin Vickerson holding the point and a good fill by Danny Trevathan forced Ridley to bounce, and when he did Knighton chased him down from behind. The problem this week is that Vickerson is on IR, which means rookie Sylvester Williams have to hold up against the run.
He'll reportedly appeal the suspension

Rodgers is eligible to return after eight weeks and the Packers reportedly aren't giving up...

The Packers think the hit is dirty, but the NFL apparently disagrees
Here's every official injury designation for each NFL team for Week 7

If it wasn't already clear, the Packers are not happy with the hit that injured Rodgers on...

Passengers were treated to some explicit chants from the Oakland running back, too