Cardinals CB Patrick Peterson: Falcons have best WR duo in NFL
Cardinals cornerback Patrick Peterson says the best wide receiving duo in the NFL is in Atlanta.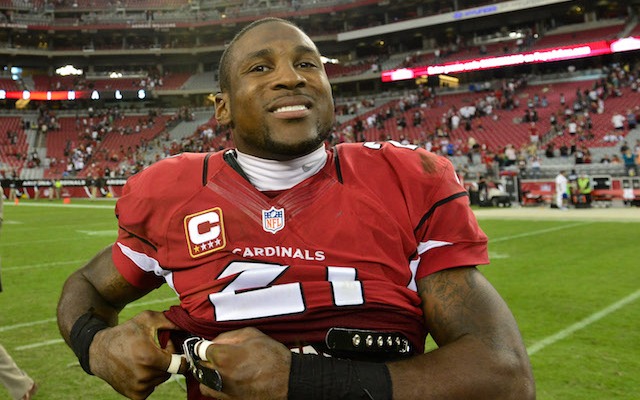 Since the 2013 NFL season ended in February, at least three different players have made the claim that they're part of the best wide receiving duo in the NFL. 
Falcons receiver Julio Jones thinks the best tandem is him and Roddy White. Alshon Jeffery thinks the best duo plays for the Bears. Then there's Pierre Garcon, who thinks he makes up one half of the league's best duo with DeSean Jackson. 
Basically, you have a bunch of players who voted for themselves. The Atlanta Journal-Constitution tried to clear things up in this debate by asking Cardinals cornerback Patrick Peterson who he thinks is the best duo. 
Is it Jones and White?
"The best duo in the NFL, I'd probably have to say that's pretty accurate," Peterson said of the Falcons tandem. "Both of those guys are Pro Bowl caliber receivers, both of them are All-Pro caliber receivers. Both of them do a lot of good things for Matt Ryan to make his job a little easier. But to say they are the best tandem, I'd probably have to say that [Jones] is probably right."
Brandon Marshall would probably disagree. The Bears receiver feels so strongly about him and Jeffery being the top duo that he offered to make a bet with Roddy White on Twitter. 
I love this new category @roddywhiteTV. Let's make a friendly bet. You need to redeem your betting reputation. ??? http://t.co/coHcA7rlVS

— Machine Marshall (@BMarshall) June 26, 2014
Of course, picking Jones and White could just be Peterson's way of returning a favor to Jones. Earlier this month, Jones told our Pete Prisco that he would take Peterson over Richard Sherman as the best corner in the NFL.
As for the top individual receiver, Peterson probably won't get much argument for his choice there: Calvin Johnson. 
"He's just so big, fast, agile and he's very quick," Peterson said. "To be that big and move that well is unbelievable."
Breaking down why the underdogs are very dangerous against the Patriots

All of the information you need to know about the 2018 Super Bowl

Here's all the details you need to know on watching Super Bowl LII between the Patriots and...
No one wants to give the Eagles any respect

Here's a look at the NFL's entire postseason schedule for 2018

Here's everything you need to know about Super Bowl LII