Falcons-Bengals notes: Injury makes RT trouble spot for Atlanta
Expected starter Mike Johnson goes down in practice, quickly turning right tackle into a Falcons' trouble spot; reworking D obvious Atlanta priority.
• 9 min read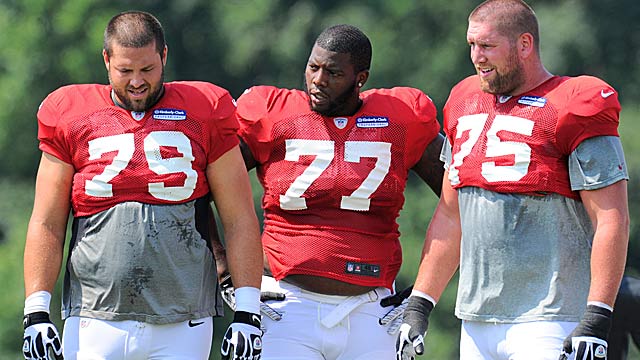 FLOWERY BRANCH, Ga. -- The Atlanta Falcons' search for a new starting right tackle took another turn when de facto preseason starter Mike Johnson was carted off the field and lost for what team sources believe will be an extended period of time, if not the entire season. By the end of today's practice session with the Bengals, rookie un-drafted free agent Ryan Schraeder, out of Valdosta State, was running with the starters and protecting Matt Ryan's right side.
There isn't much to quibble about at all with the Falcons offense, but right tackle will be a focal point from here on out. Johnson, who is in his contract year and was rushed from the facility just before his agents, Pat Dye and Bill Johnson, arrived to watch practice, was given the first shot to nail down the job as departed Tyson Clabo's replacement.
Ryan is so smart and gets rid of the ball so quickly that the Falcons should be able to get by with pedestrian play at right tackle. They just can't have it be a total black hole. Second-year tackle Lamar Holmes, a third round pick in 2012, got the first set of reps with the starters after Johnson's injury, but his stay there was brief with a rotation in order. Holmes also heard a good amount of ribbing from Atlanta's offensive stars for throwing up at one point.
Coach Mike Smith expects to give plenty of reps to everyone as he sorts out the right side of his offensive line.
"I think we're very solid on the left side in terms of what our roster will look like with the left tackle and left guard," Smith said. "We're moving Peter Konz back to his normal position, which is center. Last year he had to play guard for us. Garrett Reynolds is sliding back in to the right guard position and he's started 17 games in the three years he's been with us. And then there has been competition there at right tackle, and I think there will continue to be."
Reynolds has not exactly been a standout thus far, either, so the offensive line will bear particular monitoring as the Falcons' preseason begins Thursday night against the Bengals. There isn't much in terms of available talent on the free-agent tackle market right now -- in fact several GMs I've chatted with during my camp travels have commented about the utter paucity of options -- but at some point the Falcons could turn to the waiver wire as well as cuts are made.
They'd love for Holmes to win out, given where he was drafted, but grasping the entirety of the offense and seizing this opportunity is far from a certainty. Veteran Joe Hawley could end up pushing for a center/guard spot as well.
Smith said after practice he had not yet been briefed on the specifics of Johnson's injury.
Observations
•  You don't have to stare at the Falcons in action long to realize the bulk of their offseason assets were used towards upgrading a defense that sagged down the stretch. Coordinator Mike Nolan did a tremendous job with his scheme, but you can only overcome shortages at key positions for so long, and teams completed far too many big plays on the Falcons down the stretch.
Over the last eight games of last season, Atlanta ranked 30th in the NFL in big plays allowed (plays of 20 or more yards).
For the season they ranked 28th in sacks and 28th in opposing rushes over 20 yards and 30th in first-down rushing defense. With the addition of pass rusher Osi Umenyiora and the drafting of two corners (in the first and second rounds), two safeties and two defensive linemen, it's clear they are hopeful of plugging those gaps.
"We were very focused on working on the defense here; that's obvious," general manager Thomas Dimitroff said. "Especially this year knowing we have an offense we think can be prolific, obviously we focused on getting Matt (Ryan) signed, and when you look at our approach to the draft, I think that speaks volumes for what our approach was coming into the year."
Dimitroff has been impressed not only with how rookie corners Desmond Trufant and Robert Alford have done on the field, but the way they battle with what I believe is the best receiver tandem in the league in Roddy White and Julio Jones.
"They don't back down from those two guys, which I really love," Dimitroff said. "It's a really healthy competitive atmosphere between them right now, which is great."
•  Umenyiora looks in great shape ("I'm good to go," he said, smiling), but you have to wonder if teams will focus on him as the only real edge presence the Falcons present with John Abraham gone. Umenyiora was used to being part of a deep rotation with the Giants and, in his 11th year, injuries have to be a concern as well. "You can't really control that," he said of the luck involved with injuries, but he is showing tremendous leadership skills with how hard he is working, how long he is at the facility and the time he is putting into mastering Nolan's defense, which is very different than the way ends were cut loose to rush upfield often in New York.
"It's completely different," Umenyiora said. "Nolan is going to scheme you. In New York we had a pretty good scheme there but it was mostly, 'Go!' Now Coach Nolan is a really, really bright coach and he schemes things and he does some things I've never even seen before in my life ... The quarterback position has to be ridiculous to play, because of the way things move around, and the way he schemes it, I don't see how they see all that stuff coming."
Nolan will have to use ingenuity to his advantage again, though there is a sense around here that fifth-round pick Stansly Maponga, who is still rounding into health and shape, will be able to make a real contribution off the edge as things progress.
•  Tony Gonzalez, considered by many the greatest tight end in NFL history, has yet to report, by design, as part of the deal set up when he opted out of retirement for one more shot at a ring with the Falcons. Smith said he does expect Gonzalez -- who reported briefly at the start of camp before being excused -- back soon and he is watching practice every night from his home on his iPOD. "I don't think there will be any issues with Tony," Smith said.
In the meantime, rookie tight end Levine Toilolo is generating a little buzz. He cuts quite the figure at 6-foot-8 and, though raw and inconsistent, will clearly learn a ton once Gonzalez is around to mentor him. There's a lot to like about his skill set, as a fourth round pick.
•  I underestimated the size of the Falcons' safeties. Big dudes.
•  For all the talk with the Bengals about this being a make-or-break year for quarterback Andy Dalton, offensive coordinator Jay Gruden isn't shying away from the notion it's a big year for him as well. Gruden, whose brother Jon was at practice today ahead of broadcasting Thursday's game on ESPN, has done a great job developing the Bengals' young offense. But after getting stifled two straight years by the Texans in the playoffs, expectations are now much higher for this group come January.
"There's no question about it, we all have to step up our game," Gruden said. "And that's been my focal point in all my meetings. It's not just the quarterback, obviously the quarterback has to get better, but we all do -- the quarterback, me, the line, the quarterback coach, receivers coach, the tight ends.
"Everybody has to be more detailed and pay attention to small details and get better, otherwise we don't have a chance. Andy can improve, but if everybody else stays the same and doesn't improve, then we won't go as far, either. I've got to make the plays as comfortable as I can for him and make sure I call a game that people can handle."
Gruden's offense will look much different this year, without a doubt. Two tight-end sets will be much more the norm, with rookie Tyler Eifert shining already, and explosive rookie back Gio Bernard will aid a rushing attack that was more plodding -- Cincy tied for 28th in percent of rushing attempts over 4 yards or more, and had only one rushing TD over 10 yards. Their presence in the red zone will draw some attention away from top receiver AJ Green, as well.
"The offense could change a lot," Gruden said, "and that's the good thing about our guys; we have a bunch of guys who can get lined up in different spots and do damage."
•  With Green and receiver Andrew Hawkins among those injured and not practicing, 2012 draft pick Mohamed Sanu is among those shining, He can line up in the slot or out wide, and Gruden is clearly intrigued by his size and versatility even if/when the Bengals do have a full complement of receivers.
•  One thing that impressed me about Bernard was his eagerness to get involved in pass protection. He realizes that failures there are often the downfall of young running backs and his mental preparation has not gone unnoticed early in this camp.
"I definitely think I'm doing a good job of it right now," he said, "and the more reps I have the better I get. For me my biggest job is to protect the quarterback. I don't want Andy to get touched by anybody, whether that's somebody coming out of nowhere, or whatever."
I have a feeling this kid makes an impact sooner rather than later.
•  Geno Atkins, in the final year of his deal and primed to be the highest paid defensive linemen in NFL history, chatted with his agents, Dye and Johnson, for quite a while after practice. League sources said there has been ongoing dialogue about a new deal, but they are nowhere close on a deal with the Bengals at this point. I'd still bet strongly that he ends up with the franchise tag in 2014.
•  Can't help but watch the growth of the Bengals, and all the talent they have amassed, and wonder where they might be had they accepted multiple first round picks for Chad Johnson/Ochocinco back when the Redskins were hot for him five years ago and when the receiver's best days were behind him. Add in a couple more solid first-rounders, and this team would be all the more equipped for a Super Bowl run.
The Dallas Cowboys running back has high expectations for his performance against the Seah...

Mike Tierney has owned NFL totals and has a strong play for Chargers-Chiefs on Saturday

The former No. 2 overall pick drew interest this offseason but did not play in 2017
This matchup isn't quite as glamorous as it looked when the schedule was released in the s...

Patriots-Steelers highlights a week filled with playoff-caliber games

Cleveland's quarterback has recently improved, but his turnovers have been a big part of the...