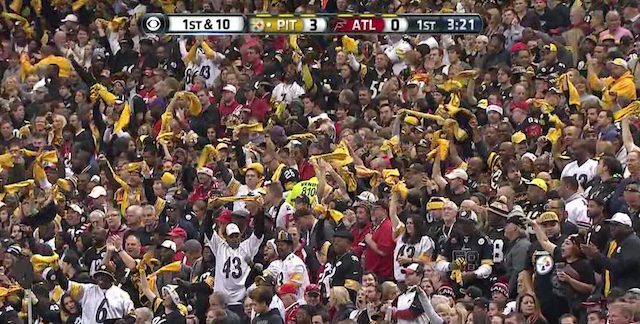 The NFL Week 15 schedule says that the Falcons are playing a home game this week, but if you turn the game on, you'll probably notice it looks more like a road game -- and that's because Steelers fans have taken over the Georgia Dome. 
They're literally everywhere. 
Generous of the Steelers to allot 500 or so tickets to Atlanta fans. #SeasonOfGiving pic.twitter.com/0XvDyUbODT

— Dave Dameshek (@Dameshek) December 14, 2014
Embarrassing amount of steelers fans in the Georgia dome today pic.twitter.com/LwFIzgpgD6

— CY (@cycutoffs) December 14, 2014
Steelers fans outnumber Falcons fans in the Georgia some! #HereWeGo pic.twitter.com/2x2Is8VKiy

— Mike Koriwchak (@DrMikeKoriwchak) December 14, 2014
#riseup. Thought I was going to a Falcons game. 75% Steelers fans. pic.twitter.com/K3tG4P8ZMB

— Edge (@callmeedge) December 14, 2014
Not sure I've heard Steelers fans anywhere close to this loud on the road this season. Done effect? pic.twitter.com/BoaZAumKNh

— Scott Brown (@ScottBrown_ESPN) December 14, 2014
When you play the steelers as fans you're outnumbered where ever you go! #PITvsATL pic.twitter.com/A9KPUyIRki

— Adam Black (@The_Adam_Black) December 14, 2014
Maybe Falcons fans just didn't want spend money on tickets.
Two weeks ago, when the Cardinals played in Atlanta, fans could get into the game for as little as $10. Thanks to the 'Steelers fan inflation,' the cheapest tickets for Sunday's game were going for over $165 on the secondary market. 
The Steelers have jumped out to an early lead after one quarter at 'Heinz Field South.' To keep tabs on the game, be sure to head over to our CBSSports.com game tracker here. 
Steeler Nation never ceases to amaze me. The GA dome already looks like Heinz Field! Way to represent! Hines

— Hines Ward (@mvp86hinesward) December 14, 2014