Pete Carroll thinks Macklemore is the 'best performer in the world'
If you've ever been to a Macklemore concert and you enjoyed it, then you have something in common with Seahawks coach Pete Carroll.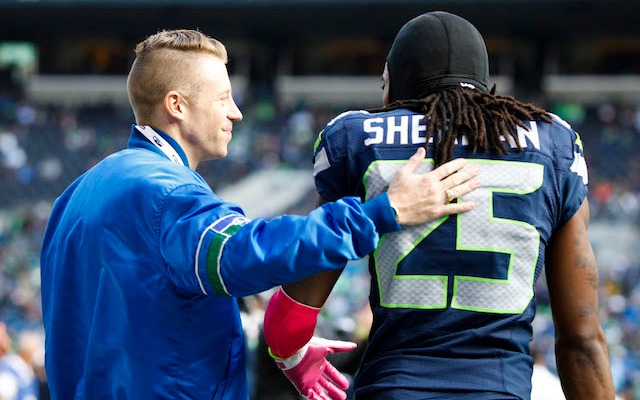 More SB coverage: XLVIII odds | Expert picks | Super Bowl weather | Latest news
JERSEY CITY, N.J. -- It's a good thing Pete Carroll wasn't in charge of handing out Grammy Awards on Sunday because he probably would've given them all to Macklemore. Even without Carroll's help though, the Seattle rapper still won big at the Grammys, taking home four awards. 
Why are we talking about a rapper during Super Bowl week? Because that's what Pete Carroll's talking about. Carroll was asked about Macklemore on Monday and instead of saying, "Lets forget about rapping and talk about football," Carroll jumped head first into the subject.  
"It was a really cool thing for our area," Carroll said of Macklemore winning four Grammys. "A guy growing up in Seattle. He had an extraordinary following locally that nobody knew about and didn't really understand why at the time. The story has been told that we found him on the first night of his Heist tour at our stadium and had no idea what was going to happen. The place was just going crazy because the fans knew him already, and then he kicks off this tour and is arguably the best performer in the world this past year."
According to the Los Angeles Times, Carroll first became aware of Macklemore's existence about 15 months ago and now the Seahawks coach thinks the Seattle rapper might be the best performer in the world. It probably helps that Macklemore is a Seahawks fan. 
"Knowing that he loves sports and he loves Seattle and he's so connected to the 12th man and all that, it's been a blast," Carroll said. "He's been a big factor. Every time we score a touchdown we play his music. It's a big deal to us."
If the Seahawks score a touchdown during the Super Bowl and you hear Macklemore's "Can't Hold Us," now you'll know why. 
Payton was seen mocking Vikings' fans at the end of the Saints-Vikings game on Sunday

Tom Brady didn't really feel like talking about his hand injury on Friday

Anderson was also arrested in May
Conspiracy theorists, your time has come

Galin Dragiev is on a piping hot run in NFL picks and just locked in a play for the AFC title...

Brady prefers not to wear a glove on his throwing hand