Report: Ravens preparing for RB Ray Rice to miss at least three games
The Ravens are reportedly expecting the NFL to suspend Ray Rice for at least three games, following the incident he had in February with his wife.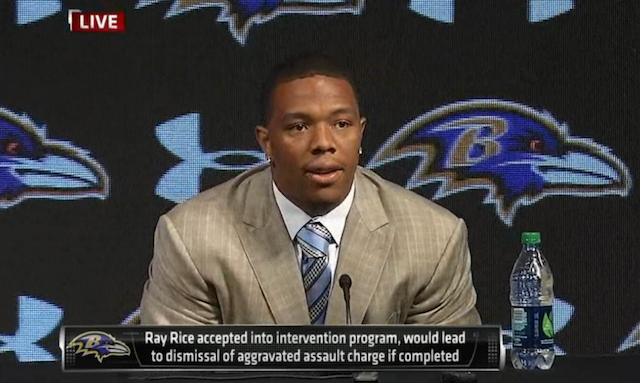 Following Ray Rice's press conference on Friday, Ravens president Dick Cass noted that Rice is expected to meet with NFL commissioner Roger Goodell sometime in the near future. That conversation will likely lead to a punishment for Rice, a punishment that could lead to the Ravens running back missing almost 25 percent of Baltimore's 2014 season. 
The Ravens are preparing for Rice to miss at least three games, according to ESPN.com, meaning the number could be even higher. The fact that there's video of the incident is one of the reasons the league could come down hard. TMZ released security footage of Rice dragging his then-fiancee Janay Palmer out of an elevator. The couple is now married.  
Rice isn't expected to face any jail time for the February incident with his wife, whom he was accused of assaulting after the two had an altercation at a casino in Atlantic City, N.J.
About a month after the incident, Rice was indicted on a third-degree aggravated assault charge. However, the Ravens running back was accepted into a pretrial intervention program on May 20 that should allow him to avoid jail time as long he stays out of trouble. 
If Rice successfully completes the intervention program -- a process that will take at least a year -- the third-degree aggravated assault charge would be dismissed. The arrest would remain on his record, but there would be no conviction.
"This decision was arrived at after careful consideration of the information contained in Mr. Rice's application in light of all of the facts gathered during the investigation," acting Atlantic County Prosecutor Jim McClain said. "After considering all relevant information in light of applicable law, it was determined that this was the appropriate disposition."
The study, published on Thursday, found that even at younger levels football can be danger...

The Eagles and Vikings have two of the best defensive fronts in the NFL

Starting left guard Stefen Wisniewski says the Eagles' success is about more than just one...
Kaepernick made the pledge in October 2016 in the middle of his campaign for social equali...

These prospects aren't first-round locks now but could be in for a rise after the Senior B...

Newman was the oldest defensive player in the league to get regular snaps this season