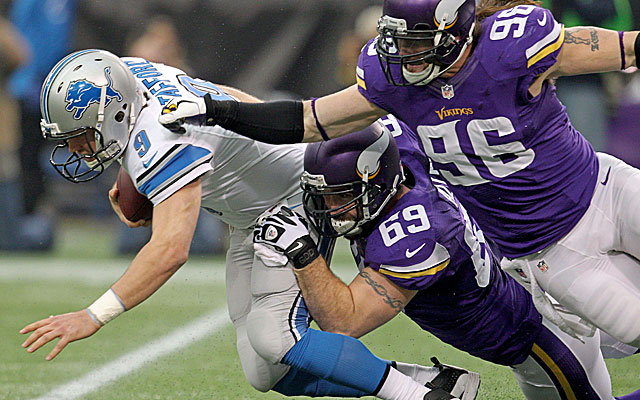 More NFL: NFL Mock Drafts | Big Board | NFL combine news and updates
INDIANAPOLIS -- Jared Allen, is still, technically, a Minnesota Viking. And he just might be at the beginning of the 2014 season as well. If I were a betting man, I wouldn't go all-in on that prospect, but it's a possibility.
If nothing else, Allen's first foray into the free-agent market will begin and end with the Vikings. In fact, it already has.
Allen's agent, Ken Harris, formally met with the Vikings brass Thursday, and while the sides were not exchanging numbers -- they aren't at that stage yet -- it was a very positive, constructive meeting, one that left Harris glowing about an organization his client has come to love. It's safe to say that before Allen signs any contract when free agency officially begins next month, the Vikings will at least know the contract terms and will be afforded every courtesy.
"They have been great throughout this entire process," Harris said of the Vikings. "They asked that we keep them informed of what's going on as we begin to talk to teams at the appropriate time, and we absolutely will. They understand the situation, and that Jared has never had a clean shot at free agency before in his career, and as we explore those options we will keep the Vikings informed. Everybody respects each other. Jared loves them and they love him, and they made that clear again (Thursday night)."
Allen is one of the more intriguing test cases in this upcoming free-agent class, a man who has been best for a decade and does something that every team covets (attack the quarterback). But Allen is also facing a reality that the money paid out to over-30 pass rushers in this new collective bargaining agreement has generally been less than staggering. Harris himself says he would struggle to come up with a comparable contract to target as Allen's market value in free agency, but as he embarks on this "fact-finding mission," gauging the interest and market for Allen, he certainly has some guidelines from his client to follow.
This will be Allen's last bite of the apple, his last chance to earn NFL money and last opportunity to get a ring. He's a realist about that. And as much as he has relished his time in Minnesota -- a team that's rebuilding, again -- landing somewhere with an opportunity to win now is a priority. Having played much of his career with a bit of a revolving door at quarterback, Allen values finding a team that has a proven winner at that position. He wants to be comfortable with the scheme and coaching staff.
But at this stage of his career, Allen just wants to win.
"Let's say we're looking at four years here, a hypothetical four-year contract," Harris said. "Is it a team he feels like is going to be contending during that time? Jared always tells me, 'If you've got a quarterback, you've got a chance."
Allen just finished a six-year, $73-million deal, including incentives, and ended up making a full $74M from it. Every penny. That included a full, $14.280-million base salary in 2014 (and subsequent $17-million cap hit). Allen signed his deal in 2008, yet by 2013 he still remained the fourth-highest paid player in the NFL at his position based on his $12.2-million average salary per season. To say that his contract held up would be an understatement. Only Mario Williams, who signed with Buffalo in 2012, Julius Peppers (signed in 2011) and Charles Johnson (signed in 2011) made more.
Take any metric you like and any time period you like, and Allen's statistics hold up remarkably well. Since 2004, no defensive end has more sacks, tackles for a loss or solo tackles. Allen ranks second in passes defensed, third in interceptions and fourth in forced fumbles. Over the past five years he is first in sacks, fourth in solo tackles, third in tackles for a loss, sixth in forced fumbles and passes defensed, first in safeties and second in interceptions. Over the past three years? Allen is first in sacks and sixth in solo tackles. In the past two years, only four defensive ends have more sacks than him, and he's still sixth in passes defensed and eighth in tackles for a loss.
Even in what was a down year for Allen, on a defense that struggled badly, Allen still posted 11.5 sacks with 38 quarterback hurries/knockdowns (more than Peppers, Williams and Ware), as well as six passes defenses and two forced fumbles. Not bad at all for a 31-year-old. But, for someone with Allen's pedigree (128.5 sacks -- more than anyone else since he entered the league in 2004; who nearly set a record in 2011 with 22 sacks), this constitutes a drop-off. And with experienced pass rushers like Dwight Freeney, John Abraham and Osi Umenyiora being value plays for teams in recent years, how much trepidation might there be about Allen slowing down, or depreciating?
Harris takes umbrage at that notion.
The Vikings' change of staff before the 2012 season (with head coach Leslie Frazier no longer running the defense and Alan Williams coming as defensive coordinator) Harris maintains has much to do with the decline. The entire defense suffered amid scheme changes to the defensive line. The overall team sack totals lagged and Allen's lowered productivity from a sack standpoint was symptomatic of that paradigm shift, Harris believes.
"There was some frustration on the part of a lot people regarding issues with the scheme there, and I think the Vikings would admit that now," Harris said. "Jared has the same speed, the same ferocity as he always has. He's probably even mentally sharper now than ever. So why wouldn't it be appropriate for him to be in the top echelon of players?
"If, through the course of this fact-finding mission, anyone wants to argue that his numbers declined because he's lost a step, and he's 31, I'll gladly put Jared on the phone with them, because that is most definitely not the case."
The question, however, I'm sure will be asked. And I will be very interested to see precisely what kind of deal Harris and Allen end up signing; how it's structured, how much money is upfront and how much is guaranteed. Besides Peppers (who made more than $33 million in his first three years with Chicago but who many expect to be cut soon because of his declining output and massive salary and cap number) hitting 30-year-old mark has cooled the market for these guys. Robert Mathis getting $17 million guaranteed and $9 million per year to stay with the Colts in 2012 is one that stands out. Is that a deal Allen ends up besting? And if so, by how much? Harris swears he doesn't have a number in mind just yet.
The fact is, Allen has never had a chance to experience this before, traded to the Vikings by the Chiefs as a young player in restricted free agency, and never on the open market. He's never been flown around on private planes to get wined and dined by team owners. This is all new to him. And, while Greg Hardy will do incredibly well if Carolina does not franchise him, this free-agent class isn't loaded with pass rushing options (Justin Tuck is in a similar position as Allen, without the same degree of gaudy numbers, for one), which should bode well for Allen, too.
As for where he fits, Seattle and Denver were teams that at least discussed Allen internally ahead of the trade deadline. If the Seahawks let Michael Bennett and Chris Clemons walk, might there be a cap-friendly deal to be done? Denver would like to keep Shaun Philips, another veteran pass rusher, but might Allen make sense there? Though he hasn't played in the 3-4, Bill Belichick loves older players, can toggle his scheme some, and Allen would fill a need there. San Francisco, with Aldon Smith's personal problems and the 49ers trying to get over the Super Bowl hump, could make sense. Atlanta is desperate for pass-rush help, the Colts are still looking for more bite on defense and Green Bay, though so rarely a big player in free agency, might be a fit, too.
Maybe some other team comes out of nowhere to blow him away with an offer he can't refuse. And let's not forget about the Vikings. New coach Mike Zimmer is a defensive mastermind who isn't keen on letting an asset like Allen walk away.
"Hopefully we can get it worked out with him," Zimmer said. "We'll see how it goes."
Allen will certainly give Zimmer every opportunity to continue to make his pitch, and if the Vikings do go down on this one, expect them to go down fighting.
"What Jared would like for me to do is a fact-finding mission, doing my due diligence, gathering information," Harris said. "And he certainly does want Minnesota as a part of that as well."